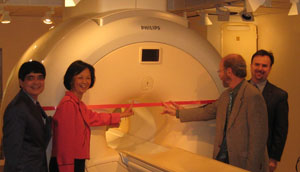 As a cutting-edge research facility, the MR Research Laboratory provides advanced support for multidisciplinary researchers from more than 15 departments across the UW campus. Some primary services are:
MAGNETIC RESONANCE DATA ACQUISITION

With our new state-of-the-art 3T MR system and other equipment, we provide:
Well-trainned professional staff to assist researchers in obtaining and processing high-quality MR data
Support for image contrast enhancement for various applications
TEACHING

As an academic research institution, we actively educate various students in the science of MRI. Students include the following:
Fellows and residents from the UW and other institutions
Graduate students from departments that include bioengineering, mathematics and behavioral sciences
Undergraduate students
Visiting scientists including national and international
Research technologist training
RESEARCH COLLABORATION / CONSULTATION

Custom MR pulse sequence design
Optimization of MR imaging techniques for specific experimental design
Functional imaging paradigm development
Design and construction of custom hardware, like RF coils, electronics fabrication, gradient coil development, and unique magnet-compatible sensors.
Software support such as image processing and analysis, data storage/transfer, and 3D image rendering and display

To consult with our support staff, go to DISC Support Center.