Department of Neurology
Letter from the Chief Residents
Welcome to the University of Washington Neurology Residency Program! Thank you so much for stopping by – we are excited that you are interested in learning more about us and our residency training. We are very proud of our program with its long history of strong clinical education and its residents who emerge as confident, talented, compassionate neurologists who graduate well-prepared to embark on the next stage of their careers.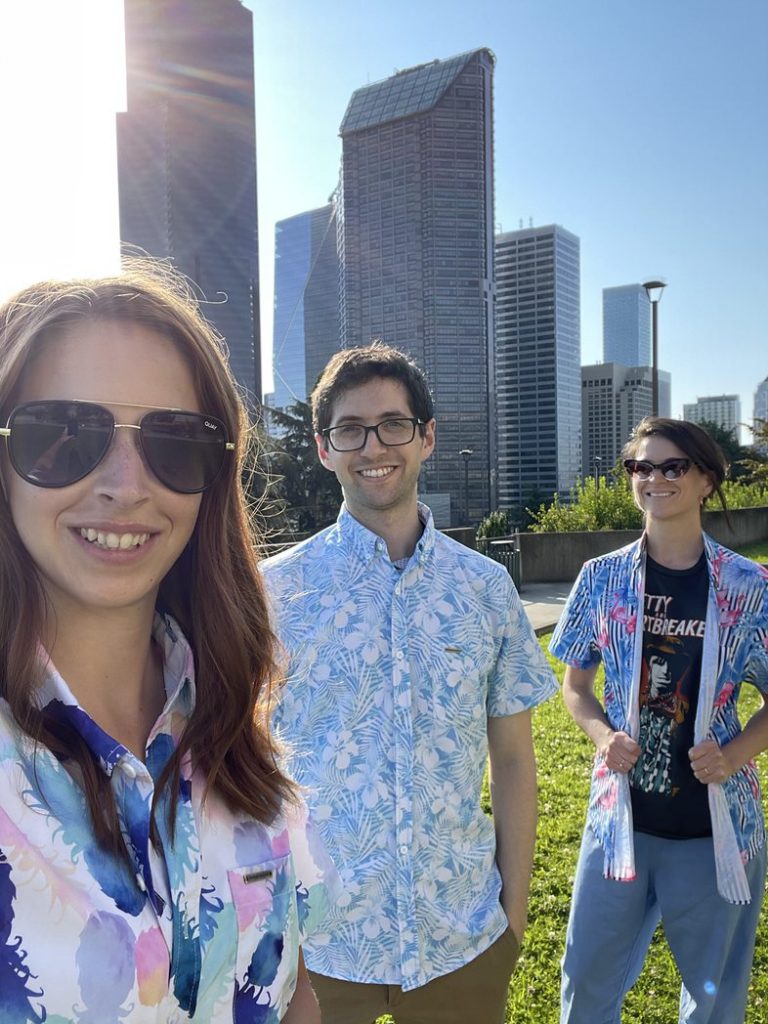 Our training occurs primarily in four hospitals across Seattle, each with its own distinctive patient population and unique educational and clinical strengths. At Harborview Medical Center, we learn from the country's foremost neurovascular specialists, managing acute stroke patients and providing intensive care in our 34-bed neurocritical care unit. As the region's acute stroke and neurocritical care referral center we work closely with our Emergency Department and Airlift Northwest colleagues to rapidly triage and treat patients from Alaska, Washington, Idaho, and Montana. At the University of Washington Medical Center the rarely seen becomes commonplace – here we see and treat fascinating, complex pathologies in our neuromuscular, autoimmune, and neuro-oncology patients. The VA Hospital system provides us with broad exposure in general neurology and its diverse clinics allow us to build strong foundations in outpatient epilepsy, movement disorders, multiple sclerosis, and neuromuscular disease. At Seattle Children's Hospital, one of the nation's premier pediatric hospitals and residency programs, we are immersed in pediatric neurology. This is where we learn the intricacies of the neonatal, infant, child, and young adult physical exams, treat common pediatric conditions such as epilepsy and headache, as well as have the opportunity to diagnose and manage many rare genetic conditions and other refractory neurologic diseases of childhood.
Throughout the year we also benefit from the opportunity to pick amongst a wide variety of elective rotations, including neuropathology, multiple sclerosis, hydrocephalus and CSF flow disorders, neuro-oncology, autonomic neurology, dementia, neuro-ophthalmology, off-site electives in Alaska and Peru, and neurocritical care to name just a few. Our broad range of exposure is one of our many strengths, and leaves us well-prepared for our post-residency careers, whether they be in an academic setting, public hospital, or private practice.
Trainees are also able to participate in a variety of research projects with department faculty members. Our faculty includes individuals who are considered leaders in their respective fields, and consequently we have plenty of opportunities to collaborate, participate in their projects or develop our own. Apart from labs run by our own faculty at various centers, we also have a relationship with the Fred Hutchinson Cancer Research Center and can work with other departments towards interdisciplinary projects. Every resident is also afforded the opportunity to build protected research time into their clinical rotation schedule. Many of our residents also participate in the clinician-educator tract which allows us to develop and hone our teaching skills for our future careers.Our residency strongly values resident autonomy and independence, gradually training us through the years to be more confident and capable, while providing us with readily available back up whenever we need. Through a structured system, we ensure every resident feels supported, either by a senior resident, fellow or faculty member. Our faculty are supportive, approachable and love to teach – no call is too late and questions are welcome at any time. We also have a one-on-one mentorship system that allows seniors and faculty to guide juniors through residency, research opportunities, and planning for the future.
The categorical structure of our program is another benefit; by fulfilling your internship with the University of Washington Internal Medicine Residency Program you will build relationships with your colleagues in other departments, gain familiarity with our hospital system and electronic medical records, and most of all benefit from spending your foundational year in one of the most sought-after internal medicine programs that is consistently ranked as one of the best in the nation. They also select wonderful trainees from a diverse range of backgrounds and interests, with whom we maintain close relationships throughout our own neurology training.
In addition to our robust clinical program, any description of our time at UW would be incomplete without touching on some of what makes life in the Pacific Northwest so wonderful. Living in Seattle is an important perk that we love and value every day as we drive past the waterfront or marvel at Mt. Rainier in the distance! There is something for everyone in this city – that we can guarantee. From beautiful terrain to hike, bike, or run across, delicious and diverse restaurants to eat your way through, world class museums, ballet and opera, music festivals and live music bars, creative microbreweries, distilleries and wineries down every corner, winter and summer sports — there is just so much to list that we could fill the page! The Pacific Northwest is an amazing place to live and work, and we promise you will find that your social calendar will never be lacking things to do, or people to do them with!
Lastly, as the neurology chiefs we are most proud of our wonderful residents – from the new N0s to the senior N3s, we find that our program attracts some of the best people in the world. It is important to us to find time to bond together during the rigors of residency training. We get together outside of work often, sharing dinners, wine nights, book clubs, taking trips to explore the beautiful PNW, camping, hiking, kayaking, and many other activities (sometimes even the faculty join in)! We celebrate each other's achievements, both personal and professional. We are friends at work and outside of work, and that makes all the difference.
We hope that you will seriously consider us in your application process, and we look forward to meeting you when you interview in the fall. If questions arise as you try to decide between programs, please feel free to shoot us an email or pick up the phone and give us a call! We would love to share more about our experiences here at UW, and we wish you the best of luck with the upcoming application season!
Evan Luxenberg, MD
Sarah Koch, MD
Amy Steinberg, MD