Alaska's New Safe Sleep Education Focuses on Harm Reduction
May 2018
Healthy Alaska Babies is an infant safe sleep "train the trainer" workshop for health care, public health, and social services workers.
Adapted from the Healthy Native Babies curriculum and informed by national guidelines on safe sleep, this workshop focuses on risk reduction for the Alaska's most common contributors to Sudden Unexpected Infant Death (SUID): alcohol and/or drug use, bed sharing, sleep position, and tobacco use. Workshop participants learn to support families with infants, discuss infant mortality and risk reduction, and lead workshops with their peers and communities. 
Who Was Involved in the Safe Sleep Curriculum?
Impact
11 presentations 
8 communities
125 attendees trained
---
How Alaska Implements the Safe Sleep Training
After creating the curriculum, Alaska DHSS worked with the Alaska Native Tribal Health Consortium to create new materials for the workshop, including photos of babies in harm reduction scenarios to accompany the presentation as well as provide illustration for informational materials intended for caregivers.
A small team from Alaska DHSS presents the workshop in communities with an OCS field office and a birthing hospital. They measure participant knowledge and attitudes about safe sleep practices in pre- and post-training evaluations.  
The 2.5 hour workshop is interactive. After an explanation of SUID and a review of how many unexpected infant deaths in Alaska are linked to intoxicated caregiving, the presenters open a discussion about the futility of using fear and shame to change human behavior.
Most of the workshop is devoted to showing participants how to help parents and caregivers understand the major risks associated with SUID and identify ways to realistically reduce them (including how to work around the potential of an intoxicated caregiver). For example: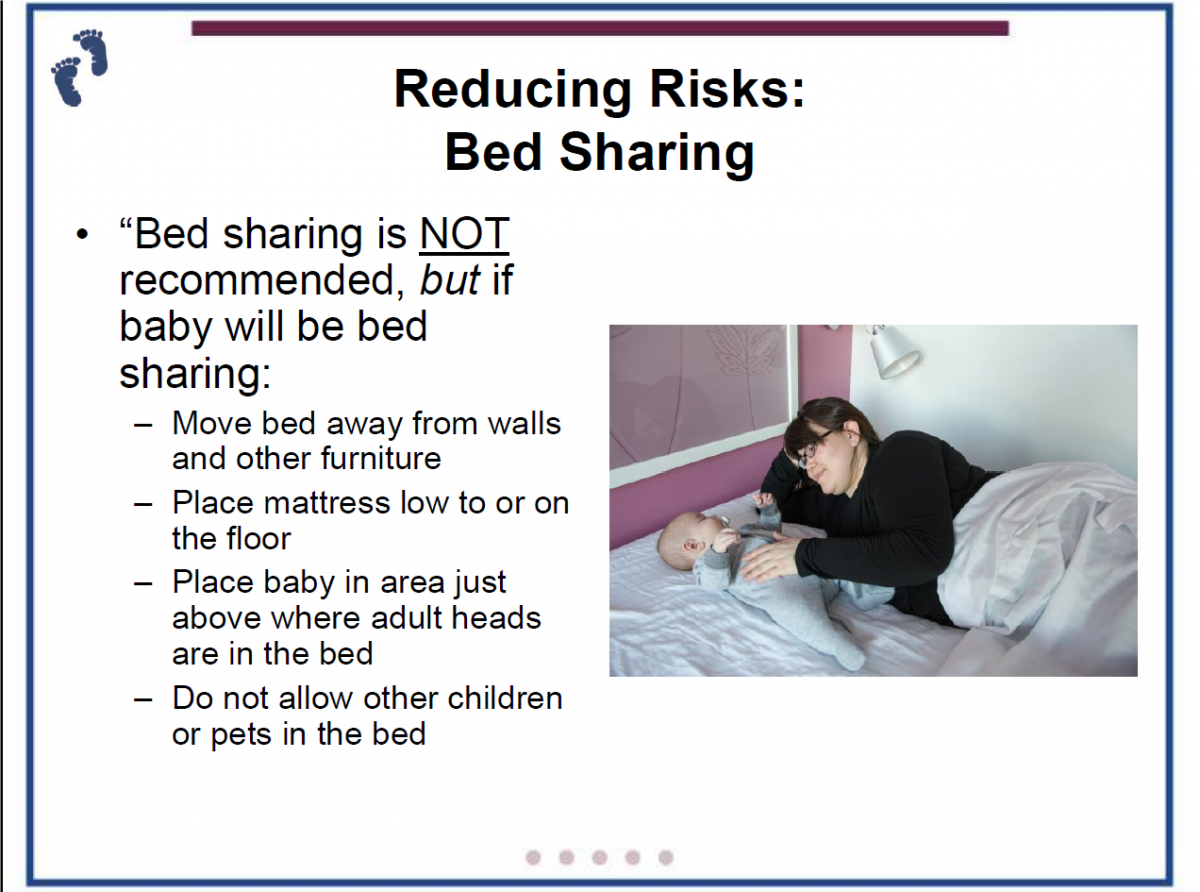 The Healthy Alaska Babies curriculum helps professionals who work with families discuss risk reduction and sudden unexpected infant death. Photo Credit: Alaska Native Tribal Health Consortium.
Loose blankets are not recommended for infants, but if you use one it should be lightweight, pulled up no further than the armpits, tucked under three sides of the mattress, and use the "feet to foot" method – that is, be sure the baby's feet are touching the foot of the crib.
Bed sharing significantly increases a baby's risk of SUID but if you do share a bed with your infant move the bed away from walls and other furniture, put the baby in the area just above where the adult heads are, don't allow other children or pets in the bed.
A crib or pack n' play is best, but if you don't have a crib you might use a laundry basket, dresser drawer, or cradle board as an alternative sleep space, just make sure it isn't in the path of falling objects and that it won't tip over or get stepped on.
The curriculum also covers swaddling, overheating, and additional risk reduction activities (breastfeeding, "tummy time"), as well as myths and facts about infant sleep. The workshop closes with a role-playing segment to help participants learn to be more comfortable talking about infant mortality and risk reduction with parents and caregivers.
---
Questions about Alaska's Safe Sleep training? Contact Sabra Anckner, RN, BSN, Perinatal Nurse Consultant sabra.anckner@alaska.gov