Alaska "Pod" Raises Awareness and Support for Breastfeeding Moms
April 2017
STATE OF ALASKA DIVISION OF PUBLIC HEALTH
Alaska Workplace Breastfeeding Support Project | Section of Women's, Children's & Family Health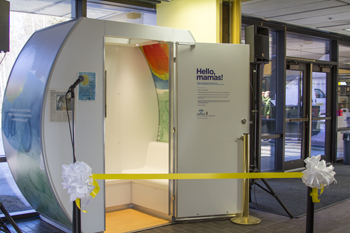 The Mamava lactation pod sits in UAA's Student Union building just before the ribbon-cutting ceremony.
Students, employees and visitors at University of Alaska at Anchorage (UAA) can now pump breast milk and breastfeed their babies in a private, free-standing Mamava lactation "pod" on campus.
UAA applied to receive the pod and one of 15 $1000 mini-grants from the Alaska Workplace Breastfeeding Support Project, housed within the Section of Women's Children's & Family Health in the Alaska Division of Public Health. The Project is federally funded by the Association of Maternal and Child Health Programs and the Association of State and Territorial Health Officials to improve workplace breastfeeding accommodations and help bring businesses in compliance with federal lactation laws.  In addition to the pod and mini-grants, the Project team also offers technical assistance to develop workplace accommodation policies to Alaska businesses.
Alaska's breastfeeding rates are higher than the national average (90% vs 81% nationally) but there is a steep drop-off after a few months. The CDC's Breastfeeding Report Card shows that less than half of Alaska mothers continue breastfeeding through the first year of their child's life. About 15% said they stopped breastfeeding when they went back to work or school, according to data from Pregnancy Risk Assessment Monitoring System (PRAMS).
Did you know Alaska is working on a state law that expands on the ACA workplace lactation policy?
Read more...
It was important to the Project team that the support they gave to businesses also raised awareness that a public bathroom or toilet stall is not an ideal space for breastfeeding or pumping. The flier read: "It's time to get breast pumping moms out of bathroom stalls." The slogan appears below an image of woman's feet in sensible heels, resting on a tiled floor next to a breast pump.
The lactation pod is located on the first floor of the Student Union building, a central and multi-use space. The team plans to survey pod-users and use the data to apply for additional funding to place pods in businesses and organizations throughout the state.
For more information about the Alaska Workplace Breastfeeding Support Project contact Daniella DeLozier, MSPH, Public Health Specialist in the MCH Epidemiology Unit at daniella.delozier@alaska.gov