How the Power of Voice Can Change Public Health
July 2016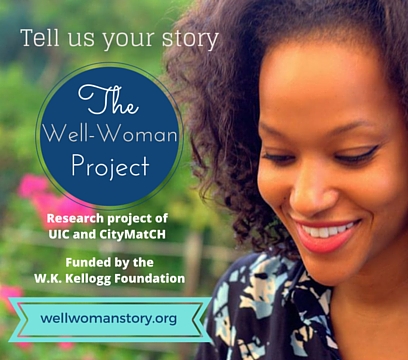 What makes a well woman? The Affordable Care Act's (ACA) elimination of copays for most preventive medical services makes "well-woman" health care more affordable than ever before, but does that mean it's readily available or widely used?
There is a growing national interest in women's health, spurred by the ACA and the Maternal and Child Health Bureau's recent inclusion of well-woman visits on the list of National Performance Measures. Women's health movements, including the National Preconception Health and Health Care Initiative's "Show Your Love" campaign, raise reproductive health awareness among the general public with messages that encourage women to care for their bodies: maintain wellness, address illness, and think of the future.
THE WELL-WOMAN PROJECT
"But that is only one piece," said Arden Handler, director of the Center of Excellence in Maternal and Child Health (MCH) at the University of Illinois at Chicago's School of Public Health (UIC-SPH). Handler wanted to know what might prevent women from responding to public health messages about healthy choices and attending preventive medical visits. "We have to focus as much on the social determinants of health that affect a woman's ability to be healthy as we do on the healthcare delivery system," she said. "And to do that, we have to listen to what women have to say."
In 2015, the W.K. Kellogg Foundation awarded Handler and CityMatCH executive Director Chad Abresch a grant to "capture women's voices," uncover their obstacles to being healthy and seeking health care, and to create an educational campaign to promote women's wellness. [Note: CityMatCH is a national membership organization for urban MCH professionals, which serves 170-member city or county health departments and more than 600 associate members. CityMatCH provides training and technical assistance on urban MCH issues, assists their members to develop, maintain, and forge new connections, and acts as the national voice in communicating local MCH issues to state and federal leaders.]
Handler and Abresch put together an 8 person team (4 from UIC-SPH and 3 from CityMatCH) including Nadine Peacock, a UIC-SPH anthropologist and qualitative expert, and Denise Pecha, Director of Programs at CityMatCH. They invited women to tell their stories through a secure Well-Woman Project (WWP) website and phone line. The team also conducted guided group discussions, called Listening Sessions, in eight locations (Boston, Oakland, Chicago, Jackson, New Orleans, Detroit, Nashville, and Omaha) where CityMatCH has strong partnerships with local health departments. The team intends to use the results of this woman-centered project to develop recommendations for city-specific and national policies related to women's health that will complement expert guidelines for preventive care.
The team initially focused the project on low-income women 18-35 years old in the selected cities. But once they built the WWP website and designed the promotional materials, the team realized they could invite more women to share their stories. They added a "Quick Response" option for women hesitant to relay longer stories and later added a gift card incentive. The team extended their stories outreach through social media and opened the Listening Sessions to include women with a broader range of income. "It turns out," said Handler, "the stories are very consistent across the board in terms of what women are saying about barriers to being healthy and seeking health care."
EXPECTED AND UNEXPECTED BARRIERS
On the Well-Woman Project website and during Listening Sessions, the team encouraged women to share their stories in as much, or as little, detail as they desired. They developed a set of questions that go well beyond the logistics of getting or keeping medical appointments. They asked women to describe what comes to mind when they think of women's health and to talk about a time in their lives when they didn't feel healthy and why. 
"We didn't want to guide them so specifically," explained Vida Henderson, the team's project coordinator and a doctoral candidate at UIC-SPH. "We wanted to leave space for the women to reveal something that we potentially hadn't thought of before."
Although data analysis is ongoing, the team noticed that the main barriers to seeking care appear to be transportation, women's ability to balance their needs with the needs of others, and issues in the patient-provider relationship. Regan Johnson, a public health project coordinator at CityMatCH, noted that many women reported feeling uncomfortable asking questions because they felt discriminated against by their providers.
Henderson stated that she was most surprised by the family influence on accessing preventive care. "Some married women reported that their husbands didn't approve of well-woman exams.  Other younger, unmarried women said they were worried their mothers would think they were sexually active if they went to the doctor for routine wellness visits."
There were interesting viewpoints on ACA's influence on the accessibility of care. Some women said it was easier to access routine check-ups now, because the ACA had eliminated the co-pay. Others said it didn't matter that their preventive visit was free since it was too hard to get to; for these women it was the urgency of being ill that prompted them to seek care. Still, other women said they avoid seeing a doctor when sick because the copays and deductibles are so expensive.  
Crissy Turino, a research assistant on the project at UIC-SPH, said the project recommendations will include a variety of strategies to support well-women. These recommendations may focus on policy changes, such as paid time off or flexible work schedules that allow women to attend preventive visits. Other possible suggestions, said Turino, would address childcare barriers such as greater accommodations for car seats and strollers on buses and child-friendly provider offices.
WHAT'S NEXT
The team is in Phase Two of their project: analyzing the themes in women's stories and Listening Session transcriptions and developing tools and products that can be used to influence policy and systems of care. In addition to city-specific profiles and recommendations, CityMatCH will feature the Well-Woman Story project in an issue of CityLights and publish the results and recommendations on their website. 
•••
The Well-Woman Project could be just the beginning. From the time they first conceived of their collaboration, Handler and Abresch had a specific vision in mind: to create a national Well-Woman movement that builds on the preconception care movement and goes beyond it to consider a woman's life and health in all its complexities: a movement, like the Well-Woman Project, powered by women's voices.