Idaho Teens Create Youth-Friendly Clinics
November 2017
Idaho recently kicked off the first part of a two-phase project to create teen-friendly clinics and improve adolescent well-visits through a collaboration with Adolescent Pregnancy Prevention (APP), Idaho Family Planning, and five local public health districts.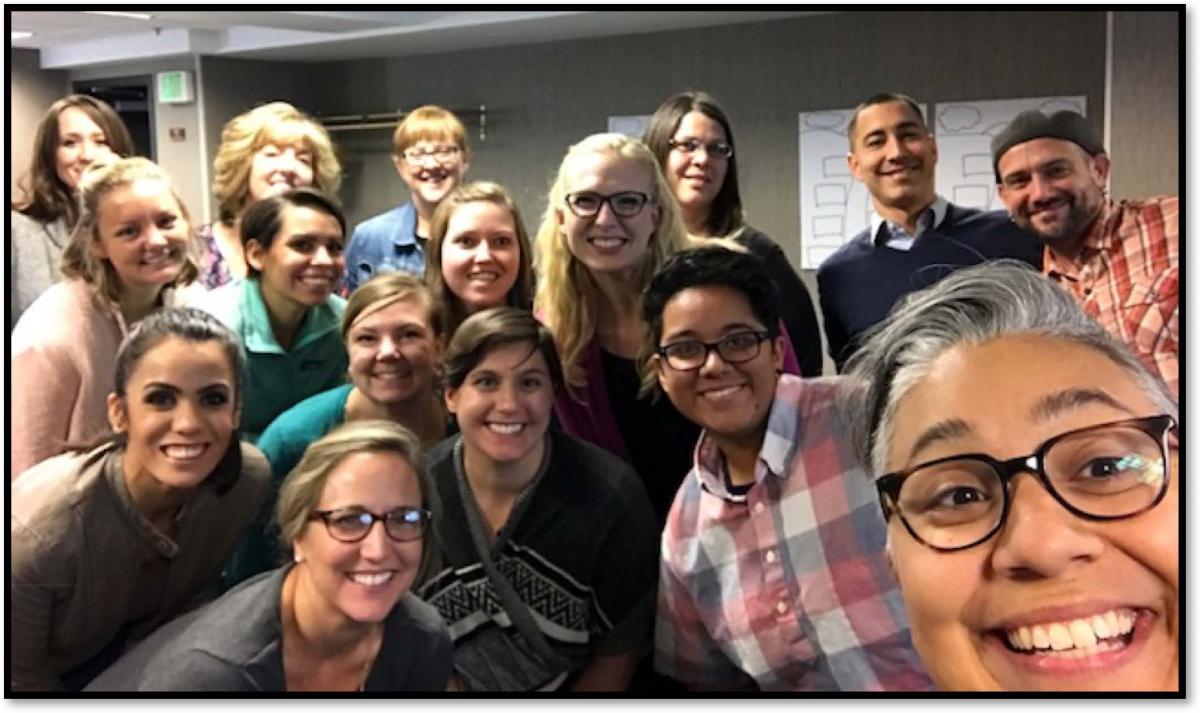 Idaho's Youth Leadership Institute training group
A survey of high school students involved in the APP's Reducing the Risk curriculum revealed that 4 out of 10 teens did not have a preventive care visit in the past year. Many of those students cited lack of time and necessity as reasons for not attending a well-visit, but 30% said they weren't even sure how to access preventive care services. The Idaho team hopes that the creation of teen-friendly clinics will encourage youth to be involved in their own health and make appropriate use of the healthcare system..
YOUTH-FRIENDLY CLINIC ASSESSMENT
The first phase of the project is to enlist the help of local teens. Each health district has formed a Youth-Adult Partnership (YAP) group with a local high school. The groups are comprised of 8-20 youth members and three to four adults. The adult mentors from the YAP groups attended a Youth Leadership Institute training in September to learn how to coordinate a youth-led action research project.
By the end of the school year, each YAP group will partner with a clinic from one of the participating public health districts and conduct a clinic assessment using the Youth-Led Health Center Assessment Tool created by the Adolescent Health Initiative at University of Michigan.  The adult mentors will provide support using the accompanying facilitator guide. 
The youth members will do a clinic walk-through and rank items such as availability of drop-in appointments, visibility of information about free or low-cost services, and visual cues that indicate it is a welcoming space for LGBTQ+ youth.  The tool also allows youth to write in additional observation about what they liked most, what they might change, and whether they would refer a friend. Afterward the youth members conduct interviews with health center representatives. Once the assessment is completed, the YAP teen members come together with their adult mentors to draft recommendations for how the clinic can become more teen-friendly.
The second phase of the project will begin next year, when Idaho works with clinics to incorporate the youth-developed recommendations into their practices.
Idaho will assess the impact of Phase One through a leadership development survey of YAP group members. After Phase Two is complete, Idaho will assess the number and type of recommendations adopted by clinics, and the impact on youth and young adult clients served.
For more information about the Idaho Youth-Friendly Clinic Project contact Katherine Humphrey, MS, CHES, Reproductive Health Program Manager and Title V State Adolescent Health Coordinator at Katherine.humphrey@dhw.idaho.gov