Three Innovative Ways Idaho is Working to Reduce Infant Death
May 2018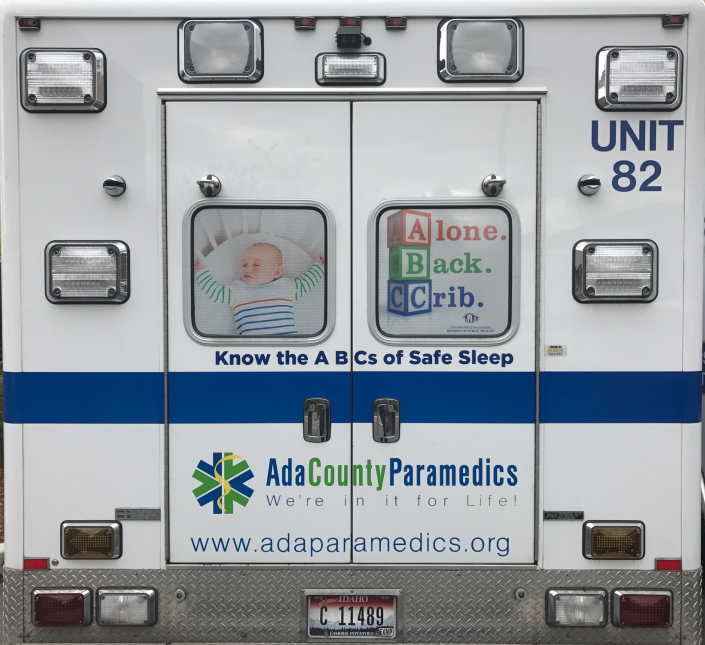 The Idaho MCH Program partnered with emergency personnel to promote the AAP's safe sleep guidelines.
Idaho has one of the smallest populations among Region X states and fewer maternal and child health (MCH) resources. These constraints require continual outreach by the MCH Section and innovative partnerships to support Idaho's maternal, child, and family health. Here are three ways Idaho is working to reduce sleep-related infant death.
STRATEGY 1
Inform statewide infant death reduction recommendations
In 2016, the state's MCH Section Director joined the Idaho Child Fatality Review Team, a task force formed by the Governor to identify opportunities for increased awareness and education around childhood deaths. The task force made many formal recommendations to prevent sleep-related infant deaths to parents and publicly funded agencies and professionals. Two of those recommendations were recently enacted.
Recommendation for Health Care Providers
Educate parents on the 2016 American Academy of Pediatrics (AAP) safe sleep guidelines for infants.
Action Taken: St. Luke's Hospital, an Idaho health system, received a $25,000 grant using the fatality review data and recommendations to purchase safe sleep kits for new parents (within the St. Luke's health system).
Recommendation for Child Care Providers
All providers should be familiar with AAP guidelines including uncluttered, firm sleep surfaces, avoidance of tobacco smoke exposure, substance use, and co-sleeping.
Action Taken: During the 2018 legislative session, the Idaho Child Care Program updated state-wide rules for health and safety inspections for childcare providers to include safe sleep requirements. Effective July 1, 2018, all child care providers in Idaho serving infants must integrate safe sleep practices into their care.

Cribs for Kids® recognizes hospitals that demonstrate a commitment to best practices and education in infant sleep safety. Eligible hospitals:
develop a safe sleep policy statement that incorporates the AAP guidelines
train staff on safe sleep guidelines and implement them into hospital practice
educate parents on the importance of safe sleep practices
STRATEGY 2
Train hospital staff in safe sleep practices 
How: MCH Section established a referral partnership with Inland Northwest SIDS Foundation (INWSIDS), a safe sleep outreach and advocacy organization. INWSIDS works directly with hospitals to implement safe sleep education and support hospital certification through the Cribs for Kids® National Safe Sleep Hospital Certification Program. 
Impact: Trained 2200 health care providers in safe sleep practices and support the certification of 7 birthing hospitals as of July 2017
STRATEGY 3
Partner with Emergency Medical Personnel to Promote Safe Sleep
How: Battalion Chief Bart Buckendorf led the partnership between Ada County Paramedics and the MCH Section. Emergency personnel have the unique opportunity to reduce the risk of unexpected infant deaths through safe sleep education. The MCH Section connected the paramedics to the Inland Northwest SIDS Foundation to become trained safe sleep educators and helped with co-branding, image selection, and messaging for the ABCs of Safe Sleep decals on Ada County Paramedic vehicles, which act as "rolling billboards." The MCH Section also supplies a small number of sleep sacks to attendees of Ada County Paramedic safe sleep workshops as well as cribs for parents and caregivers who don't have access to approved, separate infant sleep surfaces.
Impact: Currently, 18 Ada County ambulances and 3 Canyon County ambulances feature safe sleep messages. In February 2017, Ada County Paramedics received a national Emergency Medical Services (EMS) award for their safe sleep outreach. 
---
Questions about Idaho's Safe Sleep activities? Contact Jacquie Watson, MHS, MCH Section Manager at Jacquie.watson@idhw.idaho.gov