SIDS & Breastfeeding: A Mini-Lit Review
May 2018
Guest Author: Tatiana Sarkhosh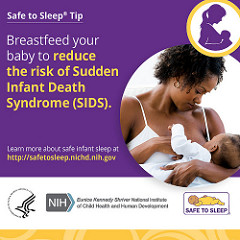 There was a dramatic decrease in rates of sudden infant death syndrome (SIDS) following the 1992 American Academy of Pediatrics recommendation that infants be placed on their back during sleep. However, those numbers  began to plateau 10 years later, and there has been no significant decline in SIDS since.  Recent SIDS prevention strategies have expanded beyond sleeping methods to include pacifier use, immunizations, and breastfeeding.
One of the largest case-control studies of SIDS determined that exclusive breastfeeding at one month decreased the risk of SIDS by 50%.1 Breastfeeding offers a protective effect that increases with exclusivity, without introduction of formula, for any duration.2,7 One possible explanation for this protective effect is that infants who have been breastfed wake from sleep more easily than formula-fed infants as arousability is an important survival mechanism that prevents SIDS-related death.3
In addition to the increased infant arousability, breastmilk offers protection from SIDS-related infectious diseases. Infants with infectious diseases, respiratory infections, and diarrhea are more susceptible to SIDS.4 Breastmilk reduces incidence of these illnesses as it provides antibodies and micronutrients not found in formula. As with many breastfeeding benefits, exclusive long-term breastfeeding has greater protective effects against infections the longer the infant is breastfed.
While conducting a meta-analysis, Hauck and colleagues discovered that despite equal protective effects across race, a discrepancy in infant deaths persisted. Black and other racial minority mothers were found to be less likely to initiate breastfeeding and to exclusively breastfeed their infants, leading to higher incidence of SIDS in these communities. They recommended developing innovative breastfeeding interventions for these high-risk populations in order to reduce infant deaths.5
A cost analysis by Bartick and Reinhold estimated that SIDS-related deaths cost the United States $10,560,000 a year. Breastfeeding rates in the United States are suboptimal, leading to higher healthcare expenditures, and more preventable infant mortality.6 
The most cost-effective strategy for reducing SIDS is expanding breastfeeding intervention efforts. The research supporting breastfeeding as an effective method for reducing SIDS is clear and consistent: breastfeeding reduces SIDS risk by nearly 50% across all stages of infancy.1 Exclusive breastfeeding through six months will have the most profound results and minority mothers will need the greatest support in order to achieve this goal.7
Tatiana Sarkhosh will complete her Master's Degree in Public Health at the University of Washington in June 2018. She is currently working with the UW School of Nursing Families Together study and the UW Washington State Innovation Model Evaluation Team.Tatiana is also a teaching assistant for the UW School of Public Health senior capstone. Her focus is on early childhood and school-based interventions and Deaf and Hard of Hearing populations.
---
---
REFERENCES
Vennemann, M.M., et al. (2009). Does breastfeeding reduce the risk of sudden infant death syndrome? Pediatrics; 123(3), e406-10. doi: 10.1542/peds.2008-2145.
Hauck, F.R., Thompson, J.M., Tanabe, K.O., Moon, R.Y., & Vennemann, M.M. (2011). Breastfeeding and reduced risk of sudden infant death syndrome: a meta-analysis. (2011). Pediatrics; 128(1), 103-10. doi: 10.1542/peds.2010-3000
Horne, R.S., Parslow, P.M., Ferens, D., Watts, A.W., Adamson, T.M. (2004). Comparison of evoked arounsability in breast and formula fed infants. Archives of Disease in Childhood; 89(1), 22-5.
Heinig, M.J. (2001). Host defense benefits of breastfeeding for the infant. Effect of breastfeeding duration and exclusivity. Pediatric Clinics of North America; 48(1), 105-23.
Hauck, F.R., Thompson, J., Tanabe, K.O., Moon, R.Y., & Vennemann, M.M. (2011). Breastfeeding and Reduced Risk of Sudden Infant Death Syndrome: A Meta-analysis. Pediatrics; 128:000. doi:10.1542/peds.2010-3000

Bartick, M. & Reinhold, A. (2009). The Burden of Suboptimal Breastfeeding in the United States: A Pediatric Cost Analysis. Pediatrics; 125, e1048-e1056. doi:10.1542/peds.2009-1616
Thompson, J.M., et al. (2017). Duration of Breastfeeding and Risk of SIDS: An Individual Participant Data Meta-analysis. Pediatrics; 140(5), e20171324