Oral Health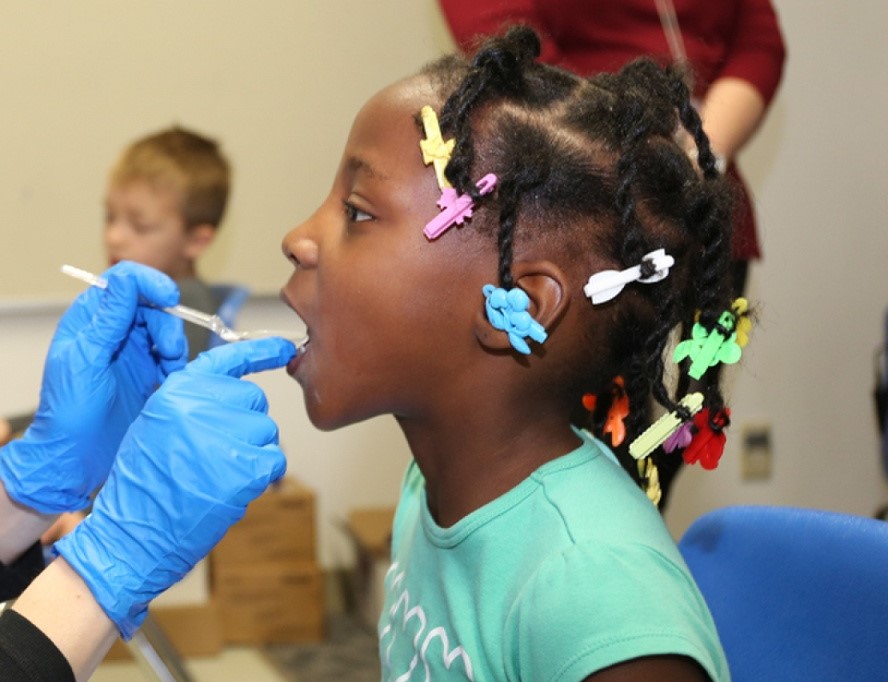 Oral health is linked to overall health status and children who don't receive early dental care are shown to have decreased quality of life later on. Photo Credit:
Lance D. Davis, U.S. Army Garrison Japan Public Affairs.
Vol. 35: Oral Health
This cumulative volume looks at issues and opportunities related to the Maternal and Child Health Bureau's national performance measure #13: oral health in children 1 to 17 and pregnant women.
Annual receipt of preventive dental services is associated with national outcome measures for tooth decay and overall health status. Evidence shows that when children don't have accessible oral health care early on it can impact their quality of life. This volume on Oral Health reports on innovative approaches and promotion integrated at the programmatic level. While many of these activities make connections between oral health and overall health it is important to retain each focus of concern as reflected in the Healthy People goals and MCHB National Performance Measures.
PART I: Oral Health Integration
In Issue 1 we look at how oral health is integrated into non-dental health settings. We feature the 3 most common challenges of oral health integration into primary pediatric care, and offer corresponding solutions and we find out how Idaho helped primary care providers add dental services to the well-child visit. We've also included a training video to help early education teachers promote good toothbrushing habits  and a national oral health integration curriculum that can be used by health professionals or instructors of future health professionals. 
Our resources for practitioners includes evidence-based strategies to improve oral health in children and pregnant women, and a roundup of national oral health support organizations and materials for medical professionals, teachers, and families. Plus, we introduce readers to the 2018 MCH trainees at the University of Washington's Center of Excellence in Maternal and Child Health.
PART II: Sustainable Oral Health Innovations to Reach Underserved Communities
Our second issue on Oral Health looks at innovative models to increase the dental workforce. We consider two models, tested in the field, and ready for implementation: Oregon's expanded practice dental hygienists  and Alaska's dental therapists. MCH Certificate student, Kristopher Kerns reports on threats to community water fluoridation in Washington state and the need for broader support for oral health. Plus, we've curated two learning modules: one for providers who want to increase their understanding of pediatric patients with special oral health care needs, and another for those who want to implement oral health programs in rural communities.
We've added several additional links to our Oral Health Resources including the latest published research from Child Trends and Zero to Three and information on community water fluoridation.
PART III: New Ways to Decrease Tooth Decay
In our third issue we consider cutting edge approaches in preventive dental health for children. We offer a behind-the-scenes look at the first phase of an intervention that aims to change behavior around nutrition to avoid childhood cavities while MCH Certificate student Kristopher Kerns returns to share insights from an expert on silver diamine fluoride that stops cavities in their tracks. A mother of two in Eastern Washington talks to us about what it's like to watch your child undergo oral surgery.
In case you've missed it, we included a summary and link to the recent webinar from the Children's Dental Health Project on how to promote equity in pediatric dental care and our resources for practitioners include the introduction of an exciting new blog that could help strengthen the future MCH workforce. We'd also updated our collection of oral health links to include helpful materials on oral health advocacy at the state level and background information on silverdiamine fluoride.
PART IV: Oral Health Integration into Prenatal Care and Healthy Weight Promotion
In this additional fourth issue we feature the need for access, awareness, and integration in prenatal oral healthcare. We contrast the ways Alaska and Oregon have combined efforts to improve oral health and healthy weight among children and invited our readers to attend a presentation of thesis research from our graduating trainees. We've highlighted a few new tools including a webinar on how to prioritize prenatal health and a cultural competency e-learning program for dentists. Our links to resources now include materials and tools that address the need for oral healthcare during pregnancy.
Our oral health links and other resources for practitioners will be continually updated throughout this volume. (If you have suggestions for additional resources, please email them to Malka Main, Managing Writer & Editor at malim@uw.edu.)
---
When you subscribe to the Northwest Bulletin you will receive an email each time we add new content (approximately every 8-10 weeks). We publish three issues per volume and each volume is devoted to a different topic within maternal and child health. 
*What are the National Performance Measures (NPMs)? The Maternal and Child Health Bureau (MCHB) developed this set of metrics to monitor key health indicators in the populations of the 59 states and jurisdictions that receive Title V MCH Block Grant funds. These measures are just one part of a larger effort to support state-wide improvement activities. You can read more about the history of the NPMs and the MCH Block Grant in our Spring 2015 issue or on the MCHB website.