Infant Safe Sleep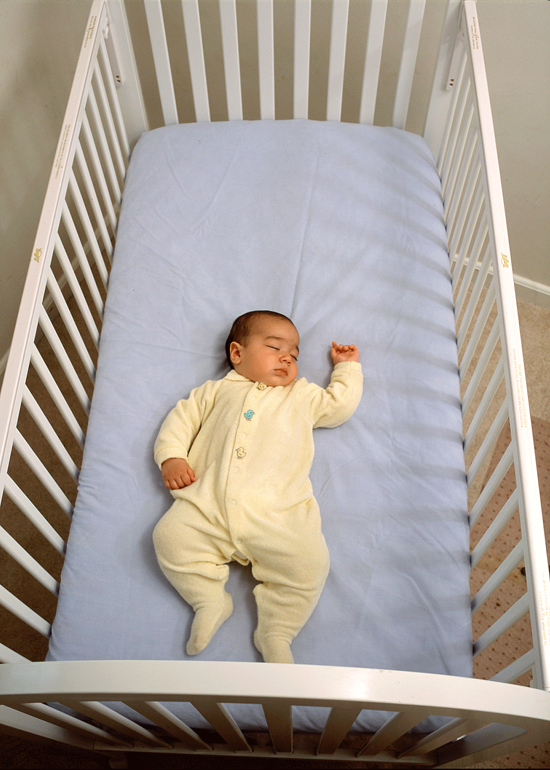 The most current recommended practice for infant safe sleep is to place infant on their back, in a crib, with no soft bedding. SOURCE: Safe to Sleep® campaign, Eunice Kennedy Shriver National Institute of Child Health and Human Development
Vol. 34: Infant Safe Sleep
This cumulative volume explores the evolving nature of infant safe sleep practices in the United States and the challenges to reduce local, state, and national rates of sudden unexpected infant death (SUID). The Maternal and Child Health Bureau recently updated the guidance for states that receive funding for maternal and child health activities to reflect newly available data and formally align its safe sleep goals with those of the American Academy of Pediatrics.
Beginning July 2018, states that focus on safe sleep activities will report performance measure data for two new indicators beyond the percentage of infants placed to sleep on their backs:  1) the percentage placed to sleep on a separate approved surface, and 2) the percentage placed to sleep without soft objects or loose bedding.  
PART I
Our first round of content spotlights the shift in public health to more individualized promotion of safe sleep and comprehensive risk reduction strategies that go beyond sleep practice to reduce infant mortality. Our feature article examines how new data and trends around infant safe sleep may help public health address stubborn rates of sleep-related infant death. We also look at Alaska's new safe sleep training workshop that focuses on how to reduce the risks of intoxicated caregiving and the way Idaho promotes safe sleep through multiple channels.
A graduate student from the Maternal and Child Health Program at the University of Washington wrote a mini-literature review on breastfeeding and sudden infant death syndrome (SIDS). Plus, we've curated a webinar series on addressing infant mortality and a learning module that teaches public health professionals how to have conversations with caregivers about safe sleep.
Our resources for practitioners include an exciting announcement about the Strengthen the Evidence Project with links to effective safe sleep strategies and research and a roundup of national and regional safe sleep advocacy organizations.
PART II
In our second round of content, we look at the use of non-recommended alternative sleep surfaces as a risk reduction for infant mortality, discuss four ways swaddling should be included in the safe sleep conversation, and learn about Oregon's three innovative strategies to improve safe sleep practice among caregivers. Plus, we've highlighted a new tool from National Institute for Children's Health Quality that will help health professionals discuss the nuances of safe sleep with families.  
PART III
In our last installment on safe sleep, we consider how health professionals can help parents better understand infant sleep, look at ways to harness the powerful influence of media on safe sleep practice, and find out how Washington state plans to reduce infant death disparities. We invite you to join us for our October webinar where we zoom in on vaccinations (one the AAP reccomendations to prevents SUID/SIDS) and learn how to address families who hesitate to vaccinate their infants.
Also, we've highlighted this innovative safe sleep PSA created by Baltimore's B'More Healthy Babies Initiative that recognizes the important role fathers play in MCH and provided details on the upcoming summit from the American Indian Health Commission on building healthy generations in Native communties. 
Later this fall we will debut a new topic - preventive oral health for children and pregnant women - which will run through the spring.
Our Safe Sleep Resources  and other resources for practitioners will be continually updated throughout this volume and include links for providers and policymakers, information about cultural responsiveness, and the latest research. (If you have suggestions for additional resources, please email them to Malka Main, Managing Writer & Editor at malim@uw.edu.)
---
When you subscribe to the Northwest Bulletin you will receive an email each time we add new content (approximately every 8-10 weeks). We publish three issues per volume and each volume is devoted to a different topic within maternal and child health. Our next volume, out in fall/winter 2018-19, will look at preventive oral health for children and pregnant women.
*What are the National Performance Measures (NPMs)? The Maternal and Child Health Bureau (MCHB) developed this set of metrics to monitor key health indicators in the populations of the 59 states and jurisdictions that receive Title V MCH Block Grant funds. These measures are just one part of a larger effort to support state-wide improvement activities. You can read more about the history of the NPMs and the MCH Block Grant in our Spring 2015 issue or on the MCHB website.