Strengthen the Evidence on Safe Sleep
May 2018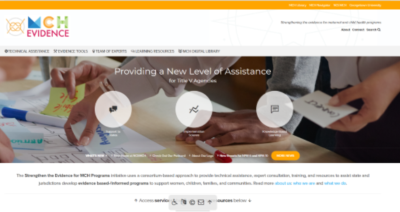 The Strengthen the Evidence for Maternal and Child Health (MCH) Project debuts its new website and enhanced support for state MCH departments.
Originally created at Johns Hopkins University, the project has moved to Georgetown University under a partnership consortium with the National MCH Workforce Development Center, Association of MCH Programs, City MatCH, and Georgetown's Center for Child and Human Development and National Center for Education in MCH (NCEMCH). 
This shift in approach will enhance the project's goals to provide expert consultation, technical assistance, and resources for each of the National Peformance Measures (NPM) from the Maternal and Child Health Bureau. The consortium also revitalized the MCH Digital Library, and offers online micro-learning programs to MCH professionals.
SUPPORT AND EVIDENCE FOR SAFE SLEEP
In addition to adaptive, personalized support that integrates several types of technical assistance from MCH experts, the project produces evidence reports on each NPM as well as environmental scans - compilations of strategies, policies, and data sources.
Effective Evidence for Safe Sleep
Analysis and synthesis of the effectiveness of safe sleep strategies: full evidence review on safe sleep and a 3-page brief on best evidence for safe sleep strategies.
Environmental Scans of the Safe Sleep MCH Landscape
Strategies that might improve rates of safe sleep practices including scholarly reviews, compilations produced by national advocacy organizations, seminal programs/policies related to the Safe Sleep NPM, and data sources with search criteria.