Washington Tackles Infant Mortality Disparities
October 2018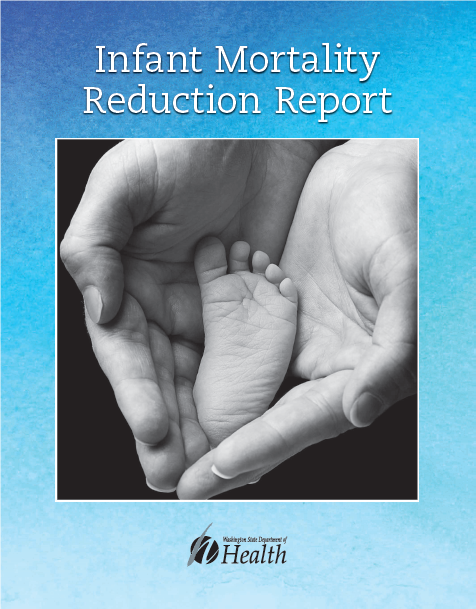 While Washington state has one of the lowest infant mortality rates in the country, racial and ethnic disparities in birth outcomes persist, including the disporportionate rates of Sudden Unexpected Infant Death (SUID).  Between 2011 and 2015, American Indian/Alaska Native (AI/AN) and African American and Black babies were twice as likely to die before age one in Washington. The Department of Health (WA DOH) recently released an Infant Mortality Reduction Report and has focused efforts to reduce these infant death disparities through improved access and opportunities.
STATEWIDE STRATEGIES FOR AMERICAN INDIAN/ALASKA NATIVE MATERNAL AND INFANT HEALTH
How it works: The American Indian Health Commission (AIHC), with funding and technical assistance from WA DOH, supports the Maternal Infant Health (MIH) Workgroup through consultancy and coordination support. This includes site visits to tribes and Urban Indian Health Organizations to discuss and assess MIH needs. The Workgroup is made up of tribal and government agency members and convenes quarterly to share and discuss resources, policies, and best practices in prevention of infant mortality, including SUID.  The workgroup is currently developing a two-year plan to further engage and promote maternal and infant health at the community level, such as safe sleep education and awareness. WA DOH support also extends to an annual state-wide summit that brings in National MIH Tribal leadership. This year, the summit will be held on November 14 in Tulalip, Washington. 
CONNECTING AFRICAN AMERICAN AND BLACK MOTHERS IN PIERCE COUNTY TO SERVICES AND SUPPORT SYSTEMS THAT IMPACT BIRTH OUTCOMES
LOCAL HEALTH MINISTERS
Who's Involved: Maternal and Child Health (MCH) staff at WA DOH work with the Tacoma-Pierce County Health Department (TPCHD), the Washington State Health Care Authority (HCA), and Washington Medicaid Administrative Agency to support the goals and activities of TPCHD's Black Infant Health Program
Funding Sources: Federal Pregnancy Assistance Fund, Medicaid state-match dollars, HCA
How It Works: The Black Infant Health Program (BIH) recruits volunteer Health Ministers from local churches to conduct outreach and build relationships with Medicaid‐eligible African American and Black pregnant women and mothers in Pierce County. The MCH-WA DOH provides funding and other support to help BIH develop culturally appropriate health messages, including safe sleep education, and train Health Ministers in referrals to First Steps, which offers prenatal care and post-pregnancy follow up for low-income women in Washington state.
The numbers: BIH currently works with 26 faith-based organizations, has 25-35 active Health Ministers, and serves 50-60 families a year.
PIERCE COUNTY COMMUNITY HEALTH WORKER-PATHWAY NAVIGATORS
A 6-month pilot project to address infant mortality disparities, including Sudden Unexpected Infant Death (SUID) with a focus on African American and Black pregnant women and mothers. The Pathways Community HUB model is an evidence-based approach to care coordination for individuals at the highest risk for poor health outcomes.
Who's Involved: WA DOH, Pierce County Accountable Community of Health (ACH), Korean Women's Association
Funding Source:  Title V Maternal and Child Health Services Block Grant
How it works: The ACH (an early adopter of the Pathways model) worked with the Korean Women's Association (one of their Care Coordination Agencies) to implement the Pathways Community Hub Model in Pierce County. The model is delivered by certified Community Health Workers trained in Pathways to navigate the health outcomes of individual clients.  For pregnant clients, a Community Health Worker provides pregnancy and post-pregnancy education including safe sleep education, and helps clients to schedule and attend prenatal appointments.
The numbers:  Of the three Community Health Worker-Pathway Navigators, one specifically focused on recruitment of pregnant Medicaid-eligible African American and Black women and successfully connected 12 women to the program in the first three months.
For more information about these programs, please contact Rabeeha Ghaffar, Perinatal and Adolescent Health Program Manager at rabeeha.ghaffar@doh.wa.gov or Brittany Hinchliffe, Maternal, Infant and Child health Consultant at brittany.hinchcliffe@doh.wa.gov.