Gynecologic Oncology

Division Summary:
The Division of Gynecologic Oncology is one of the top-ranked programs in the country. This stems from a team of nationally recognized faculty, well-funded researchers, a top-ranked gynecologic oncology fellowship and a program that is housed within an NCCN designated cancer center that allows multidisciplinary care and access to a large number of clinical trials. In 2012, over 850 new reproductive tract cancer patients were seen in the Gynecologic Oncology Clinic at the Seattle Cancer Care Alliance Southeast Lake Union facility, an alliance of UWMC, Seattle Children's, and the Fred Hutchinson Cancer Research Center. Over 460 major surgical cases and 175 minor surgeries were performed, plus approximately 750 cycles of chemotherapy administered. The service continues to grow.

Our mission for the Division of Gynecologic Oncology is:
To provide high-quality patient-centered care
To provide excellent education for UW Medicine and the WWAMI region in gynecologic cancer
To be national leaders in research for prevention and treatment of gynecologic malignancies
Patients are now able to see our Gynecologic Oncologists at our new clinic at the University of Washington Medical Center (UWMC). Please call us today at 206-598-8300 for more information!

Location:
UW Medical Center 8SE Oncology
Cascade Tower, 8th Floor
1959 NE Pacific Street
Phone: 206-598-8300
Fax: 206-598-3590


Call (206) 598-8300 to Make an Appointment


Clinical Care:
Each year approximately 1000 new gynecologic cancer patients are seen at UWMC. About 70% go on to receive treatment at the institution and 30% are seen only for consultation. The service performs approximately 700 major surgical cases each year and administers 1800 cycles of chemotherapy.
Many of our patients come to us with complex gynecologic cancers requiring coordination by multiple healthcare professionals. We focus on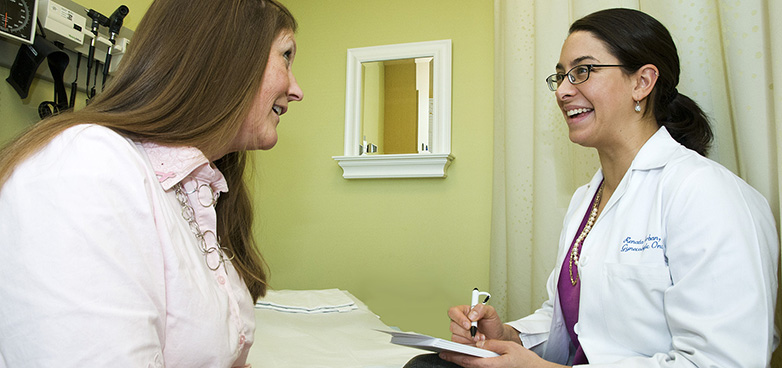 integrated, patient-centered care to maximize quality of life and opportunity for cure. Our team includes experts from gynecologic and surgical oncology, social work, nursing, nutrition, physical therapy, radiation oncology, chemotherapy, palliative medicine, and psychiatry and pain medicine, all working together to provide the best possible care for our patients.
We treat a wide range of cancers and pre-invasive disease in a woman's reproductive system, including uterine, vaginal, ovarian, cervical and vulvar cancers and gestational trophoblastic disease. Treatment options depend upon many factors, but can include complex pelvic and abdominal surgery, robotically assisted laparoscopic surgery, chemotherapy, radiation therapy, hormonal therapy, vaccines and the use of novel biologic agents. We specialize in fertility-sparing surgery and provide oncofertility options for our patients. In addition, we provide a breast and ovarian cancer prevention program for families at increased risk.



Sites of Practice: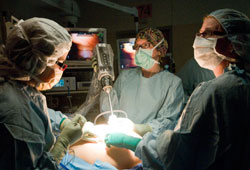 Our primary site of care is the University of Washington Medical Center (UWMC). All of our inpatient activity, surgery, outpatient clinic and infusion of chemotherapy is done at the main UWMC campus. Services that are provided at Seattle Cancer Care Alliance (SCCA) include radiation oncology and infusion-related visits, the Breast and Ovarian Cancer Prevention Clinic, clinical trials, and gynecologic oncology survivorship and wellness visits. In July, we begin working with Dr. Ron Swensen at Valley Medical Center to offer consultation for women with gynecologic cancer. This outreach occurs once a week.

To schedule an appointment, call (206) 598-8300. For more information on the Gynecologic Oncology Clinic at UWMC, please visit the UW Medicine Website.