<![if !vml]>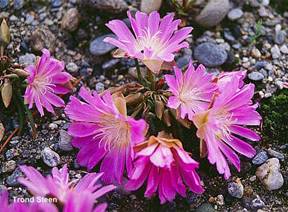 <![endif]>
Species
Bitterroot, Lewisia rediviva
Range
L. rediviva occurs in gravelly to dry soils, from sagebrush plains to lower elevations in the mountains; from southern B.C. to southeast Alberta, east of the Cascades in Washington and Oregon south to California; east to Idaho, Montana, Wyoming, Colorado, Utah, Nevada, and Arizona.(1)
†
Climate, elevation
L. rediviva grows in a wide range of climates and can be found from 60 to 3000 m (2)
Local occurrence
L. rediviva occurs all along the east side of the cascades (3)
Habitat preferences
Gravelly to dry, heavy soil, commonly on lithosol, from sagebrush plains to mid-elevations in the mountains (3)
<![if !supportLineBreakNewLine]>
<![endif]>
Plant strategy type/
successional

stage

L. rediviva is a late successional strategy type and it takes up too 3 or 4 years to produce viable seeds. (2)
Associated species
Springbeauty, minerslettuce, purslane, talinopsis, pussypaws (2)
May be collected as:
Seed
Collection restrictions or guidelines
Seeds are collected in mid summer when the corolla turns papery and the disseminule breaks away from the stem. Seeds are shiny black at maturity.(1)
Seed germination
Seed dormancy is classified as physiological dormancy 60 to 90 day cold moist stratification. Germination occurs in early spring at temperatures slightly above freezing to 10c (1)
<![if !supportLineBreakNewLine]>
<![endif]>
Seed life
Seed storage is at least 5 years under cool, dry conditions(1)
Recommended seed storage conditions
Cool dry conditions in a paper bag until planting time (2)
Propagation recommendations
Conetainers are filled and sown in late fall and irrigated thoroughly prior to winter stratification.
Seedlings germinate in spring under fluctuating outdoor temperatures and are grown under full sun exposure. Plants are fertilized in the fall, pots are flushed with water, and irrigation frequency is gradually reduced in June through October. (1) The plant becomes dormant during the hot months and is prone to being overwatered during this period (2)
Soil or medium requirements
Growing media used is 6:1:1 milled spaghnum peat, perlite, and vermiculite (1)
L. rediviva grows in a wide range of soils from shale, clay, sand, granite, serpintine, and talus (2)
Installation form
Seed
Recommended planting density
During the third or fourth year when the plants are dormant out-plant the plants in full sun in a well drained soil. Plant the plants 4-6 inches apart and donít add any water, wait for the rains to come. (2)
Care requirements after installed
Weed periodically as the plants need full sun.† (2)
Normal rate of growth or spread; lifespan
Plant is mature within 3-4 years, the lifespan is not reported.
Sources cited
1. DeSanto, Jerry; Luna, Tara; Evans, Jeff; Wick, Dale. 2004. Propagation protocol for production of container Lewisia rediviva Pursh plants (116 ml conetainers); Glacier National Park, West Glacier, Montana. In: Native Plant Network. URL: http://www.nativeplantnetwork.org (accessed 17 May 2005). Moscow (ID): University of Idaho, College of Natural Resources, Forest Research Nursery.
2. USDA, NRCS. 2004. The PLANTS Database, Version 3.5 (http://plants.usda.gov). National Plant Data Center, Baton Rouge, LA 70874-4490 USA.
3. Burke Museum of Natural History and Culture 5/15/05 (http://www.washington.edu/burkemuseum/collections/herbarium/index.php)
Data compiled by
Pat Kendzierski 5/15/05