Q Center
Preferred Name Option: 
As of April 2, 2018, a preferred name option within student databases and UW records is now available! All UW students and employees will have the option to include their preferred names on the Husky Card. This option also allows students and employees to indicate a preferred first and middle name that would be visible to individuals who access the student database/UW records (including student IDs, the UW directory, class rosters, grade pages, etc), but does not require a student to legally change their first and middle name.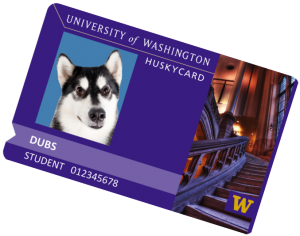 The UW ID Center is offering free card exchanges from April 2 through June 1, 2018 for those who would like to list their preferred name on their Husky Card. The standard fee for replacing a card is $25, but this fee will be waived for the next two months.

While legal names will continue to appear on official documents such as transcripts, diplomas, financial aid and immigration records, this change marks an important step in UW's ongoing efforts to create a safer, more inclusive and welcoming community for all students, staff and faculty. By updating the documents and systems used by our community members every day, UW is closer to our goals of fostering an environment where everyone feels welcomed, included and able to make the most of their experiences within and outside of the classroom.
To get started using a preferred name, faculty, staff and students should visit identity.uw.edu. Information about exchanging a Husky card is here.
Changing your gender with UW Student Database: 
Students can change their gender marker at anytime by going to the Registrar's Office located at Schmitz Hall 225. Note also that, unless your sex/gender has already been changed on legal documents at the state level, you may experience difficulties with receiving financial aid as the university still recognizes you with your former status. Go to the Office of Student Financial Aid located at the first floor of Schmitz Hall and staff there will help you with your financial aid.
Changing your name with UW Student Database: 
The current process for changing your name on your school records can be found here, and outlined below. The Registrar's Office, located in Schmitz Hall 225 and can be reached by email at registra@uw.edu.
For a student to change his/her/their name, legal documentation or proof of usage is required of the student's new name. UW will accept name changes for students who are currently enrolled and for previous students whose records are maintained in the student database. If there is a request for a name change on a student's academic record whose record is on microfilm, approval needs to be given by one of the registrars.
A name change may be processed either in person or by mail provided the necessary documentation is submitted.
In-Person: Registration Office, room 225 Schmitz Hall
By mail: Registration Office, Box 355850, Seattle WA 98195.
A certified copy of a court order or a marriage certificate or a dissolution decree reflecting the new name in full is the primary document required.
If these documents are not available, then the student must demonstrate usage. The student must provide proof that they are the person whose name is being changed. This typically requires photo ID. Once verified, the student must submit a minimum of two of the documents listed below. At least one of the documents must have date of birth, a photograph, and a signature:
Former ID
Valid driver's license
Valid ID
Valid military ID
Student ID
Valid passport
Original copy of citizenship form that contains signature & photograph
Foreign country's passport
A federally recognized Indian tribe's enrollment card or a US Bureau of Indian Affairs Identification card containing the signature and photograph of the individual.
Employee identification cards
Business License
Birth Certificate
Social Security Card
Utility, telephone, medical bills that show name used
**If a student requests a name change and they are currently enrolled, that change may be delayed until the end of quarter since confusion could occur during the grading process. If the instructors already have grade sheets with the prior name, a change will not be made until the quarter has ended.**
*****************************************************************************
If you have concerns about changing your name on your UW records, advocacy help, and other legal documents, or have any questions with regard to this matter, the Q Center wants to support you!
The Q Center located in HUB Room 315, open Monday-Friday between 10am-6pm. Call us at 206.897.1430.