Supply Chain Transportation & Logistics Center
JULY 6, 2018 — The Supply Chain Transportation & Logistics Center co-sponsored the Seafood Industry Transportation Challenge with Valle Scholarship and Scandinavian Exchange program, Pacific Northwest Transportation Consortium (PacTrans) The Norwegian Public Roads Administration (NPRA), Norwegian University of Science and Technology (NTNU), and Arctic University of Norway (UiT), and Trøndelag, Troms, and Finnmark counties), bringing together 24 graduate students (14 from UW, 10 from NTNU) from across the globe to develop improvements for salmon export in arctic Norway. Students were selected from the University of Washington, NTNU, and the University of Tromsø from varying educational and professional backgrounds, including logistics, transport planning, engineering, technology, computer science, and business.
Background
The sale of fresh salmon to international markets is an important profitable contributor to the Norwegian economy. Packed on ice, freshly harvested salmon travels 800 miles to Helsinki, Finland, where it is loaded onto airplanes and travels an additional 4,900 miles to Asia. 
The reliable operation of Norway's transportation infrastructure is critical to the seafood industry because the product loses considerable value after 36 hours. "It's not considered fresh anymore," said CEE research associate professor Ed McCormack, who helped facilitate the challenge. "From a cargo point of view, fresh fish is expensive and fragile and it has to move really fast."
While the fish packing facilities are modern and high-tech, mobility is a challenge because Norway is a rugged northern country with many bottlenecks, including constrained right-of-ways, ferry routes, narrow tunnels and bridges, severe weather, sometimes 24-hour darkness, and rural areas with limited technology and infrastructure. "When trucks leave the plant, they quickly arrive at a bridge that fits one truck at a time, then a curved tunnel," McCormack said. "If two trucks get in the tunnel at the same time, one has to back up."
The Challenge
Students were tasked with developing solutions to improve the transportation of seafood on two specific routes—one in arctic Norway and one in central Norway.
June 13 in Tromsø: The competition started in Skjervøy, where students visited the remote arctic E8 Borealis Road to see some of the many bottlenecks of the salmon freight chain, and then toured a Lerøy Aurora salmon packing plant.
June 14 in Tromsø: Students participated in a workshop in Finnmark Fylkeskommune and then flew to Trondheim.
June 15 in Trondheim: Students visited a Hitra fish farm and a Lerøy Midt salmon packing plant.
June 16-17 in Tromsø: Students worked in cross-national teams to develop innovative transportation solutions.
June 18 in Tromsø: Teams presented their proposals to a panel of judges from UW, NPRA, and NTNU.
The Winning Solution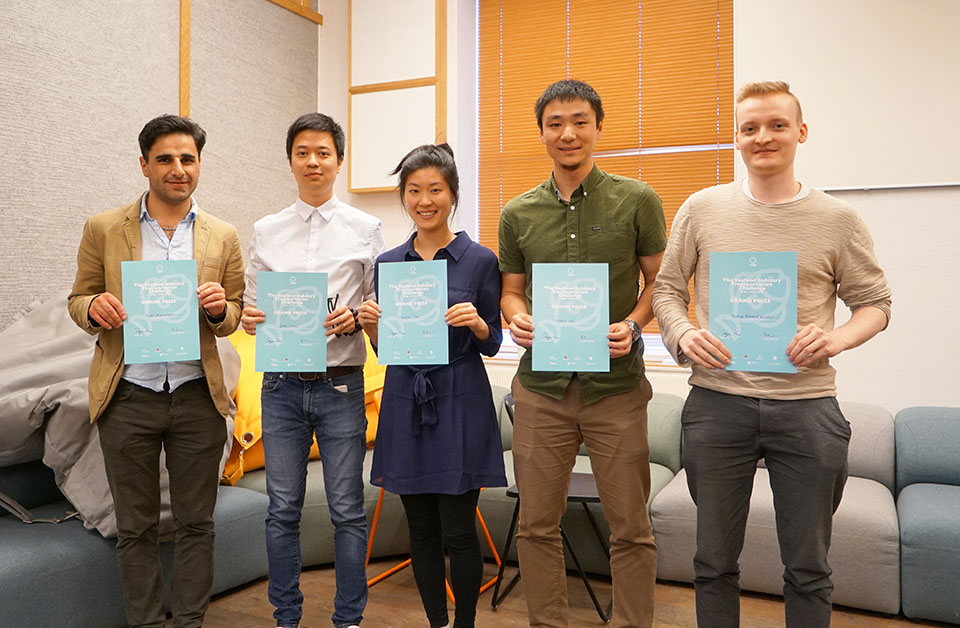 The $5,000 grand prize winning team included Haena Kim (Urban Freight Lab Research Assistant; Industrial & Systems Engineering Ph.D. student) and Ruimin Ke (Civil & Environmental Engineering Transportation Ph.D. student). Their proposal, "Novel Automated System for Fish Delivery in Norway," includes replacing human-driven trucks with smaller electrical autonomous cars for fish delivery, which feature a novel loading and unloading system with a robot and conveyor belt. The cars would be pre-programed to operate on difficult to navigate roads and would be prevented from entering tunnels if another car was already inside.
Students from the grand prize winning team, together with teams that took second and third place, will reconvene at UW in September. Together, they will work on developing feasible short-term and long-term solutions by combining the best attributes of each team's designs.
"It was amazing to work and share ideas with Norwegian students, as I could expand my knowledge in Norwegian seafood industries and their innovative, unique approaches to problem-solving," Kim said. "It was a truly an eye-opening and once in a lifetime experience." 
The facilitators hope to build off the success of the inaugural program and offer additional transportation challenges in coming years.
READ MORE: 
---
About the Supply Chain Transportation & Logistics Center: The Supply Chain Transportation and Logistics Center at the University of Washington is the go-to place to analyze and solve urban goods delivery, sustainability, logistic hubs and ports, and freight system performance management problems that overlay private and public spaces and control.
In the media: