Using laundry products without fragrances is a great way to protect yourself, your family and Puget Sound from toxic chemicals
Fragrances can smell good, and we often associate particular scents with something being "clean." But fragrances are additives that don't serve any function in cleaning, contribute to adverse human health effects, and current research indicates ingredients in fragrances can be harmful to wildlife too.
With your help we can make our living environment healthier and reduce the amount of toxins we're adding to Puget Sound by switching to laundry products that are free from fragrances and scents.
Why fragrances?
A single "fragrance" in a product is really a mixture of several dozen to several hundred chemicals, with many classified as toxic — none of which are required to be disclosed to consumers. Exposure to fragrances has been linked to asthma, migraines and other negative impacts. And what's bad for human health can also be bad for our environment.  Fragrances and other chemicals from everyday products are going into our airways, down our sinks, showers, toilets, washing machines, and dishwashers—and getting into Puget Sound.
SoundCitizen is working with Puget Sound residents in a grassroots effort to limit our use of harmful household products that contain chemicals that are emerging pollutants (not currently regulated, but linked to adverse health effects).
What you can do:
Buy products without fragrances or scents.  Most brands have non-fragranced products for the same price as fragranced versions.  Avoid products that have ingredients like fragrance, perfume, organic fragrance, natural fragrance, parfum,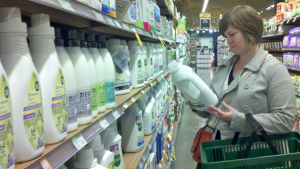 essential oils, fresh scent, etc.
Be aware that laundry detergent producers are under no legal obligation to list fragrances or fragrance ingredients (see some specific examples of unlisted ingredients in fragranced laundry products).  What's more, laundry products typically list some ingredients, but not all ingredients, so consumers may have false assurances.
You can learn more about how to take action toward greater transparency and safety in consumer products from organizations like Washington Toxics Coalition or download the GoodGuide mobile app to learn more about products as you shop.
UW Students Go Fragrance-Free
SoundCitizen is happy to have Students Expressing Environmental Dedication (SEED) as a partner to increase awareness about the choices undergraduate residents can make with their laundry products to have a positive impact on the health of Puget Sound. 750 UW students responded to our online surveys and we learned that overwhelmingly, UW undergraduate residents are willing to switch to fragrance-free laundry products but it's important the products are affordable and carried by HSF convenience stores.
Students also wanted guidance in making eco-friendly choices, so SEED developed a list of recommended laundry detergents.  SEED considered human health and environmental impact based on the EPA's Design for the Environment program, the presence of fragrance, availability and brand popularity with UW residents based on the 2011 surveys.  Products in purple are currently carried at UW convenience stores.
SEED also hosted a Forget the Fragrance Art Contest as part of the 2012 UW Earth Day Celebration, where UW community members chose the image by undergraduate resident, Lisa Nicholson, as most inspiring to switch to fragrance-free laundry detergent.
 We gratefully acknowledge The Russell Family Foundation for their generous support in funding this work to educate the public about toxins found in commonly used household products, raise public awareness, and inspire local citizens to make more informed consumer choices about household products that contain harmful chemicals which endanger Puget Sound.