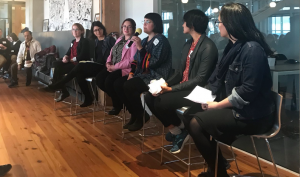 A note from TAT Lab Co-Director and CEO of Shift Labs Beth Kolko:
The first quarter of 2018 was a a busy few months, with some stand-out events engaging with healthcare professionals, start-ups,  patients, clinicians, and researchers. We sponsored a Continuing Medical Education seminar on gravity infusion practices, sold to a major hospital in Seattle for primary care, participated in panel discussions on healthcare innovation,  and started on-boarding some exciting global partners (more to come on that last part).
Here are some of our favorite developments:
NEW CUSTOMERS:
New conversations with Clinical Research Organizations working to bring down costs as they conduct clinical trials around the world. We're in early stages of engaging with this community, and if you or your colleagues have experience with drug trials, give us a call! We have a lot to learn, and we encourage you to share your expertise.
ENGAGING THE HEALTHCARE COMMUNITY:
Last week CEO Beth Kolko participated in the panel "Wrestling with the Unintended Consequences of Tech in Healthcare"
alongside fellow educators, designers, and CEOs committed to solving healthcare problems. Check out @emjaro on Twitter for some highlights