Social/Emotional Workshops
Improving Social Navigation and Social Skills Instruction
---
Improving Social Navigation and Social Skills Instruction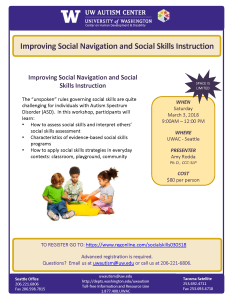 The "unspoken" rules governing social skills are quite challenging for individuals with autism spectrum disorder (ASD).  In this workshop, participants will learn basic tools and strategies for assessing and teaching social skills to increase successful social interactions.
Participants will learn:
How to assess social skills and interpret others' social skills assessment
Characteristics of evidence-based social skills programs
How to apply social skills strategies in everyday contexts: classroom, playground, community
Who should attend?
Educators and professionals working with individuals with ASD of all grades levels.
Content Level: Beginner to Intermediate
Cost:
$80 per person
*This workshop is not currently scheduled. Sign up to receive emails about future UW Autism Center workshops.
---
For more information, please contact us at 1-877-408-UWAC (8922) or uwautism@uw.edu.
Cancellation Policy:
Cancellations received at least two business weeks prior to course start date are eligible to receive a full refund less a $20 administrative fee. Cancellations must be received in writing by e-mail, fax, or U.S. mail prior to the stated deadline. Cancellations received after the stated deadline will forfeit the full registration fee. Refunds will not be available for registrants who choose not to attend a class. UW Autism Center reserves the right to cancel a course due to low enrollment, inclement weather, or other circumstances that would make the course non-viable. If UW Autism Center cancels a course, registrants will be notified within 24 hours of the first class date and offered a full refund or the option to transfer registration to another course.
The University of Washington is committed to providing access, equal opportunity and reasonable accommodation in its services, programs, activities, education and employment for individuals with disabilities. To request disability accommodation contact the Disability Services Office at least ten days in advance at: 206.543.6450/V, 206.543.6452/TTY, 206.685.7264 (FAX), or e-mail at dso@u.washington.edu.