Student Assistants
The Simpson Center's student assistants provide support for events and publicity, help with reception and the general duties and maintenance of the office, and provide on-site assistance at the Katz Distinguished Lectures in the Humanities series.
Ellie Stillwell has worked at the Simpson Center since 2011. Originally from Missouri, Ellie came to the University of Washington as an engineering major but soon found her way into the social sciences. Ellie is pursuing a Bachelor of Science in psychology with a minor in philosophy. Her work at the Simpson Center has given her the chance to interact with graduate students and faculty from multiple disciplines and has provided her with a valuable glimpse into the working world of academia. Ellie plans to pursue a graduate degree in Social Psychology and hopes to be a professor of psychology.
Lydia Harrington joined the Simpson Center in 2012. She is currently working on her master's degree in the Department of Near Eastern Languages and Civilization. Her focus is on modern Turkish history and architecture.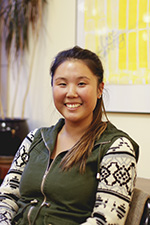 Grace Choi joined the Simpson Center in 2013. At the Simpson Center, she helps with general office operations and front desk reception.