PROGRAM DETAILS:
Opportunities for both MS and PhD students. Limited funding available for students enrolled in PhD programs.
DIRECT provides UW graduate students the opportunity to receive data science training, practice applying new tools and skills in a project-based learning environment, and gain experience working with industry and academic partners on a team-based capstone project.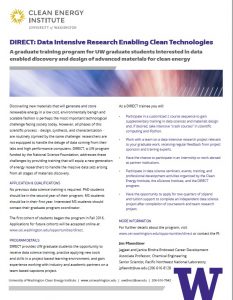 As a DIRECT trainee you will:
-Participate in a customized 2 course sequence to gain supplementary training in data sciences and materials design.
-Participant in Capstone course, working with a team on a data-intensive research project relevant to your graduate work, receiving regular feedback from project sponsors and training experts.
-Have the chance to participate in an internship or work abroad at partner institutions.
-Participate in data science seminars, events, training, and professional development activities organized by the Clean Energy Institute, the eScience Institute, and the DIRECT program.
-Have the opportunity to apply for additional financial support to complete an independent data science project after completion of all DIRECT requirements (PhD track only).
APPLICATION & QUALIFICATIONS:
No previous data science training is required. PhD students are recommended to apply in the second year of their program. MS students are recommended to apply in their first year and must be enrolled in either the ChemE MS or MSE AMP program. Interested MS students should contact their graduate program coordinator.