Cohort 2 Capstone Projects Partners:
KPMG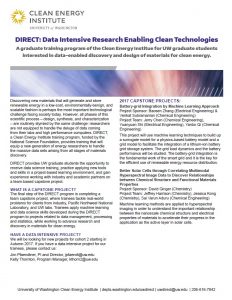 Alaska Center for Energy and Power
Optimum Energy
Pacific Northwest National Laboratory
University of Washington
Washington State University
What is a capstone project?
The final step of the DIRECT program is tackling real-world problems by completing a team capstone project. Trainees apply new machine learning and data science skills developed during the DIRECT program to projects related to data management, processing and statistics, while working to advance research and discovery in materials for clean energy.
Projects from cohort 1 include clients from industry, Pacific Northwest National Laboratory, and UW labs.
Have a data intensive project?
We will be looking for new projects for cohort 2 starting in Autumn 2017. If you have a data intensive project for our trainees, please contact us:
Jim Pfaendtner, PI and Director, jpfaendt@uw.edu
Kelly Thornton, Program Manager, kthorn2@uw.edu