Global Mental Health

We are thrilled to announce the launch of the Behavioral Research Center for HIV (BIRCH) at the University of Washington. This developmental Center, funded by the National Institute of Mental Health, will provide infrastructure and support for high-impact science on HIV and mental health and a research home for like-minded scholars. The Center will emphasize interdisciplinary research on the behavioral aspects of the epidemic, especially how we can better integrate mental health treatment into HIV prevention and treatment strategies. In addition, the Center will offer technical assistance, training, and pilot funding as well as nurture the next generation of diverse HIV researchers through training and mentorship. Our goal is to facilitate the dissemination of the latest advances, not just within academic circles, but to HIV service providers, affected communities, and policymakers as well. The Center is led by Drs. Jane Simoni, Pamela Collins, and Susan Graham, with support from Deepa Rao (Developmental Core Director), Lydia Chwastiak (Integrated Care Core Director), and Brian Flaherty (Methods Core Director). The Center is supported by Administrative Director Susan Mello and Program Manager Tessa Concepcion 
UW BIRCH will prioritize partnerships with our university, community, and global partners, without whose support we cannot succeed. We look forward to working closely with our partners and building this Center together. 
UW BIRCH
Center Organization
UW BIRCH includes four cores: the Administrative Core, Developmental Core, Integrated Care Core, and Methods Core.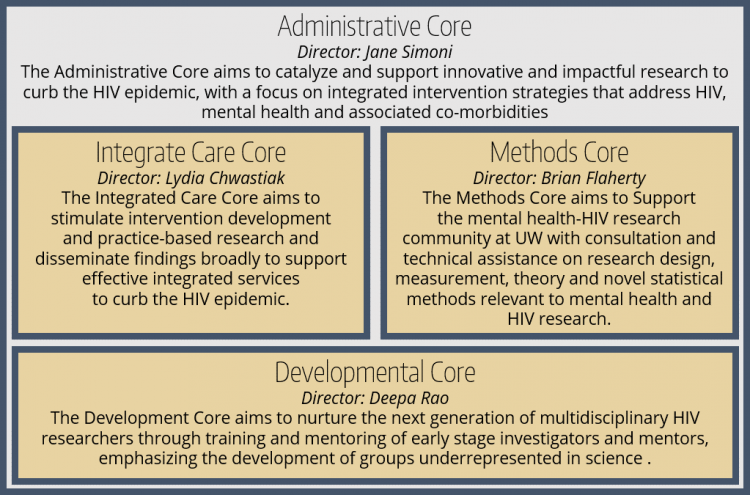 Mission, Vision, and Cross-cutting Themes
Mission
Our mission is to catalyze research that integrates mental health and HIV prevention and care, guided by communities and practitioners seeking to end the epidemic. We aim to support and apply the science of dissemination and implementation, to bring such interventions to scale. 
Vision
We envision an end to the HIV epidemic by addressing the determinants and symptoms of mental illness and HIV, through holistic person-centered prevention and care. 
Cross-cutting themes
Nurturing local and global partnerships for learning and innovation by engaging communities of providers

 

Addressing inequities by testing research solutions that reduce disparities.

 
Become a BIRCH member
UW BIRCH members are faculty, research scientists, clinicians, staff, trainees, and other personnel involved in HIV, mental health, or related behavioral science research or practice at the University of Washington, as well as partners and affiliates in the U.S. and across the globe who are interested in these topics. Complete the BIRCH membership request to join.
BIRCH members are entitled to:
Attend BIRCH events and trainings
Access Core services at little or no cost
Apply for Developmental Core funding opportunities*
Apply for BIRCH supplemental funding opportunities*
Receive email notices of HIV and mental health-related symposia, conferences, seminars, trainings, funding opportunities, employment opportunities, and other useful information
*Additional eligibility criteria may be required for specific funding opportunities. Please see RFAs for additional details.
BIRCH Funding Awards
SPARC awards
HIV prevention and treatment should optimally be delivered within integrated systems of mental health and HIV primary care that can be implemented at scale. Through this integration, programs can optimize HIV prevention, medication adherence, and engagement in treatment – critical for the Joint United Nations Programme on HIV/AIDS (UNAIDS) vision of 'Getting to Zero' and the US "Ending the HIV Epidemic" priorities. To succeed, integrated programs need to incorporate a diversity of ideas and perspectives applied to rigorous research methods. Well-trained mental health and HIV researchers from diverse communities, including researchers from underrepresented groups (URG), are necessary to innovate, effectively implement, incorporate community knowledge, and expand research and community networks. Through this RFA for pilot awards, the UW BIRCH aims to support researchers to conduct work that examines mental health and associated conditions in the context of HIV. Successful awardees will be included in the SPARC Scholars program which includes monthly fellowships meetings, access to mentors across the UW BIRCH network, and opportunities to collaborate with other SPARC scholars.
Some key details (please see the full RFA below)
Direct costs: $8,000 per year for up to 2 years ($16,000 maximum for the 2-year duration, no more than $8,000/year)
Letter of intent due August 9, 2021
Eligibility check due August 9, 2021
Consultation with the Methods Core due August 13, 2021
Final application due August 22, 2021 at 11:59 PM
Notice of award by September 10, 2021
Period of performance: September 13, 2021 to August 30, 2023
Download the 2021 BIRCH SPARC RFA
C-PARC awards
In 2021 and 2023, the Integrated Care Core will offer a Community-Centered Pilot AIDS Research Center (C-PARC) grants (1 year duration). Check back in Sept 2021 for more info!
M-PARC awards
In 2022 and 2024, the Methods Core will offer a Methodology Pilot AIDS Research Center (M-PARC) award (1 year duration). Check back in 2022 for more info!
Travel awards
The Development Core will be offering Travel and Professional Development Awards between $750-$1000 for Early Stage Investigators. Stay tuned for more info!
CFAR New Investigator Awards
Please check back for next years CFAR NIA.
The purpose of the UW/Fred Hutch Center for AIDS Research (CFAR) New Investigator Awards (NIAs) is to encourage junior investigators (at a senior stage of training or recently independent) to conduct independent research, acquire preliminary data to use for exogenous grant submissions, publish, receive mentorship, and write one or more grants to obtain funding to continue their HIV research careers.  The application process is designed to help you formulate a research proposal consistent with National Institute of Health (NIH) requirements for your future grant applications and includes opportunities to consult with experts to strengthen the study design and public health reach of your work. We are available to answer your questions throughout the process.
BIRCH Consultations and Acknowledgement
Methods consultations
The Methods Core of UW BIRCH provides consultation services and technical assistance for BIRCH members (sign up here) on research design, measurement, theory and novel statistical methods relevant to mental health and HIV research. 
We have found that it is most useful to collaborate with investigators as early as possible during a project, for example even before study aims are finalized. Therefore, we encourage you to submit a Request For Consultation, which will be used to help coordinate biostatistical and other quantitative support for manuscripts, abstracts, and meeting presentations. 
Useful information to provide includes: Project PI, Grant (and funding agency), and any relevant upcoming deadlines. 
General consultations
If you would like to request a consultation from another core in the center, or are unsure which core is most suitable for your query, please fill out a general consultation form. 
Acknowledgement of BIRCH support or services
If your research has benefited from UW BIRCH support, please acknowledge UW BIRCH in your publications and presentations using the following text. You can download the UW BIRCH logo here.
To acknowledge support in the form of UW BIRCH pilot funding:
This research was funded by a 20XX [enter appropriate year of award] developmental award from the University of Washington Behavioral Research Center for HIV (BIRCH), a NIMH-funded program (P30 MH123248).
OR
To acknowledge any other form of UW BIRCH support, e.g., Core services:
This work was supported by the University of Washington Behavioral Research Center for HIV (BIRCH), a NIMH-funded program (P30 MH123248).
Contact Information
Contact Information
We would like to hear from you! You can email uwbirch@uw.edu to send us a message.