Health Sciences Services
April 5, 2021
2021-2022 Magnuson Scholars Announced
On behalf of the University of Washington's six Health Sciences Schools and the Magnuson Scholar Program, we are pleased to announce the 2021 – 2022 Magnuson Scholars. Each scholar was nominated by their respective health sciences school on the basis of outstanding academic performance and potential contributions to research in the health sciences. We appreciate your support of these scholars and our efforts to fully recognize their achievements while acknowledging Warren G. Magnuson's extraordinary public service career.
The 2021-2022 Magnuson Scholars are:
Apichai Yavirach
School of Dentistry
Thamanna Nishath
School of Medicine
Tao Zheng
School of Nursing
Leticia Salvador Vieira
School of Pharmacy
Dorothy Thomas
School of Public Health
Angela Malorni
School of Social Work
---
Scholar Profiles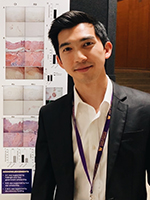 Apichai Yavirach
School of Dentistry
Apichai Yavirach graduated from Chiang Mai University, and was working as an instructor at Faculty of Dentistry when he decided to pursue a Ph.D. as part of his long term career goal. Two years after working as an instructor he applied for a Fulbright graduate scholarship, and subsequently decided to join the Oral Health Sciences Ph. D. program at the University of Washington. With a background in both clinical and research fields, Apichai's interests lie in applying basic sciences to dental research since understanding the oral diseases from a microbiology perspective can provide useful information regarding efficient treatments. To further that interest, he joined Cecilia Giachelli's lab in the Department of Bioengineering and worked on a project about medication-related osteonecrosis of the jaw (MRONJ). As part of the project the lab used "engineered" osteoclasts to investigate the pathophysiology and local cell therapy as a potential treatment from MRONJ. MRONJ is a debilitating dental complication often seen in cancer and osteoporosis patients, and although the causes of MRONJ are not fully understood, there is a growing body of research that supports diabetes mellitus as a key risk factor in developing MRONJ. After he completes his Ph.D. program Apichai plans to return to Thailand to continue working in a research field with a multidisciplinary approach as well as continuing to teach. Additionally, Apichai recently won the School of Dentistry Research Day graduate poster competition and the American Association for Dental Research Student Research Day Award.
Cecilia Giachelli, Ph.D., Professor, department of Bioengineering, states that Apichai, "is a creative, energetic and determined graduate student. He is constantly learning and acquiring new knowledge, which he is happy to share. He works well independently, but also contributes well to team efforts. Despite the pandemic, he has remained focused on his project and taken every opportunity to complete his thesis experiments, while being cognizant of safety of his co-workers. Clearly, he is a self-motivated, mature professional, who has a dream of treating patients with new advances based on his research efforts. I believe he has tremendous potential to be successful as a clinician, academic and independent investigator. I have trained over 15 graduate students, and I would say that Yao is at the top of this group. I highly recommend Yao for this prestigious award. Yao demonstrates the excellent academic performance and outstanding potential for research in the health sciences exemplary of a Magnuson Scholar."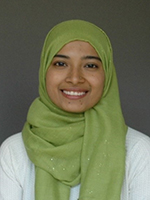 Thamanna Nishath
School of Medicine
Thamanna Nishath received a Bachelor of Sciences in Chemistry with a specialization in Bio chemistry from the University of Virginia, and a Master of Science in Public Health from Johns Hopkins. She is currently on track to earn her M.D. in 2022 from the University of Washington's School of Medicine. Throughout the course of her studies Thamanna has witnessed structural inequities in the medical system. She hopes to be actively involved in improving health from a systems perspective and implementing population-level preventative care that complements caring for underserved and vulnerable populations. To support this broader public health perspective she took a detour before starting medical school and studied public health through an academic and technical lens, immersing herself in a wide range of underserved communities. Recently, emergency medicine piqued her interest as it is the first line in the medical system where population and individual health care intersect rather uniquely and sensitively, where the most pertinent social inequities and public health deficiencies present themselves. Ultimately Thamanna hopes to practice emergency medicine, craft clinical skills that can be translated globally, and in parallel work as an academic physician on projects and initiatives that target quality of care, methodology to systems-based functioning, and translational science that contribute to medical evolution. She also hopes to continue her engagement with medical education and racial inequities. Undoubtedly Thamanna will make significant contributions to towards improving overall patient care in its breadth, in and outside of the hospital.
Sherene Shalhub, M.D., M.P.H., F.A.C.S., offers high praise of Thamanna's abilities, "For someone early in their career, her accomplishments are notable and impressive as you can see by her CV. She is thoughtfully choosing a career path focused on the intersectionality of her interests. A great example is choosing emergency medicine as a path where the day to day work of a physician can be regions nationally and internationally, while simultaneously perusing opportunities to impact process and systemic changes. Her leadership is most recently on clear display in her work as part of the COVID-19 Literature Surveillance Team (LST), a non-profit she helped start during the beginning of very uncertain time in medicine caused by the pandemic. This shows a great deal of not only maturity to tackle a problem during uncertain times, but also pragmatism in finding a workable and impactful solution. She clearly has grit, resourcefulness, and passion…In summary, I recommend Thamanna Nishath for this opportunity in the strongest terms possible. She has achieved a great deal in her early career stage and shows great promise for leadership in future health sciences research. I personally look forward to watching her career develop and have no doubt she will be immensely successful."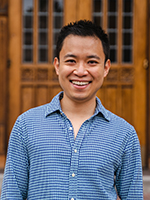 Tao Zheng
School of Nursing
Tao Zheng graduated from the Master of Nursing program at the University of Washington in Tacoma in 2014, and is currently a second-year student in the Doctor of Philosophy in the Nursing Science program. Tao's research program uniquely articulates the mission of the Magnuson Scholar Program. Tao has been investigating the relationship between glycemic control and cardiovascular instability, especially in persons with advanced heart failure. Through his research he has identified specific areas of new research that need to be charted rather than viewing heart disease and diabetes as two separate phenomena. His doctoral training plan and career goals directly align with the National Institute of Nursing Research Strategic Plan to promote symptom and symptom management science in chronic illness. His long-term career goal is to become an influential nurse scientist with an innovative and productive interdisciplinary program of research dedicated to integrating physiologic measures in bio-behavioral interventions to reduce and ameliorate symptom burden in persons with advanced heart failure (AHF) and diabetes. As a future nurse researcher, his vision is to investigate strategies to improve patient health, healthcare services, and clinical outcomes by generating evidence and disseminating research findings addressing patients' unique needs with AHF and diabetes. Cardiovascular outcomes, hospitalization, and prognosis are worse for patients with diabetes compared to those without and patients often live in a cycle of frequent transitions between care settings, struggling with unmet needs and distress from inadequate management of symptoms as a result of chronic conditions. LVAD, as a treatment for AHF, is associated with significant improvement in symptoms of heart failure and markers of diabetes management, including hemoglobin A1C, fasting plasma glucose, and daily insulin needs. Tao aims to establish a strong foundation in research methodology and advanced statistical methods through advanced coursework and training in the Ph.D. Nursing Science Program. He plans to pursue postdoctoral training immediately following the completion of his Ph.D. to continue to participate in mentored research while conducting further quantitative and qualitative data analysis to shape future intervention development to enhance symptom and symptom management science and improve outcomes in people living with AHF and diabetes. Tao is poised to become a leading researcher in health sciences, advancing the field of nursing science.
Cynthia M. Dougherty, ARNP, PhD, FAHA, FAAN, Charles and Gerda Endowed Professor of Biobehavioral Nursing and Health Informatics, has been advising Tao since he started the Ph.D. program in September 2019 and now serves as his dissertation chair and a Ph.D. mentor. She states that, "Mr. Zheng has demonstrated excellent academic performance and research dedication. As his PhD mentor, I have been impressed by his strong aptitude for and commitment to scientific research. Mr. Zheng's intellectual curiosity paired with his prior training is indicative of his exceptional potential for success as an academic researcher both in the near- and long- term. In the short term, I am confident he will accomplish the research goals of investigating associations between change in sleep quality and cognitive function, psychological symptoms and quality of life after LVADs, as well as his long-term goals of contributing to improving patient-centered outcomes in persons with advanced heart failure and diabetes mellitus (DM)."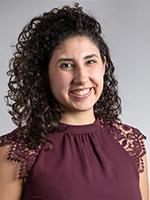 Leticia Salvador Vieira
School of Pharmacy
Leticia Salvador grew up in Rio Claro, Brazil and studied Pharmacy and Biochemistry at the University of São Paulo. During her undergraduate study, Leticia was awarded a scholarship for a research internship at UC Davis where she worked on drug delivery research. In 2018, she was recruited to the University of Washington's Ph.D. program. Leticia's focus is the study of drug transporters, which is a rapidly emerging and promising field that has gained more attention from researchers and regulatory agencies. Transporters play a major role in drug absorption, distribution, and excretion, and thus are important determinants for pharmacokinetics, safety, and efficacy of many drugs. Organic cation transporters (e.g. OCTs, MATEs, PMAT) in the kidney, liver an intestine play a major role in the disposition, efficacy and toxicity of metformin, a front line drug used for the treatment of type 2 diabetes. In recent years, membrane transporters have also emerged as important targets for several diseases including diabetes (e.g. SGLT2 inhibitors). The study of this field can help in understanding and predicting drug-drug interactions and potential toxicities, as well as give insight to identifying new drug targets for diverse diseases, including treatments for diabetes. In her thesis Leticia explores how the plasma membrane monoamine transporter (PMAT) influences the tumor distribution and retention of meta-iodobenzilguanidine (mIBG), a radiopharmaceutical used in the diagnosis and treatment of neuroendocrine tumors. The study of drug transporters can have in the development of more efficacious therapies and safer use of drugs in the clinical setting. Leticia hopes to become a researcher in pharmaceutical industry and contribute to the discovery and development of safer and more effective drugs to treat human diseases. Particularly, her goal is to work in a drug metabolism and pharmacokinetics (DMPK) group as an expert in drug transporters and pharmacokinetics, and eventually grow towards leadership positions that allow her to lead a group in drug development research and communicate with experts in other areas such as medicinal chemistry, toxicology, formulation, and clinical pharmacology.
Joanne Wang, Professor of Pharmaceutics states, "Leticia is extremely talented, self-driven and passionate about research. She takes pride and ownership on her thesis research and always stays on top of her academic work and research projects. Leticia's thesis work is focused on understanding the roles of polyspecific organic cation transporters, including the plasma membrane monoamine transporter (PMAT) and organic cation transporters (e.g. OCTs) in drug disposition and targeting. These transporters are especially important for the disposition and response of the antidiabetic drug metformin. For instance, we and others previously showed that OCTs are involved in the intestinal absorption, renal elimation, and tissuespecific uptake of metformin. Recently, PMAT, a transporter first discovered and characterized in our laboratory, has been linked to severe gastrointestinal adverse effects of metformin (Diabetes Care, 2019). Leticia has a natural talent in leadership. Her smiles, positivity and 'can-do' attitude have inspired many students and made positive influence on people around her. In summary, Leticia has demonstrated outstanding academic achievements. She is highly promising in becoming a productive scientist and a future leader in pharmaceutical research. I wholeheartedly support Leticia's nomination for the Magnuson award."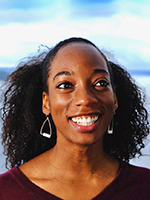 Dorothy Thomas
School of Public Health
Dorothy Thomas earned a Bachelor of Arts in Neurosciences and Behavior and French and Francophile Studies from Vassar College. She went on to earn a Masters of Public Health from the University of Washington's MPH program in Health Services, and is currently a Ph.D. student with the Department of Global Health. Dorothy's personal and professional experiences have guided her towards a career in implementation sciences prioritizing service to marginalized groups. In particular she aspires to identify effective scalable strategies for intervening upon intimate partner violence (IPV) in order to influence psychosocial risk behaviors and subsequent health outcomes. Dorothy's research with couples in Uganda highlighted ways that IPV emerged or became exacerbated within the context of pandemic lockdown restriction. Through the course of her research she realized the pandemic also threatened access to HIV treatment and prevention medicines. This has inspired her to pursue a dissertation topic focusing on the intersecting public health challenges of IPV and HIV. As part of her dissertation, Dorothy will apply implementation science approaches to understanding the quality with which IPV programming is implemented by HIV providers in Uganda in order to guide the development of optimized implementation strategies that facilitate translation from tested approaches to evidence-based interventions that concurrently address IPV and HIV. Her long-term career goal is to work as an independent implementation scientist identifying the complex relationships that link exposure to IPV with subsequent HIV-related risk behaviors in order to realize optimized, scalable strategies that concurrently address challenges of IPV and improve HIV-related health outcomes.
Renee Heffron, PhD, MPH, Associate Professor Department of Global Health, Associate Professor Department of Epidemiology, offer high praise of Dorothy's abilities, "Ms. Thomas has the vision and skills to become a world-class independent researcher and she has assembled a team of mentors, a set of dissertation studies, and a training plan that will position her as an experienced implementation science research for intimate partner violence and HIV. I expect that Ms. Thomas will be nothing but successful as a student at UW and a beacon of quality, scientific rigor, and creativity for the fields of intimate partner violence and HIV. She is the kind of student who inspires me to do my best quality work as a mentor."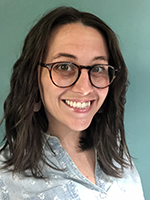 Angela Malorni
School of Social Work
Angela Malroni is a first-generation college student and has earned a Masters of Public Administration as well as a Masters of Social Work from the University of Washington, and she is currently enrolled as a Ph.D. student at the School of Social Work. For a number of years Angela has worked on research projects that promote racial equity and socio-emotional development among youth in schools. Her career goal is two-pronged, she aims to be a transdisciplinary and translation researcher who helps transform how we engage with social systems, social structures, and social justice in youth development research practice and also to contribute to the development of youth participatory action research methodology in university and community settings. Angela's dissertation research is focused on better understanding the ambivalent relationship between social media and you sociopolitical development (SPD). Angela has also been working with schools and school districts to address issues of racial equity in policies and practices, and her work in this field will truly be transformational.
Michael Spencer, Ph.D., MSSW, serves as Angela's doctoral advisor as well as her dissertation chair offers high praise of her abilities, "Angie's potential as a future scholar is unlimited. She already exhibits many of the characteristics of an independent scholar. I am certain she will secure a tenure-track faculty position upon her graduation and have a distinguished career. Furthermore, her multidisciplinary educational background, work experience, and current experiences with my project have prepared her well to make a long-term impact in prevention research aimed at youth SPD and YPAR. Her publication record is growing fast and she has been one of the most active members of our research team. I will go on further to say that she is glue that holds us all together….Angie has been indispensable to our team and I have thoroughly enjoyed working with Angie these past three years."