Care Transformation
UW Medicine Transgender and Gender Non-Binary (TGNB) Care
Program Overview
Mission:  Be a national model for healthcare equity and work to reduce health disparities
Vision: Provide patient-centered and gender-affirming care to UW Medicine patients.
Our goal is to address the healthcare disparities for this community by creating a patient-centered and gender-affirming environment across the UW Medicine (UWM) network.  The TGNB Health Program creates an integrated approach to ensure and coordinate access to primary care, behavioral health, and specialty care. An important component is to optimize primary care access for all current and future TGNB patients while creating a cohesive referral process to specialty care including cross-sex hormones therapy and gender confirming surgical options.
---
History of Transgender and Gender Non-Binary Care at UW Medicine
Over time, a number of individual providers, in both primary and specialty care specialties within UW Medicine have worked to provide care to gender diverse patients.  However, these efforts have not been coordinated nor been designed to be sustained on a programmatic basis.
---
Healthcare Disparities Experienced by Transgender and Gender Non-Binary People
It is estimated that there are 33,000 individuals within Washington state that identify as transgender or gender non-binary. Of those, 38% report a negative healthcare experience ranging from needing to educate their providers, harassment, or denial of care. 22% avoided any medical assistance out of fear. 60% of respondents that had a negative healthcare experience had at least one lifetime suicide attempt, and overall the lifetime risk of suicide attempt is 10 times that of the general population. This population faces disproportionate rates of poverty, homelessness, social isolation, unemployment and victimization.
As gender diverse people have been mistreated as well as maltreated in medical settings, they may be mistrustful of medical staff, especially when it is difficult to identify if the facility is welcoming and educated to their specific health needs.
References: 2015 National Transgender Survey & 2014 Suicide Attempts among Transgender and Gender Non-Conforming Adults
---
UW Medicine's Current and Future Goals to Address Disparities
Strategies
Creation of an integrated program to connect existing UW Medicine healthcare service capabilities
Establishment of primary care medical homes for TGNB patient healthcare, and the entry point to/from medical and surgical specialty services.
Our Current Goals
Improve TGNB patients' experience within the UW Medicine system
Improve TGNB patients' utilization of UW Medicine's existing services
Decrease healthcare disparities
Future Goals 
Continue to expand on our efforts as above.
Build skills in our primary care providers regarding cross sex hormone management, referring for gender affirming procedures, and knowledge of other health needs specific to TGNB patients.
---
UW Medicine Healthcare Services Capabilities
Current Service Capabilities
Endocrine or cross-sex hormone management
Fertility and reproductive care
Urologic condition care
Orchiectomy and hysterectomy
Chest masculinization and breast augmentation
Speech therapy for feminization or masculinization of vocalization
Externally Coordinated Services
Behavioral Health
Services Not Currently Provided
Vulvoplasty or labiaplasty
Vaginoplasty
Metoidioplasty
Phalloplasty
Vaginectomy
Facial feminization or masculinization
Electrolysis or laser hair removal for surgical sites
---
Resources
Recommended Books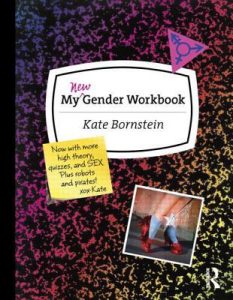 My New Gender Workbook
Author: Kate Bornstein
Published: April 17, 2013
ISBN: 0415538653
ISBN13: 9780415538657
Pages: 298
"Cultural theorists have written loads of smart but difficult-to-fathom texts on gender theory, but most fail to provide a hands-on, accessible guide for those trying to sort out their own sexual identities. In My Gender Workbook, transgender activist Kate Bornstein brings theory down to Earth and provides a practical approach to living with or without a gender.
Bornstein starts from the premise that there are not just two genders performed in today's world, but countless genders lumped under the two-gender framework. Using a unique, deceptively simple and always entertaining workbook format, complete with quizzes, exercises, and puzzles, Bornstein gently but firmly guides readers toward discovering their own unique gender identity.
Since its first publication in 1997, My Gender Workbook has been challenging, encouraging, questioning, and helping those trying to figure out how to become a "real man," a "real woman," or "something else entirely." In this exciting new edition of her classic text, Bornstein re-examines gender in light of issues like race, class, sexuality, and language. With new quizzes, new puzzles, new exercises, and plenty of Kate's playful and provocative style, My New Gender Workbook promises to help a new generation create their own unique place on the gender spectrum." — Routledge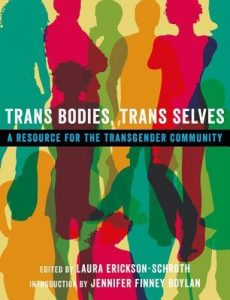 Trans Bodies, Trans selves: A Resource for the Transgender Community
Editor: Laura Erickson-Schroth
Published: June 10, 2014
ISBN: 0199325359
ISBN13: 9780199325351
Pages: 672
"There is no one way to be transgender. Transgender and gender non-conforming people have many different ways of understanding their gender identities. Only recently have sex and gender been thought of as separate concepts, and we have learned that sex (traditionally thought of as physical or biological) is as variable as gender (traditionally thought of as social).
While trans people share many common experiences, there is immense diversity within trans communities. There are an estimated 700,000 transgendered individuals in the US and 15 million worldwide. Even still, there's been a notable lack of organized information for this sizable group.
Trans Bodies, Trans Selves is a revolutionary resource-a comprehensive, reader-friendly guide for transgender people, with each chapter written by transgender or genderqueer authors. Inspired by Our Bodies, Ourselves, the classic and powerful compendium written for and by women, Trans Bodies, Trans Selves is widely accessible to the transgender population, providing authoritative information in an inclusive and respectful way and representing the collective knowledge base of dozens of influential experts. Each chapter takes the reader through an important transgender issue, such as race, religion, employment, medical and surgical transition, mental health topics, relationships, sexuality, parenthood, arts and culture, and many more.
Anonymous quotes and testimonials from transgender people who have been surveyed about their experiences are woven throughout, adding compelling, personal voices to every page. In this unique way, hundreds of viewpoints from throughout the community have united to create this strong and pioneering book. It is a welcoming place for transgender and gender-questioning people, their partners and families, students, professors, guidance counselors, and others to look for up-to-date information on transgender life." – Oxford University Press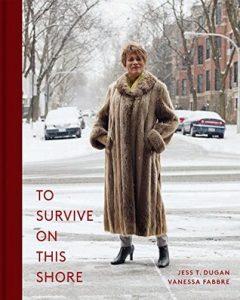 To Survive on this Shore: Photographs and Interviews with Transgender and Gender Nonconforming Older Adults
Authors: Jess T. Dugan, Vanessa Fabbre, Karen Irvine
Published: August 8, 2018
ISBN: 3868288546
ISBN13: 9783868288544
Pages: 164
"Representations of older transgender people are nearly absent from our culture and those that do exist are often one-dimensional. For over five years, photographer Jess T. Dugan and social worker Vanessa Fabbre traveled throughout the United States creating To Survive on This Shore: Photographs and Interviews with Transgender and Gender Nonconforming Older Adults. Seeking subjects whose lived experiences exist within the complex intersections of gender identity, age, race, ethnicity, sexuality, socioeconomic class, and geographic location, they traveled from coast to coast, to big cities and small towns, documenting the life stories of this important but largely underrepresented group of older adults. The featured individuals have a wide variety of life narratives spanning the last ninety years, offering an important historical record of transgender experience and activism in the United States.
The resulting monograph provides a nuanced view into the struggles and joys of growing older as a transgender person and offers a poignant reflection on what it means to live authentically despite seemingly insurmountable odds." – Kehrer Verlag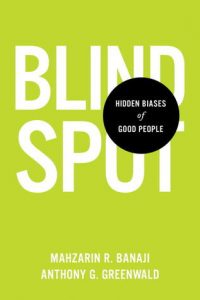 Blindspot: Hidden Biases of Good People
Author: Mahzarin R. Banaji, Anthony G. Greenwald
Published: February 12, 2013
ISBN: 0553804642
ISBN13: 9780553804645
Pages: 272
"These self-perceptions are challenged by leading psychologists Mahzarin R. Banaji and Anthony G. Greenwald as they explore the hidden biases we all carry from a lifetime of exposure to cultural attitudes about age, gender, race, ethnicity, religion, social class, sexuality, disability status, and nationality.
"Blindspot" is the authors' metaphor for the portion of the mind that houses hidden biases. Writing with simplicity and verve, Banaji and Greenwald question the extent to which our perceptions of social groups—without our awareness or conscious control—shape our likes and dislikes and our judgments about people's character, abilities, and potential.
In Blindspot, the authors reveal hidden biases based on their experience with the Implicit Association Test, a method that has revolutionized the way scientists learn about the human mind and that gives us a glimpse into what lies within the metaphoric blindspot.
The title's "good people" are those of us who strive to align our behavior with our intentions. The aim of Blindspot is to explain the science in plain enough language to help well-intentioned people achieve that alignment. By gaining awareness, we can adapt beliefs and behavior and "outsmart the machine" in our heads so we can be fairer to those around us. Venturing into this book is an invitation to understand our own minds.
Brilliant, authoritative, and utterly accessible, Blindspot is a book that will challenge and change readers for years to come." – GoodReads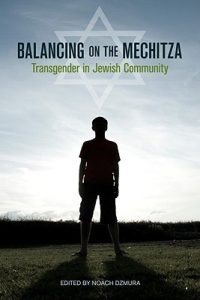 Balancing on the Mechitza: Transgender in Jewish Community
Editor: Noach Dzmura
Published: June 1, 2010
ISBN: 1556438133
ISBN13: 9781556438134
Pages: 288
"While the Jewish mainstream still argues about homosexuality, transgender and gender-variant people have emerged as a distinct Jewish population and as a new chorus of voices. Inspired and nurtured by the successes of the feminist and LGBT movements in the Jewish world, Jews who identify with the "T" now sit in the congregation, marry under the chuppah, and create Jewish families. Balancing on the Mechitza offers a multifaceted portrait of this increasingly visible community.
The contributors—activists, theologians, scholars, and other transgender Jews—share for the first time in a printed volume their theoretical contemplations as well as rite-of-passage and other transformative stories. Balancing on the Mechitza introduces readers to a secular transwoman who interviews her Israeli and Palestinian peers and provides cutting-edge theory about the construction of Jewish personhood in Israel; a transman who serves as legal witness for a man (a role not typically open to persons designated female at birth) during a conversion ritual; a man deprived of testosterone by an illness who comes to identify himself with passion and pride as a Biblical eunuch; and a gender-variant person who explores how to adapt the masculine and feminine pronouns in Hebrew to reflect a non-binary gender reality." – North Atlantic Books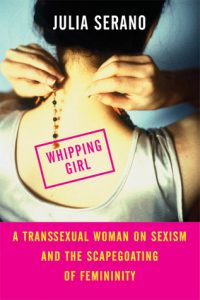 Whipping Girl: A Transsexual Woman on Sexism and the Scapegoating of Femininity
Author: Julia Serano
Published: May 14, 2017
ISBN: 1580051545
ISBN13: 9781580051545
Pages: 390
"In the updated second edition of Whipping Girl, Julia Serano, a transsexual woman whose supremely intelligent writing reflects her diverse background as a lesbian transgender activist and professional biologist, shares her powerful experiences and observation-both pre- and post-transition-to reveal the ways in which fear, suspicion and dismissiveness toward femininity shape our societal attitudes toward trans women, as well as gender and sexuality as a whole.
Serano's well-honed arguments stem from her ability to bridge the gap between the often-disparate biological and social perspectives on gender. In this provocative manifesto, she exposes how deep-rooted the cultural belief is that femininity is frivolous, weak, and passive, and how this "feminine" weakness exists only to attract and appease male desire.
In addition to debunking popular misconceptions about transsexuality, Serano makes the case that today's feminists and transgender activists must work to embrace and empower femininity-in all of its wondrous forms." – Hachette Book Group
---
Videos
"I found my resting place in the fluidity of gender. When I found self-acceptance, the rest of my world aligned with me." – Fox Fisher
"Fox Fisher is a filmmaker who documents the vitality and diversity of the trans community. At TEDxBrighton, he reveals how he came to the decision to medically transition from female-bodied to male-bodied, and how that kickstarted a mission to help tell the unique stories of gender-variant people. It's a narrative, he says, made up of so much more than surgery stories and hyped-up caricatures."– TedBlog
"I thought I should be a girl, but everybody treated me as a boy. So I concluded I must be wrong." – Alice Miller
"For years, Alice Miller worked hard to be "just a normal guy," doing everything she could to squelch her feelings that she actually ought to be a girl. But those feelings never went away. After twenty years in the CIA, two marriages, two kids, and in the middle of a distinguished academic career, Alice transitioned to live full-time as a woman. In a moving talk from TEDxStanford, she explains why." – TedBlog
"I want to do my best to help others live their truth without shame and terror." – Geena Rocero
---
Recommended Organizations
National Center for Transgender Equality
University of California – San Francisco, Center for Excellence for Transgender Health
Fenway Institute, National LGBT Health Education Center
---
Our Gender Allies