UWPA
Annual Research Symposium
---
June 5, 2020
First symposium was a success! Share your research at our 2nd UWPA Virtual Postdoc Research Symposium, from 3pm on Friday June 26. Prizes will be awarded for the best talk! Please send abstracts of no more than 500 words to uwpa@uw.edu by 6/19.
---
May 1, 2020
Please join us for our annual (but first ever, virtual) research symposium, showcasing the work on postdocs across campus! Here are the details.
---
September 2, 2019
Updated Sept. 19, 2019: The final program for the Annual Research Symposium is now online: Research_Symposium_2019_program Original post: Please join us for the UWPA Annual Research Symposium on Friday, Sept. 20, 2019 from 12-6pm. Send your abstracts for talks and/or posters to uwpa@uw.edu by Sept. 6, 2019!
---
March 22, 2018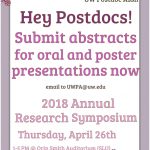 Submit your abstracts here! Join us at the annual UWPA Research Symposium! Thursday, April 26 1:00 – 5:00 pm Orin Smith Auditorium (UW Medicine at South Lake Union, 850 Republican St) This is a great opportunity to enjoy an afternoon with your postdoc peers and learn about their diverse research projects! Deadline for submission Friday : 30th March…
---
October 16, 2016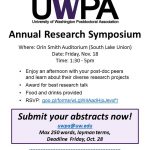 Update: Symposium Schedule and Abstract Booklet are online! See below. RSVP here! Join us at the annual UWPA Research Symposium! Friday, November 18 1:30 – 5 pm Orin Smith Auditorium (UW Medicine at South Lake Union, 850 Republican St) Enjoy an afternoon learning about the exciting research of your post-doc peers across the UW system! Food…
---
December 2, 2015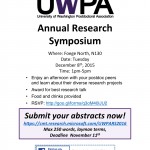 RSVP: http://goo.gl/forms/q3oM40lJU2 Enjoy an afternoon with your postdoc peers and learn about their diverse research projects Award for best research talk Food and drinks provided An afternoon of great research stories with a drinks reception to follow. SCHEDULE 1:30 pm Welcome and lunch   2:00 pm Session 1  Michael Fire, CSE  Quantitative Analysis of Genealogy Using Digitized…
---
October 16, 2014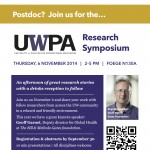 Thursday, 6 November 2014 2-5 pm, drinks reception to follow Foege N130A (map) An afternoon of great research stories with a drinks reception to follow. Registration and abstract submission Abstract deadline: 30 September In November we are once again hosting our annual research symposium. Over the course of the afternoon you'll hear about the diverse…
---