Variations in Autoignition Temperatures
Measured With Different Methodologies
Autoignition temperature is measured in a rigorously controlled manner. Even within the confines of the laboratory, wide variations in results can be obtained with small differences in samples or test conditions. While the materials in the table below [1] are not typically found in vehicle environments, the tests show large variations with differences in mixture, container size, and container material.
Material

Autoignition
Temp. Measured (F)

Methodology

1,018

1.5% mixture

Pentane

936

3.75% mixture

888

7.65% mixture

248

200 ml flask

Carbon disulfide

230

1 liter flask

205

10 liter flask

Benzene

1,060

Quartz vessel

1,252

Iron vessel
There should be no doubt that far greater variations in autoignition temperatures would be expected in the vastly different environments of vehicle engine compartments. Autoignition will occur as a probability distribution with temperature and other factors. However, it can be assumed that the autoignition temperatures in vehicles will not be lower than those measured in laboratories.
In a recent study, gasoline hot surface ignition temperatures were measured using thermocouples and infrared (IR) cameras with tests performed on stainless steel and cast iron surfaces. In one test series on cast iron, the surface was not cleaned between tests; as a residue formed the temperature of ignition increased. Results are shown in the graphs below.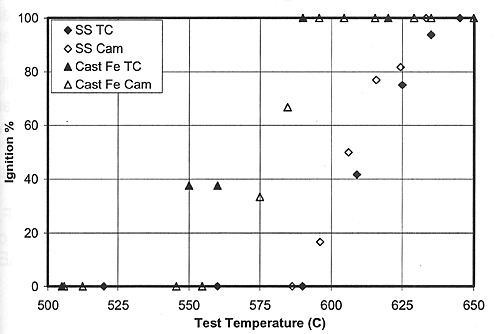 The percentage of observed ignitions as a function of thermocouple and IR camera temperature readings for stainless steel and cast iron samples. Samples tested on cast iron ignited at lower temperature than those on stainless steel.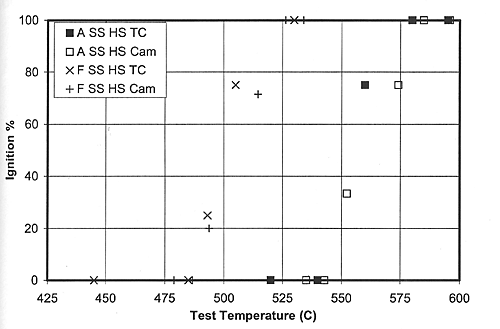 The percentage of observed ignitions as a function of thermocouples and IR camera temperature readings for two exhaust manifold heat shield samples. Results show a difference in ignition temperature between the two stainless steel surfaces.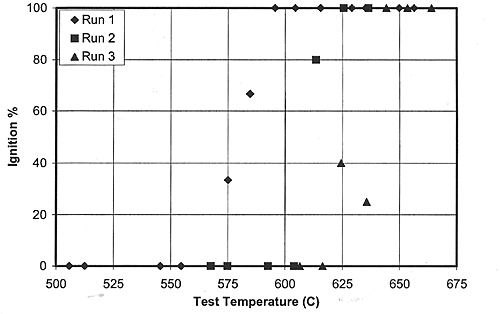 The percentage of observed ignition as a function of IR camera temperature readings for the cast iron sample. The three data sets were obtained as a series (without cleaning the surface between tests) and showed increasing ignition temperatures for surfaces with residue from previous trials.
References
1. French, R., AIChE SACHE Conference, Baton Rouge, LA, September 2003.
2. Byers, K., Epling, W., et al., "Evaluation of Automobile Fluid Ignition on Hot Surface," SAE 2007-01-1394, 2007.