Volunteer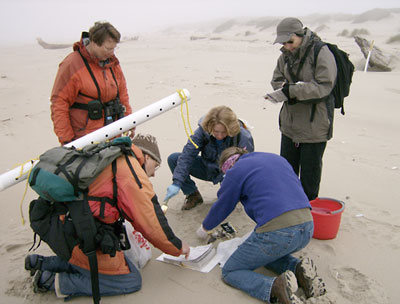 It takes a team—especially on those outer coast beaches—to process all the birds.
Do you enjoy walking on the beach? Are you interested in learning more about the marine natural resources in your area? Want to play an active role in marine conservation? Become a COASST volunteer! 
Here's how:
Attend a 6-hour COASST training session in your area (see the schedule of upcoming training sessions below). At the interactive, hands-on training session you will learn how seabirds, and particularly beached birds, fit into marine conservation, be introduced to bird identification using Beached Birds: A COASST Field Guide, have the opportunity to try out your ID skills, and learn everything you need to know about how to conduct a COASST survey.
Sign the COASST contract, agreeing to survey the beach of your choice every month.
Pay a small deposit for a copy of Beached Birds and the other survey supplies.
Head out to the beach and start surveying!
COASST will provide you with all the supplies to need to get started. COASST staff will be available via phone and email to answer all of your questions. We'll keep you up to date on COASST happenings and results through COASST Reports, our annual report, and COASSTLine, our occasional newsletter.
Send us an email (info@coasst.org) or give us a call to get involved!
Training Schedule
Don't see an upcoming training session in your area? If you can drum up a few other interested folks, we'd be happy to schedule one—please contact us! Interested, but can't make it to the training session? Let us know and we'll try to set you up with informal training from one of the current COASSTers in your area to get you started.