Publications
COASST Reports
COASST Reports, the COASST annual report, is published each Fall. This report summarizes COASST findings for the previous year, including interesting finds from each region, the annual species list, regional deposition rates, and a more in-depth look into one aspect of the COASST data for the year. COASST Reports is targeted for volunteers, but also enjoyed by natural resource managers, scientists, and others generally interested in the marine resources of our area.
Beached Birds: A COASST Field Guide
COASST has designed and published a custom field guide for identification of beached birds. There are currently two editions of the guide:
Beached Birds: A COASST Field Guide, intended for use in the Pacific Northwest

Beached Birds: A COASST Field Guide to Alaska

Beached Birds: A COASST Field Guide to the North Atlantic
Copies of all guides can be purchased directly from COASST. Please contact us for more information.
Recent Publications

McKinley, DC, Miller-Rushing, AJ, Ballard, HL, Bonney, R, Brown, H, Evans, DM, French, RA, Parrish, JK, Phillips, TB, Ryan, SF, Shanley, LA, Shirk, JL, Stepenuck, KF, Weltzin, JF, Wiggings, A, Boyle, OD, Briggs, RD, Chapin III, SF, Hewitt, DA, Preuss, PW, Soukup, MA. 2015. Investing in Citizen Science Can Improve Natural Resource Management and Environmental Protection. Issues in Ecology 19.


Theobald, EJ, Ettinger, AK, Burgess, HK, DeBey, LB, Schmidt,NR, Froehlich, Wagner, C, HilleRisLambers, J, Tewksbury, J, Harsch, MA, Parrish, JK. 2015. Global change and local solutions: Tapping the unrealized potential of citizen science for biodiversity research. Biological Conservation 181:236-244.
Bonney, R, Shirk, JL, Phillips, TB, Wiggins, A, Ballard, HL, Miller-Rushing, AJ, Parrish, JK. 2014. Next Steps for Citizen Science. Science 343:1436-1437.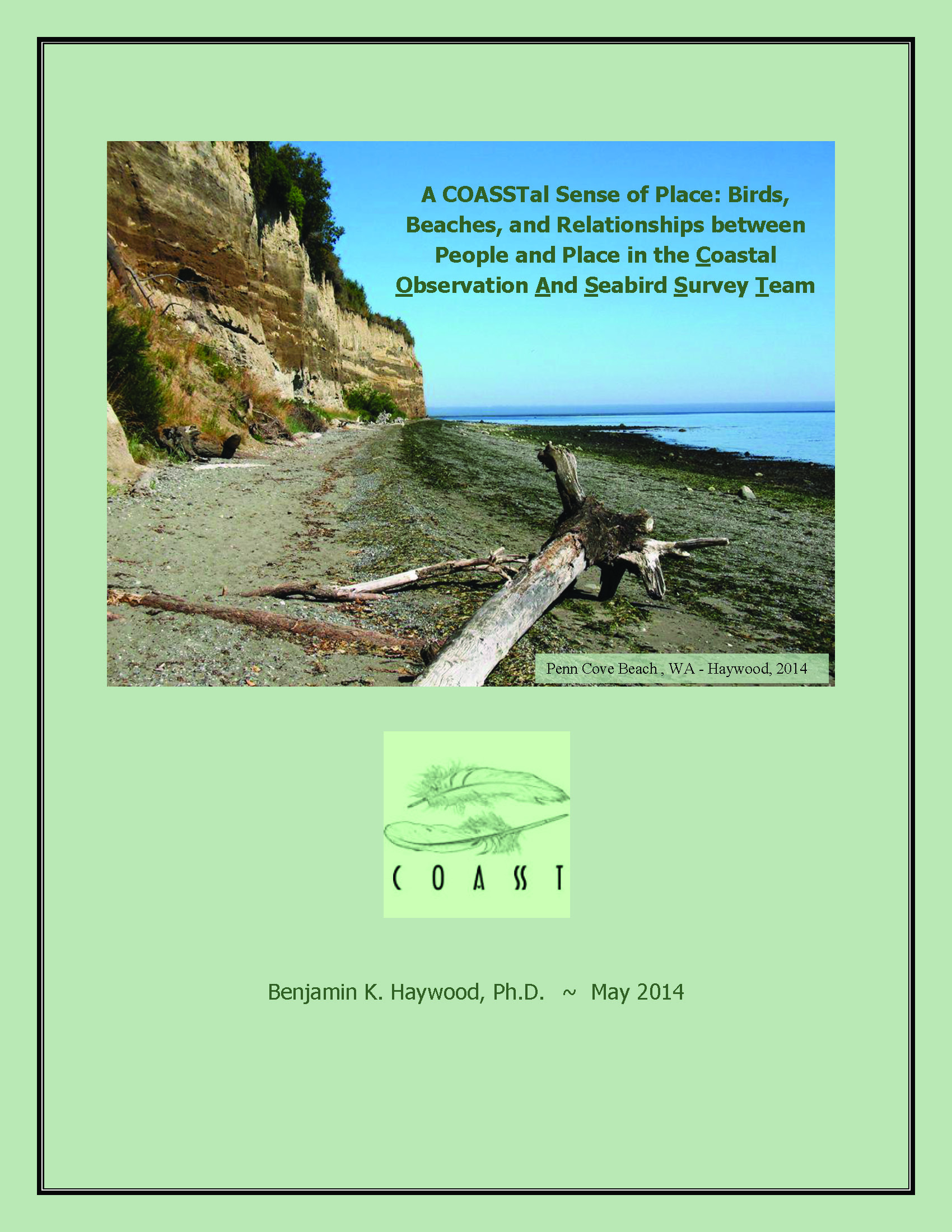 Haywood, B. 2014. A COASSTal Sense of Place: Birds, Beaches, and Relationships between People and Place in the Coastal Observation and Seabird Survey Team. Columbia, SC. The University of South Carolina and COASST.
Scientific Publications
Hamel, N, Burger, AE, Charleton, K, Davidson, P, Lee, S, Bertram, DF, Parrish, JK. 2009. Bycatch and Beached Birds: Assessing Mortality Impacts in Coastal Net Fisheries Using Marine Bird Strandings. Marine Ornithology 37:41-60.


Moore, E, Lydya, S, Roletto, J, Litle, K, Parrish, JK, Nevins, H, Harvey, J, Mortenson, J, Greig, D, Piazza, M, Hermance, A, Lee, D, Adams, D, Allen, S, Kell, S. 2009. Entanglements of marine mammals and seabirds in central California and the north-west coast of the United States 2001–2005. Marine Pollution Bulletin 58:1045–1051.


Bovy, K. 2007. Global human impacts or climate change?: explaining the Sooty Shearwater decline at the Minard site, Washington State, USA. Journal of Archaeological Science 34:1087-1097.


Litle, K, Parrish, JK, Dolliver, J. 2007. The Coastal Observation and Seabird Survey Team—Citizens Monitoring Coastal Environmental Health in Alaska. In: Brewer, R (ed.) Community-Based Coastal Observing in Alaska: Aleutian Life Forum 2006. Alaska Sea Grant College Program, AK-SG-07-03. University of Alaska Fairbanks. 21-38.


Parrish, JK, Bond, N, Nevins, H, Mantua, N, Loeffel, R, Peterson, WT, Harvey, JT. 2007. Beached birds and physical forcing in the California Current System. Marine Ecology Progress Series 352:275-288.
If you would like a copy of any of these publications, please contact us.
Publications Featuring COASST
Cigliano, JA, Meyer, R, Ballard, HL, Freitag, A, Phillips, TB, Wasser, A. 2015. Maring marine and coastal citizen science matter. Ocean & Coastal Management 115:77-87.


Books Featuring COASST