The FHL Marine Invertebrate Zoology classes of 2000 and 2004 characterized six intertidal habitats on San Juan Island, describing the physical characteristics and the natural history of species found at each site. The resulting web pages focused on four aspects of the natural history of local species: reproduction, feeding, locomotion, and protection.
In order to synthesize the information gathered about each habitat type, we compared reproductive and feeding modes for species found among the six habitats, as well as the overall species assemblages among sites.
Site Descriptions
Eagle Cove , located on the southwestern coast of San Juan Island, includes rocky intertidal habitat, an area of smaller rocky cobble, and a sandy beach (all exposed to relatively strong wave action). This site was surveyed for larger animals (macrofauna) in the rocky portions and small animals (meiofauna) that live among sand grains in the beach. Because not much is known about the natural history of the meiofaunal animals, only the rocky intertidal assemblage will be represented in the comparisons below.
Cobble Beach , as its name implies, is an intertidal zone composed of different cobble rock sizes, located near Snug Harbor on the northwest coast of San Juan Island.
Garrison Bay is a highly protected intertidal mudflat on the north side of the island, characterized by fine sediment and little transport of shell material. As a result, empty bivalve shells are highly abundant in the substrate.
Cattle Point is at the southernmost tip of San Juan Island. It receives relatively strong wave action and is often disturbed by logs and other marine debris washed ashore. Kelp is abundant in this high-energy habitat, and tidal zonation is readily apparent.
False Bay is a large, shallow embayment on the west side of the island, covering more than a square kilometer and having multiple soft sediment types, but is typically more sandy than the muddy Garrison Bay.
Argyle Creek is a highly unusual tidal creek that fills a semicircular lagoon during flow tide, and empties out into a bay during ebb tide. As a result, saltwater is constantly moving over the shallows of the creek, creating a unique habitat for intertidal and subtidal animals.
Click here to see comparative reproductive biology among the six sites.
Click here to see comparative feeding biology among three of the sites.
Click here to see comparative species assemblage data for the sites.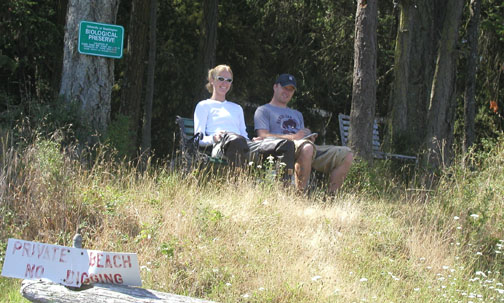 Andria Smith and Ryan Kelly, interhabitat liaisons, contemplating habitat comparisons...