Colors of the West
by Molly Hashimoto
reviewed by Brian Thompson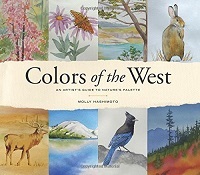 Editor's note: Local artist Molly Hashimoto returns to the Miller Library this month, displaying original paintings and prints from her new book.


Molly Hashimoto has exhibited her artwork at the Miller Library for many years. Library patrons and staff alike have delighted in her original works, along with sketchbooks, prints, cards, calendars, and other depictions of regional landscapes and animal life.


It is very exciting to have a new book by Molly,
Colors of the West: an artist's guide to nature's palette
. This is in part the story of how she came to embrace watercolor painting
en plein air
(in the open air) after seeing the field sketchbooks of Thomas Moran from the late 19th century. His work was instrumental in the creation of the first national park at Yellowstone.
"This rendezvous with Moran compelled me to reconsider what it meant to be an artist—how to work, where ideas are generated, the purpose of art. I felt that I, too, had to create work in the field, to keep sketchbooks and journals to record my own experiences in the outdoors."


This book is also an excellent introduction to this style of painting and you quickly learn that Molly is not only an accomplished artist, but also an excellent teacher. "When I teach, I try to reach the 'inner artist' who longs to mimic the beauty of nature, without necessarily knowing all there is to know about color, technique, etc. This book, like my classes, urges you to just pick up a paintbrush and get started!"


Meet the artist at a free reception open to the public this Thursday, November 9th, from 5 pm to 7 pm at the Miller Library. Molly will read from her book and share a slide show starting at 5:30.
Journal review: HPSO Quarterly
reviewed by Brian Thompson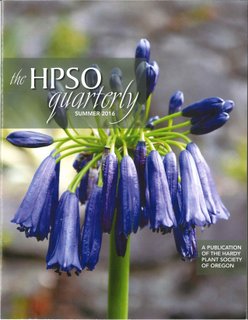 This past summer I enjoyed a three-day tour of Portland area private gardens, public gardens, and nurseries; a trip hosted by the Northwest Horticultural Society. While Seattle and Portland have been long-time rivals in many matters, both are wonderful cities for garden lovers and keen plants people.

I advise calming the competitiveness and instead celebrating our neighbor to the south by becoming acquainted with The HPSO Quarterly, published by the Hardy Plant Society of Oregon. Many plant society publications have no content of interest to non-members. This newsletter is the exception to that, with many articles that will be valuable to gardeners throughout the Puget Sound region.


For example, a recent article included an in-depth look at the newer hybrids of crocosmias. Written by Tom Fischer, the editor-in-chief for Timber Press, this article is both witty and informative. "Rather than planting boring old 'Lucifer', why not try the searingly scarlet 'Hellfire' or 'Lana de Savary'?"


The same issue (Summer 2017) crosses the border into our state with an exploration of the Wildlife Botanical Gardens in Brush Prairie, Washington. This is a new garden to me, but it is now on my must-visit list.


Other articles profile passionate horticulturists, highlight garden wildlife or outstanding designs, and even review new books in the HPSO library! Every issue of this publication I read cover-to-cover; I recommend you do the same.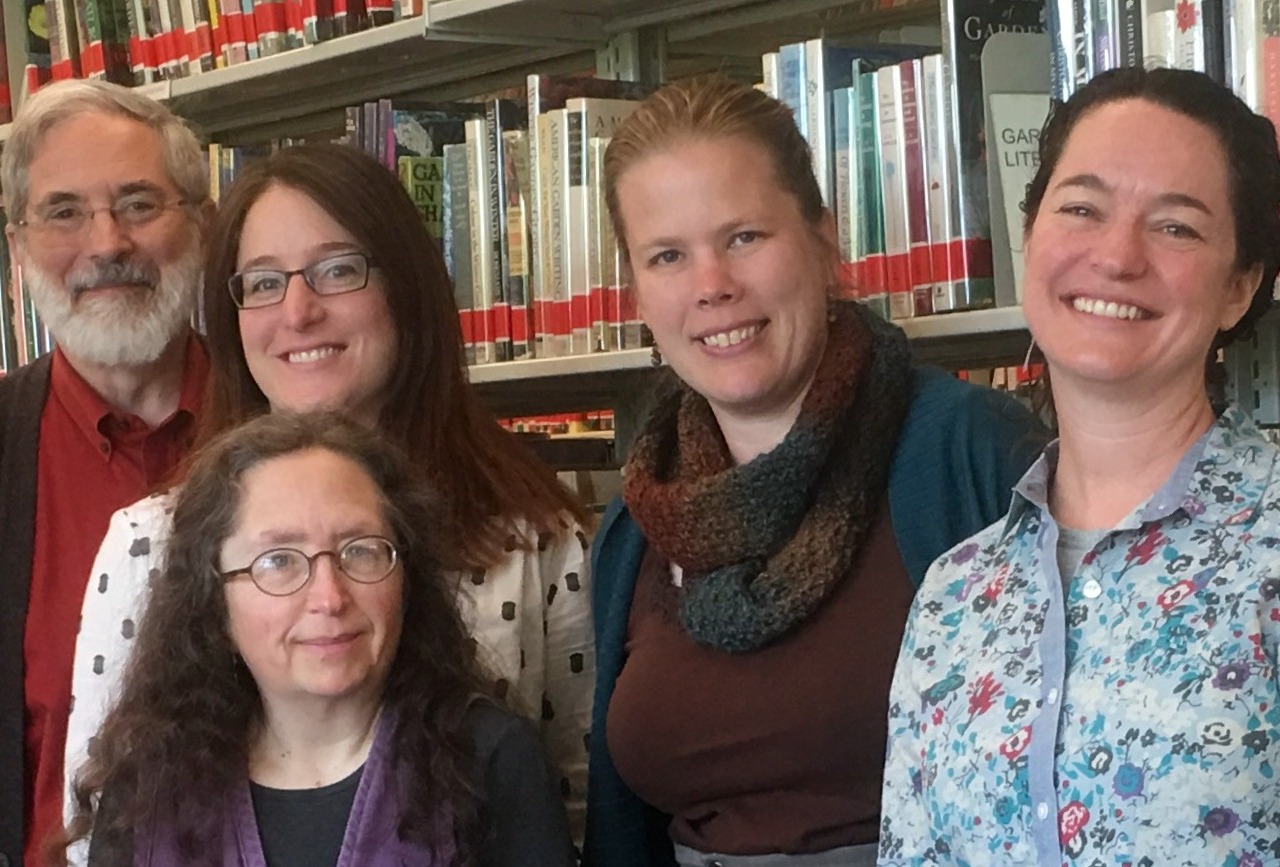 Did you know the Miller Library offers tours? If your garden club, family reunion, student group, or other plant-curious group could benefit from learning more about everything the library has to offer, consider arranging a 30-minute tour. We are happy to tailor the presentation specifically to your needs, whether you are a pruning class, P-Patch garden group, wild bird enthusiasts, professional landscape designers, 8-11 year-old vegetable gardeners, or a garden writers' club. To schedule a tour, contact the library at least two or three weeks in advance at 206-543-0415 or hortlib@uw.edu.
The entire staff is pictured above: Library Manager Brian Thompson, Information and Serials Specialist Jessica Anderson, Reference Librarian Rebecca Alexander, Information Specialist Laura Blumhagen, and Information Technology Librarian Tracy Mehlin.
The Miller Library is open for browsing and research 49 hours each week.
You'll find the full schedule and information for visitors on our
website
.
© 2017 University of Washington Botanic Gardens