Art Exhibit: Early Birds paintings by Cathe Gill, Beth Means & Anni Leedy opens June 17
Early Birds is an exhibit of small paintings done on location around the Center for Urban Horticulture by three local landscape artists, who, over many years, have often walked the trails and stopped to paint and sketch. The exhibit runs through July 28th.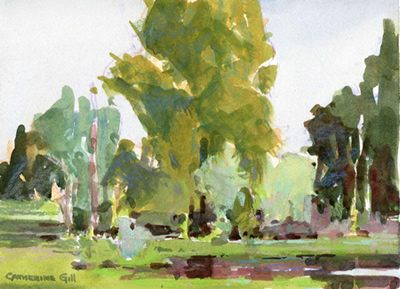 Stay Connected: Subscribe to Leaflet!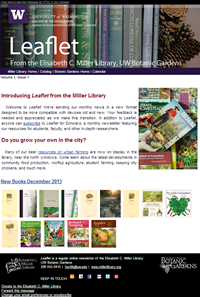 The Miller Library Leaflet is a monthly email newsletter. Sign up to receive the latest news, events, and new books linked for easy hold-placing.
30 Books for 30 Years
Join us as we celebrate thirty years of service and the extraordinary support of people like you.
Create an anniversary book dedication to show the public that this library is possible through the generosity of our patrons!
Top Resources
Story Program
WHO: Kids ages 3 to 8 and their parents.
WHAT: Enjoy stories about plants and nature.
WHEN: Monthly.
COST: Free!

Special Extended Library Hours
The library stays open until 7pm before scheduled Northwest Horticultural Society lectures. Lectures are open to the public, $5 members, $10 non-members.
Recommended Books & Research Tools
With over 15,000 books on gardening techniques, garden design and history, native floras from around the world, and 400 magazine titles, the Miller Library has the most extensive horticulture collection in the Pacific Northwest. More about the Miller Library.
The Miller Library Thanks our Financial Supporters: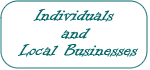 Proud member of the
Council on Botanical and Horticultural Libraries