Holiday Art, Craft & Gift Sale
Get your shopping done early and support local artists! We invite our patrons to join us for a reception on Friday, December 4th, 5 to 7pm. Exhibit and sale runs through December 23rd, we'll have a selection of locally made arts and crafts available for purchase at the Miller Library.
Cash* or Check only please! 25% of proceeds benefit the Miller Library.
Artists participating this year are:
ANN GERRARD, garden inspired wreaths
DOROTHY CRANDELL, elegant jewelry
JENNY CRAIG, Notta Pixie Press, vintage letterpress cards and gifts
MOLLY HASHIMOTO, nature-inspired watercolor paintings, prints, cards and calendars
JENNIFER CARLSON, felt veggie ornaments and lavender wands
SYLVIA PORTILLO, The Human Hand Card Company, cards, prints, dioramas and botanically inspired, felted wool, wearable flowers
MICHELLE SMITH-LEWIS, cyanotype botanical fabric
JOAN HELBACKA, handmade bound notebooks
AL DODSON, photographs
*some artists may accept credit card at the reception on 12/4
Paintings and Prints by Molly Hashimoto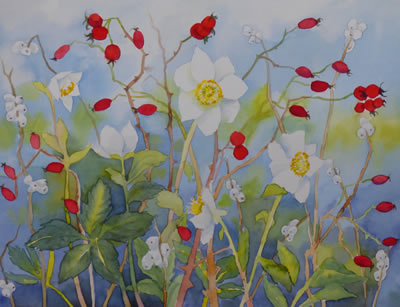 Seattle artist and teacher Molly Hashimoto explores the flora and fauna of the West, from both garden and wild habitats, in watercolors and block prints. This year's exhibit features all new work, including many birds, and prints of Western conifers of the coast and timberline plus watercolors of favorite flowers playfully painted from her own garden. Molly's work is published by Pomegranate as cards, calendars, puzzles and books; many of those items will be offered for sale with the prints and paintings.
Molly's work will be on display in the Miller Library November 5 through December 28, and she invites you to an opening reception November 5 from 5 to 7pm.
Stay Connected: Subscribe to Leaflet!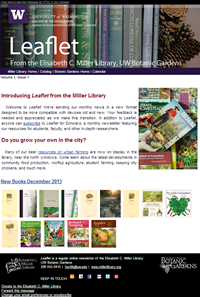 The Miller Library Leaflet is a monthly email newsletter. Sign up to receive the latest news, events, and new books linked for easy hold-placing.
November Holidays
The Library will close at 3pm on November 25 and remain closed November 26-29.
Top Resources
30 Books for 30 Years
Join us as we celebrate thirty years of service and the extraordinary support of people like you.
Create an anniversary book dedication to show the public that this library is possible through the generosity of our patrons!
Story Program
WHO: Kids ages 3 to 8 and their parents.
WHAT: Enjoy stories about plants and nature.
WHEN: Monthly.
COST: Free!

Special Extended Library Hours
The library stays open until 7pm before scheduled Northwest Horticultural Society lectures. Lectures are open to the public, $5 members, $10 non-members.
Recommended Books & Research Tools
With over 15,000 books on gardening techniques, garden design and history, native floras from around the world, and 400 magazine titles, the Miller Library has the most extensive horticulture collection in the Pacific Northwest. More about the Miller Library.
The Miller Library Thanks our Financial Supporters: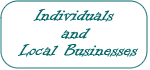 Proud member of the
Council on Botanical and Horticultural Libraries