Miller Library 30th Anniversary Celebration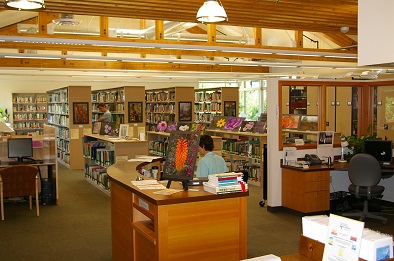 This year marks thirty years of service for the Elisabeth C. Miller Library! Stop by Wednesday, October 14, anytime between 3 and 7pm for refreshments and a chance to hear clips from our oral history collection. We'll also be featuring a display of rare books, a sneak peak at new titles in our children's collection, and a tour of our web resources.
Please say you'll come! RSVP to hortlib@uw.edu or (206)543-0415.
Art Exhibit: Now You See It! The Slime Mold Revelation

Tuesday, September 15 – Friday, October 30
What do evolution and the Emperor of Japan have to do with art about slime molds? Now You See It! The Slime Mold Revelation reveals the stories behind four centuries of artistic devotion to these otherworldly organisms. Just what are slime molds? Worldwide, one-celled bacteria-munching travelers of the earth beneath your feet. Shimmering rainbow-colored spore-filled protists on your rosebush. Tiny dwellers of the arctic, the rainforest, and the desert. Now You See It! is a colorful foray into a little-known world: a visual and scientific delight for all ages. Come confused, leave stupefied. Curator Angela Mele is a scientific illustrator finishing the illustrations for a field guide to cosmopolitan slime molds. She recently received a Master's of Museum Studies from the University of Washington.
The artist invites you to a reception at the Miller Library on Friday, September 18 from 5:00 to 7:00pm.
Stay Connected: Subscribe to Leaflet!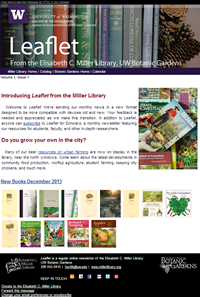 The Miller Library Leaflet is a monthly email newsletter. Sign up to receive the latest news, events, and new books linked for easy hold-placing.
Top Resources
Story Program
WHO: Kids ages 3 to 8 and their parents.
WHAT: Enjoy stories about plants and nature.
WHEN: Monthly.
COST: Free!

Special Extended Library Hours
The library stays open until 7pm before scheduled Northwest Horticultural Society lectures. Lectures are open to the public, $5 members, $10 non-members.
Recommended Books & Research Tools
With over 15,000 books on gardening techniques, garden design and history, native floras from around the world, and 400 magazine titles, the Miller Library has the most extensive horticulture collection in the Pacific Northwest. More about the Miller Library.
The Miller Library Thanks our Financial Supporters: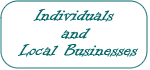 Proud member of the
Council on Botanical and Horticultural Libraries