New Directions: Recent Developments
Much like the growth patterns of its specimens, the history of the Arboretum has been marked by constant change. New garden spaces have been developed and added to perpetuate the legacy of learning and scientific study envisioned by Meany, Winkenwerder, Mulligan, and the countless other men and women who made the Arboretum a reality.
Joseph A. Witt Winter Garden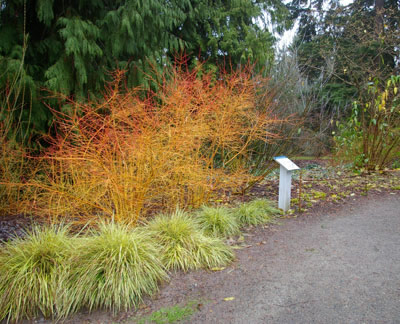 Joseph A. Witt Winter Garden
Courtesy University of Washington Botanic Gardens
The Joseph A. Witt Winter Garden is located north of the Woodland Garden on the site of the first winter garden created in 1949. One wonders if Brian Mulligan's leisurely stroll in the winter garden at Wisley with his future wife couldn't have influenced his decision to add a similar garden to the Arboretum's collections.
In 1988, the Winter Garden underwent a major renovation, designed by Associate Professor Iain Robertson of the University's Department of Landscape Architecture. At that time, it was named in memory of Joseph A. Witt, who served the Arboretum in many capacities, including Curator of Plant Collections, from 1952 until his death in 1984.
The new design is based on the concept of a woodland room, wherein witch hazels, paperbark maples, Sasanqua camellias and a host of winter flowering perennials are set against a backdrop of western red cedar and Douglas fir trees.
Donald G. Graham Visitors Center
In 1985, the Donald G. Graham Visitors Center opened to commemorate the 50th anniversary of the Arboretum Foundation. The Center was built with $700,000 raised by the Foundation, which then donated the Center to the City of Seattle.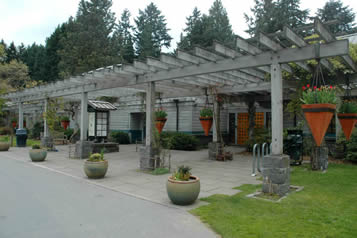 Donald G. Graham Visitors Center
Courtesy University of Washington Botanic Gardens
The Visitors Center was named after Donald Graham, a long-time friend of the Arboretum responsible for recruiting Brian Mulligan to become its director in 1946.
Pacific Connections Garden
The most recent addition to the Arboretum is the Pacific Connections Garden. When it is completed, it will span 14 acres at the south end of the Arboretum. In addition to Cascadia plants from our region, representatives in the garden will hail from Australia, Chile, China, and New Zealand.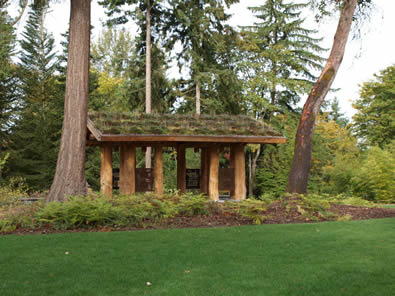 Pacific Connections Garden Shelter
Courtesy Cheri Shanahan
Each region's garden features an iconic plant of that part of the world: from Cascadia, western red cedar; from Australia, snow-gum eucalyptus; from Chile, monkey-puzzle tree; from China, the ginkgo; and from New Zealand, flax. The garden includes a central meadow and an interpretive shelter made from cedar logs salvaged from the Arboretum and carved with images of the iconic plants.