Elisabeth C. Miller Library
The Garden Lovers' Book Sale is over, and all remaining books are free!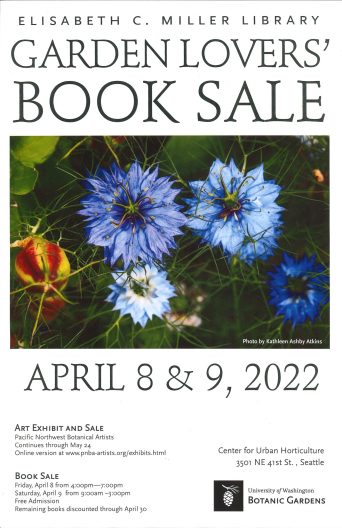 The  exhibit and sale of artwork by members of the Pacific Northwest Botanical Artists continues through May 24 (see exhibit information below).
Covid-19 Update
Masks are strongly recommended but optional.  The Botanic Gardens continues to follow all advice and directives set forth by the UW, which are detailed on the UW Novel Coronavirus Information Page.
We will resume accepting book and magazine donations in May 2022.
Top Resources
Visit Us
Open to everyone. Open hours.
Address: 3501 NE 41st St., Seattle, WA, 98105
Location: Center for Urban Horticulture. CUH Map.


@ElisabethCMillerLibrary
Contact Us
Your Library Account  Email: hortlib@uw.edu
Plant Answer Line: 206-897-5268  General Questions: 206-543-0415
Pacific Northwest Botanical Artists: Forest, Field & Garden ~ April 2-May 24, 2022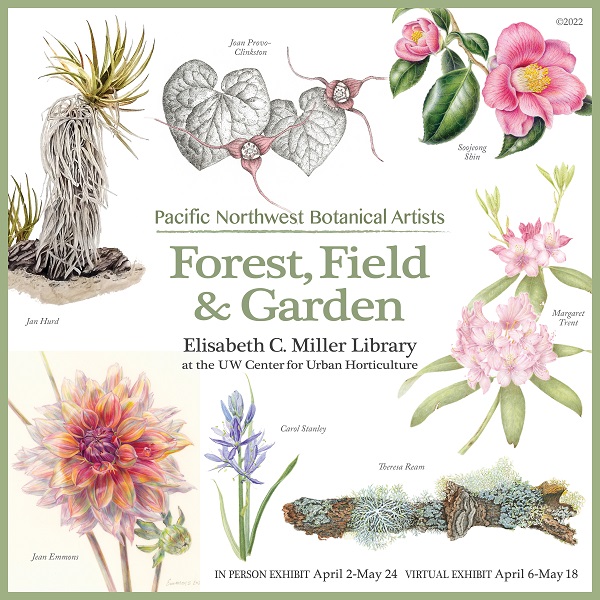 The Pacific Northwest Botanical Artists (PNBA) are pleased to present their 15th Annual Elisabeth C. Miller Library exhibit.
PNBA is a chapter of the American Society of Botanical Artists, a nonprofit organization dedicated to promoting public awareness of contemporary botanical art, honoring its traditions and furthering its development.
The in-person exhibit runs April 2 through May 24 during Library open hours. Artwork will be for sale throughout the month, with a portion of the sales benefiting the Library. The virtual exhibit runs from April 6 through May 18.
Monthly Email Newsletters
The Miller Library Thanks our Financial Supporters: