Elisabeth C. Miller Library
Covid-19 Update
Masks are strongly recommended but optional.  The Botanic Gardens continues to follow all advice and directives set forth by the UW, which are detailed on the UW Novel Coronavirus Information Page.
We accept donations of gardening books and magazines in good condition, except during March and April, when we pause donations before and after our annual Garden Lovers' Book Sale (this year, on March 31 and April 1).
Top Resources
Visit Us
Open to everyone. Open hours.
Address: 3501 NE 41st St., Seattle, WA, 98105
Location: Center for Urban Horticulture. CUH Map.


@ElisabethCMillerLibrary
Contact Us
Your Library Account  Email: hortlib@uw.edu
Plant Answer Line: 206-897-5268  General Questions: 206-543-0415
From a Paper Garden ~ Sculptures by Christina Hanson  February 1 – 25, 2023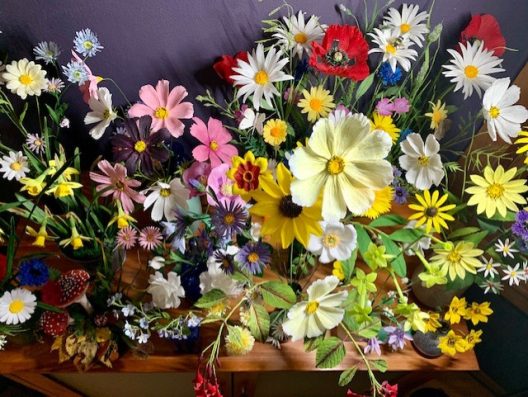 Christina Hanson creates botanically accurate sculptures from paper and wire. A co-founder of the Pacific Northwest Vivarium Society and an orchid enthusiast, she is also a lab manager in the Edmonds College department of Biology and Environmental Sciences.
In Christina's words, "I intend for my botanical sculptures to highlight both the beauty of flowers to all of us as well as their importance in the ecosystem. I focus on making flowers that despite being common or garden variety (or even weedy) are important forage for pollinating insects and birds. In addition to flowers, wherever possible I try to include less showy, but no less important plants such as ferns and mosses."
Meet the artist at an opening reception in the Miller Library on Saturday, February 4, 2023, from 12:30-2:30.
The exhibit is open during Library hours.
Monthly Email Newsletters

Leaflet has book reviews, events, and new books.
Sign up.
February 2023: Liz Carlisle's Healing Grounds reviewed by Priscilla Grundy.


Leaflet for Scholars is for students, faculty and professionals. Sign up.
February 2023: Rebecca Alexander identifies a plant whose seeds are eaten in Iraq and nearby countries.

The Miller Library Thanks our Financial Supporters: