Elisabeth C. Miller Library
Covid-19 Update
Masks are strongly recommended but optional.  The Botanic Gardens continues to follow all advice and directives set forth by the UW, which are detailed on the UW Novel Coronavirus Information Page.
We are currently accepting donations of gardening books and magazines in good condition.
Top Resources
Visit Us
Open to everyone. Open hours.
Address: 3501 NE 41st St., Seattle, WA, 98105
Location: Center for Urban Horticulture. CUH Map.


@ElisabethCMillerLibrary
Contact Us
Your Library Account  Email: hortlib@uw.edu
Plant Answer Line: 206-897-5268  General Questions: 206-543-0415
Katy Gilmore: Flower Pleasure — July 5-28, 2022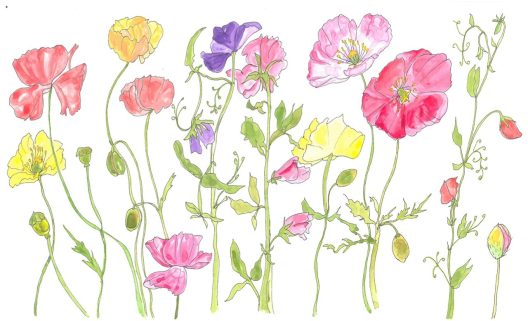 Katy Gilmore is a Northwest artist who now lives on Bainbridge Island. In watercolors and artists' books, and a series of bookmarks, this show celebrates flowers – those miraculous, beautiful, often taken-for-granted, essentials of our world. The artist writes:
"Recognizing the threat of climate change to flowers and all our fragile world, the paintings and words here are a record of what we stand to lose – the joy, the beauty, the essential. On bad days I fear my endeavors are a record of conditions and events threatened existentially, on good days I believe in the important work to make note and celebrate the miracle of seasons and renewal, the adaptations by critter and plant, the uniqueness of species."
Exhibit open during Library hours.
Meet the artist on Thursday, July 7 from 3 to 5 pm in the Elisabeth C. Miller Library.
Monthly Email Newsletters
The Miller Library Thanks our Financial Supporters: