Elisabeth C. Miller Library
"Ecologies of Memory," The 2023 Elisabeth Miller Memorial Lecture, by Sara Zewde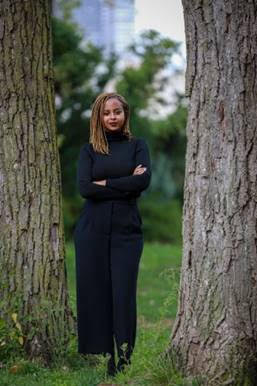 Don't miss the 2023 Miller Memorial Lecture, available online until October 31, featuring Sara Zewde sharing her recent work on Frederick Law Olmsted's often-overlooked years in the U.S. South and how that research has influenced Studio Zewde's work designing meaningful public spaces that bring together ecology, culture, history, and community.
Zewde is Assistant Professor of Practice at Harvard University's Graduate School of Design and Founding Principal of Studio Zewde. She brings years of experience leading complex design processes across the Americas.
The annual Elisabeth Miller Memorial Lecture is presented by the Pendleton & Elisabeth Carey Miller Charitable Foundation with support by the Elisabeth C. Miller Botanical Garden, the Elisabeth C. Miller Library, the Northwest Horticultural Society, and Great Plant Picks.

Fruiting Bodies: Art by Heather Talbot ~ September 5-29, 2023
Fruiting Bodies features Heather Talbot's pen and ink drawings, thread drawings, and needle felted works. From the artist's statement:
"I am drawn to the concepts of impermanence, interconnectedness and interdependence, and use my art as a way of exploring these concepts. I'm interested in systems and how sometimes small and apparently insignificant elements of a system can be so essential to its healthy functioning.
"I consider each piece of work I undertake to be an exploration into a more deep and full understanding of one aspect of the living web of life of which I am also a part. Fungi are so fascinating to me, not just because they are so varied and beautiful in form, but because they are the fruiting bodies of these vast, invisible webs that are so essential to the healthy functioning of a forest and so exemplify these notions of impermanence, inter-connectedness and interdependence so beautifully."
Top Resources
Visit Us
Open to everyone. Open hours.
Address: 3501 NE 41st St., Seattle, WA, 98105
Location: Center for Urban Horticulture. CUH Map.


@ElisabethCMillerLibrary
Masks are optional.  The Botanic Gardens continues to follow all advice and directives set forth by the UW, which are detailed on the UW Novel Coronavirus Information Page.
Contact Us
Your Library Account  Email: hortlib@uw.edu
Plant Answer Line: 206-897-5268  General Questions: 206-543-0415
We are currently accepting donations of gardening books and magazines in good condition.
Monthly Email Newsletters
The Miller Library Thanks our Financial Supporters: