Elisabeth C. Miller Library
2023 Garden Lovers' Book Sale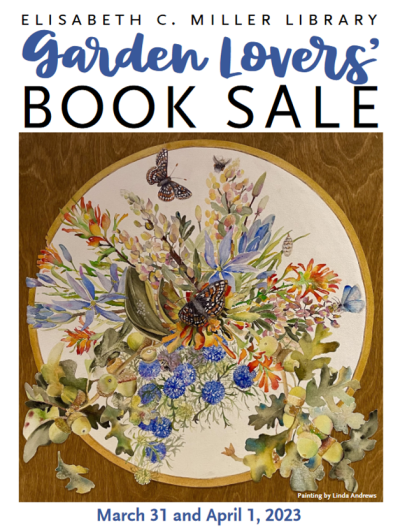 Join us Friday March 31 and Saturday April 1 for our annual book sale! Enjoy the company of fellow plant lovers, browsing thousands of gently used books for sale on gardening, plants, ecology and related topics.
An Opening Night event will take place Friday March 31 from 5-8pm, and includes the book sale, a silent auction, a new art exhibit by Pacific Northwest Botanical Artists, food, and drink. Registration and more information can be found here.
No registration is required for the Saturday book sale, which runs from 9am to 3pm.
Interested in volunteering? Please contact Nick Williams at nickjpw@uw.edu to sign up. Shifts include setting up Friday morning, the opening night party, or takedown on Saturday afternoon.
Top Resources
Visit Us
Open to everyone. Open hours.
Address: 3501 NE 41st St., Seattle, WA, 98105
Location: Center for Urban Horticulture. CUH Map.


@ElisabethCMillerLibrary
Masks are strongly recommended but optional.  The Botanic Gardens continues to follow all advice and directives set forth by the UW, which are detailed on the UW Novel Coronavirus Information Page.
Contact Us
Your Library Account  Email: hortlib@uw.edu
Plant Answer Line: 206-897-5268  General Questions: 206-543-0415
We accept donations of gardening books and magazines in good condition, except during March and April, when we pause donations before and after our annual Garden Lovers' Book Sale (this year, on March 31 and April 1).
Rosemary Washington: Playing with Color ~ March 1 – 28, 2023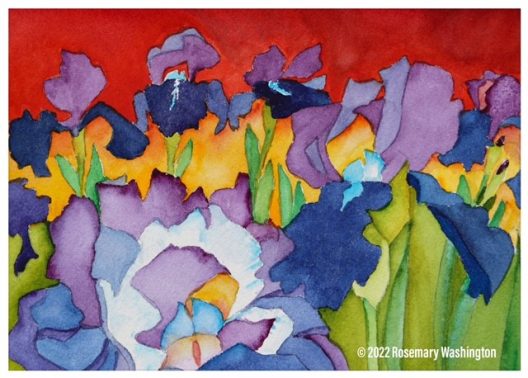 Rosemary Washington returns to the Miller Library with new watercolor work featuring vegetables, fruits, and flowers. Since 2012, Rosemary has had four exhibits of her watercolors at the library, including the current one. Each showed her growth into new styles and directions. One constant is finding inspiration in nature and the commonplace.
Rosemary considers herself a true amateur, one who pursues art for the love of it. There is no goal in mind, so she is free to evolve, experiment, and follow her urges. By focusing on regular, frequent practice (ideally picking up a paintbrush every day) and making small paintings, she is able to create a quantity of works that allow new directions to emerge in an unstudied, natural way. In the future, Rosemary hopes to further experiment with watercolor, gouache, and collage. She expects joyful surprises.
Some of her collage work is part of a virtual exhibit.
The exhibit is open during Library hours. All sales by cash or check only. Buyers can pick up their art on or after March 29. A portion of the proceeds will be donated to the UW Miller Library Fund.
Monthly Email Newsletters

Leaflet has book reviews, events, and new books.
Sign up.
March 2023: Constance Villiers Stuart: in pursuit of paradise reviewed by Priscilla Grundy.


Leaflet for Scholars is for students, faculty and professionals. Sign up.
March 2023: Nick Williams invites students to participate in our Plant Research exhibit this May.

The Miller Library Thanks our Financial Supporters: