Faculty, postdoctoral fellows, technical staff, graduate students, and undergraduates — meet all the people that make up the Knowledge Cities project!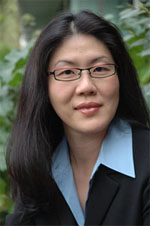 Karen C. Seto is an Associate Professor in the School of Forestry and Environmental Studies at Yale University. Her research focuses on understanding the drivers and consequences of land use and land cover change, especially urban growth. Her current research efforts include monitoring and forecasting urban growth in Asia and analyzing the effects of policy reforms on urbanization and agricultural land loss in China, Vietnam, and India. She is Co-Chair of the Urbanization and Global Environmental Change (UGEC) Project of the International Human Dimensions Programme on Global Environmental Change (IHDP) and the Remote Sensing Thematic Leader for the World Conservation Union's (IUCN) Commission on Ecosystem Management (CEM). She is a recipient of the NASA New Investigator Program in Earth Science Award and the NSF Faculty Early Career Development (CAREER) Award.
She received her BA in Political Science from the University of California at Santa Barbara, her MA in International Relations, Resource and Environmental Management from Boston University, and her PhD in Geography from Boston University.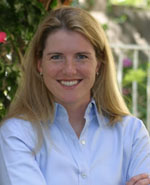 Margaret Pugh O'Mara is an Assistant Professor of History at the University of Washington and a research scholar at the Bill Lane Center for the Study of the North American West at Stanford University. Her research focuses on the evolution of political institutions and urban space in the United States and around the world since 1945. The author of Cities of Knowledge: Cold War Science and the Search for the Next Silicon Valley (Princeton, 2005), her current research examines the role of Cold War political institutions on the globalization of the technology industry and the cultural, spatial, and political impacts of "knowledge work" in the US and abroad.
She received her BA from Northwestern University, her PhD from the University of Pennsylvania, and previously served as a domestic policy analyst in the Clinton Administration. O'Mara's faculty homepage.
Top
Burak Güneralp is a postdoctoral scholar in the School of Forestry and Environmental Sciences at Yale. His interests focus on the underlying causes of urban land use change and its impacts on the environment. His broader research interests include spatio-temporal analysis and modeling, socio-economic/socio-ecological management problems (in relation to sustainability), and formal analysis of structure-behavior relations in dynamic models. He employs (spatial) dynamic modeling, statistical analysis and geographical information systems (GIS) to study the significance of social, economic and political drivers of urban land use change in China.
He received his BS and MS with specialization on System Dynamics from Bogaziçi University, Istanbul, Turkey. He completed his Ph.D. in Natural Resources and Environmental Sciences at the University of Illinois at Urbana-Champaign.
Michael Reilly is a post-doctoral scholar in the Geological and Environmental Sciences department and the project manager of the Pacific Rim Suburbanization Project at the Woods Institute for the Environment at Stanford University. His work centers on the interaction between cities and the natural environment through applications of urban modeling, transport planning, and spatial analysis. Currently he is comparing the suburbanization process and its environmental impacts in the Silicon Valley, the Pearl River Delta, and the Bangalore Metropolitan Area.
Reilly grew up near Pasadena. He received his B.A. in anthropology, his Master of City Planning, and his Ph.D. in City and Regional Planning from the University of California, Berkeley. During graduate school, Michael consulted in the public and private sectors and taught GIS and spatial analysis at the University of California and the California State University.
Top
Ruthie Harari-Kramer (Stanford) has served as Lab Manager and Remote Sensing Analyst since 2005. Her interests focus on studying spatial-temporal land-use and land-cover changes and their effects on the environment, using remote sensing and GIS techniques. Harari-Kramer received her B.Sc. and M.Sc. in Environmental Biology from The Hebrew University, Israel. She completed a second Master degree in Environmental and Urban Geography, at the University of Illinois at Chicago, specializing in Remote Sensing and GIS. Prior to Stanford, she worked as a Remote Sensing and GIS Analyst for a consulting firm in Chicago, Illinois. After she arrived with her family to California she worked as an Open Space Planner and GIS analyst for Midpeninsula Regional Open Space District (MROSD).
Top
Andrew Perlstein is a graduate student in Stanford's Interdisciplinary Program in Environment and Resources. Prior to Stanford, he did a masters degree in Urban and Regional Planning at the University of Wisconsin-Madison, where he focused on environment and development issues in China. He was supported by a Foreign Language Area Studies Fellowship to study Mandarin Chinese, an ongoing endeavor he started in college. Andrew has made several trips to mainland China, most recently to learn about conservation efforts in Yunnan Province. Before graduate school he worked in Yunnan, assisting a team of consultants to create a tourism development plan for the provincial government. He also spent some time in New York City (where is from originally) fundraising for an elementary school, volunteer teaching math for a non-profit adult education organization, and enjoying the reading room of the New York Public Library. Perlstein's undergraduate degree is in Earth Sciences and Asian Studies from Dartmouth College.
Top
Emily Cernak (UW Class of 2010) is double majoring in economics and international studies. She enjoys researching the transformation of traditionally unindustrialized or closed economies into commercial centers and is especially interested in the effects of globalization and industrialization on local populations. In the future she hopes to get an MBA/JD degree and work for the Grameen Bank or another microcredit institution.
Paul Fleurdelys (UW Class of 2009) majors in history and economics, and has strong interests in politics and sociology. In the future he would like to do something relating to those interests in business or government.
Jessica Salo (UW Class of 2009) is majoring in History and minoring in Political Science. Her main academic interests are 20th century U.S. cultural and political history.
Top