Nicole Bazar speaks fondly of the 4-month family medicine preceptorship that came at the start of her clinical year with MEDEX Northwest.
"I would call it somewhat of cowboy medicine," she says of her four months at Peninsula Community Health Services in Bremerton, Washington. PCHS is a community health clinic, so most of the patients are Medicare, Medicaid, uninsured, or underinsured. "We worked with a lot of minority and non-English speaking populations, and that was 95% of the patients that I interacted with there."
Consequently, providers had to do a lot of improvising in the way patients were treated. "You have to find what is realistic for the patient and what is practical for them," Nicole explains.
Sometimes this would stand in contrast to what was taught in the MEDEX Northwest classroom.
"We learned the standard of medical practice during our didactic year," she says. "A patient would come in with a complaint and you have been trained to follow a general treatment plan. But that patient might be paying out of pocket and can't afford the medication. They can't afford to get the labs that you want. So, instead there's a lot of compromise and education that is replaced in this situation. You follow your patients a little closer than what you might in an area that has a higher socioeconomic status."
Growing up on the Kitsap Peninsula in Poulsbo, WA, Nicole developed an early sense of service through volunteer work with her dad. "He provided my first exposures to giving back to the community," she says. "He has always been passionate about giving back to his community as he was the son of an army soldier and German immigrant. He grew up with little to nothing and made a life for himself. His goal was always to pay it forward and it's something I have adopted."
While Nicole was still in elementary school, they worked together on the Courage Classic, an annual bike race for Seattle Children's Hospital. And there were experiences at the local food bank and serving food to the homeless population.
In junior high, Nicole volunteered in special-needs classes, reading to students. Later she joined an honors program and tutored her peers requiring help in school. This escalated in her college years as she became involved in different clubs.
By all rights, Nicole should have gone into business. After all, that was her family's focus.
"I actually went to college to declare a degree in business management, because that's what my father did, that's what my sister did," Nicole says. "No one in my family is in medicine. I just never had a lot of personal exposure to it besides my own doctor's appointments."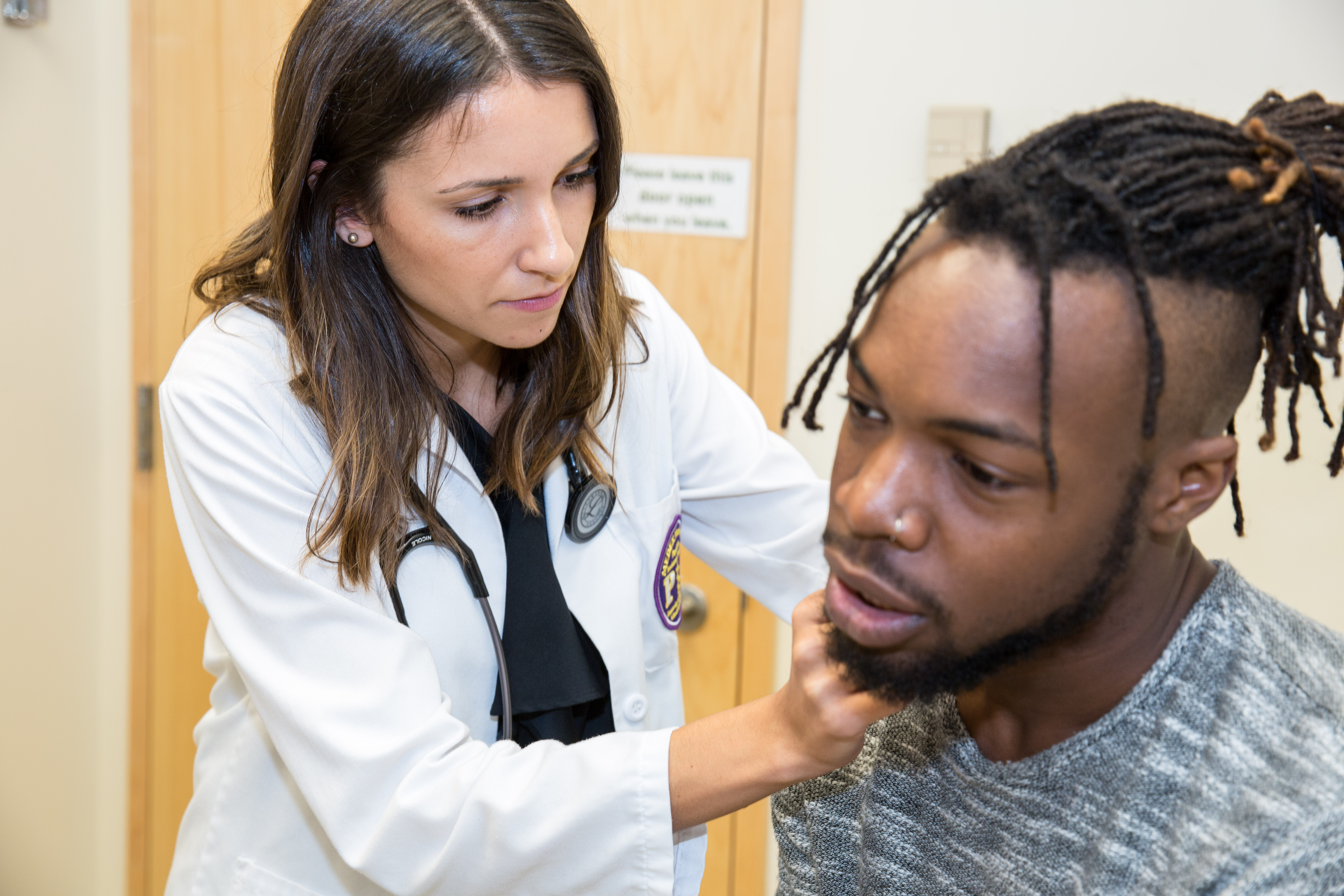 Nicole Bazar examines a patient at the Kaiser Permanente Downtown Clinic in Seattle.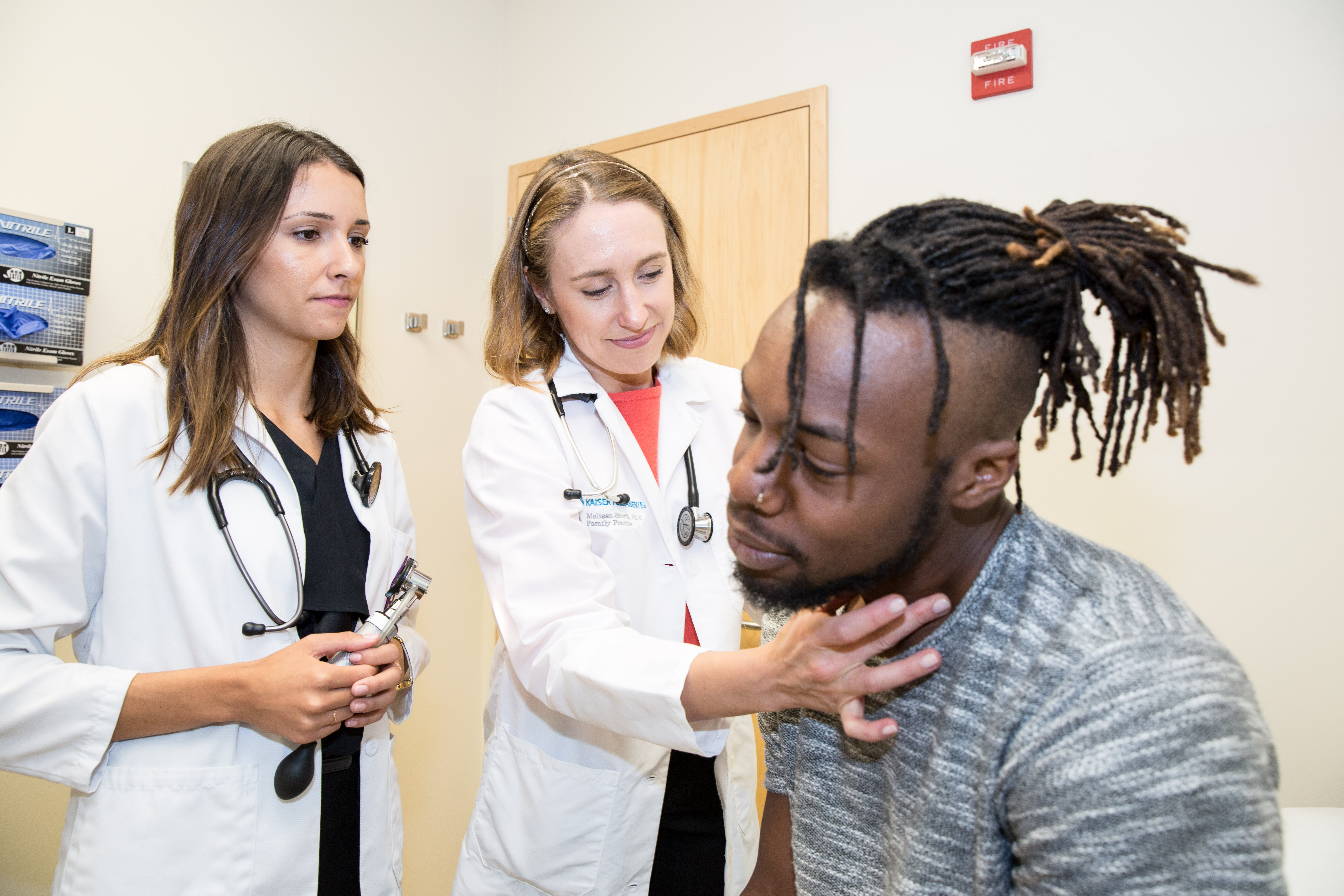 Nicole's preceptor is Melissa Szocik, PA-C, the local Medical Center Chief at Kaiser Permanente.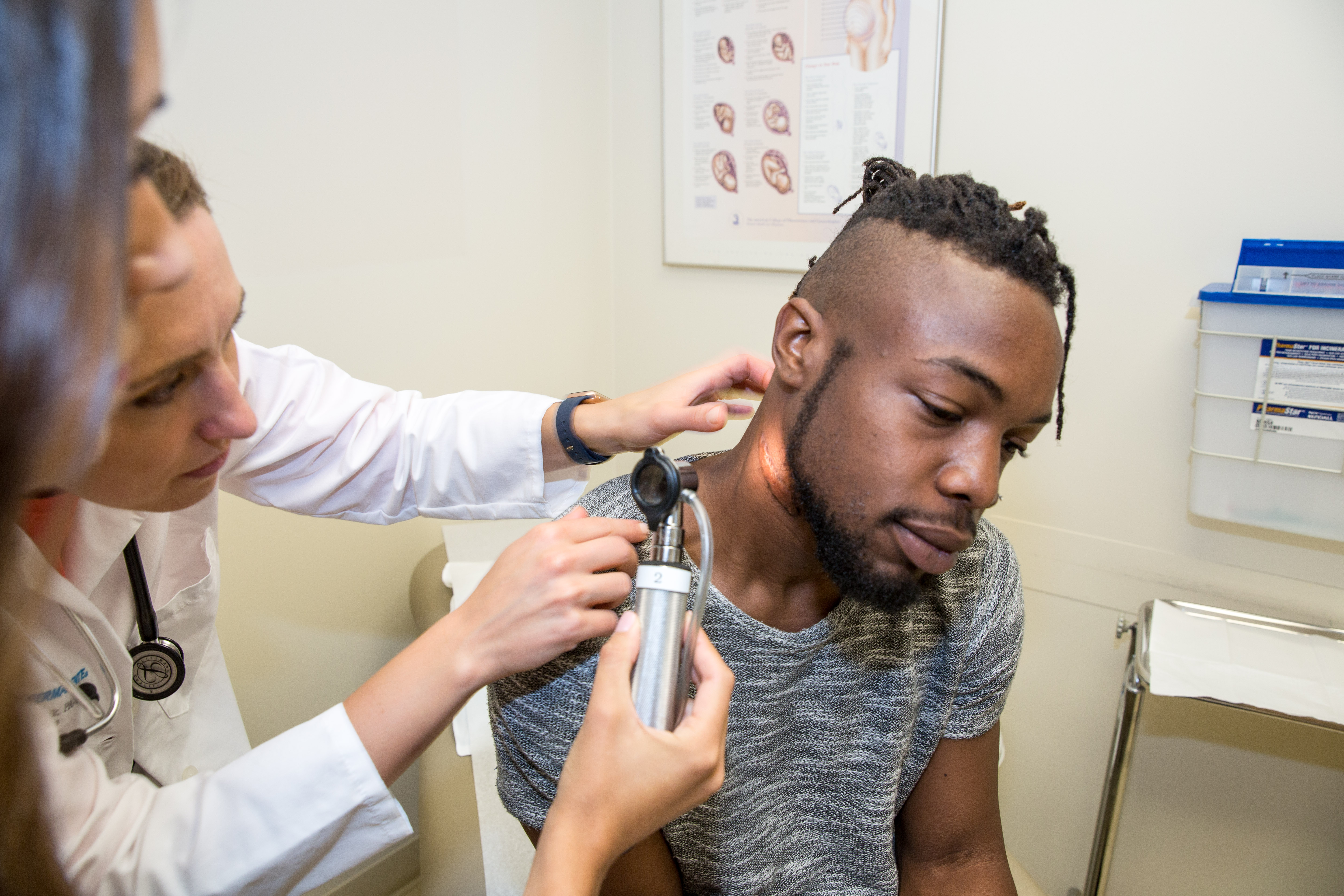 The patient complains of an irritating keloid scar, the result of a earlier cyst removal.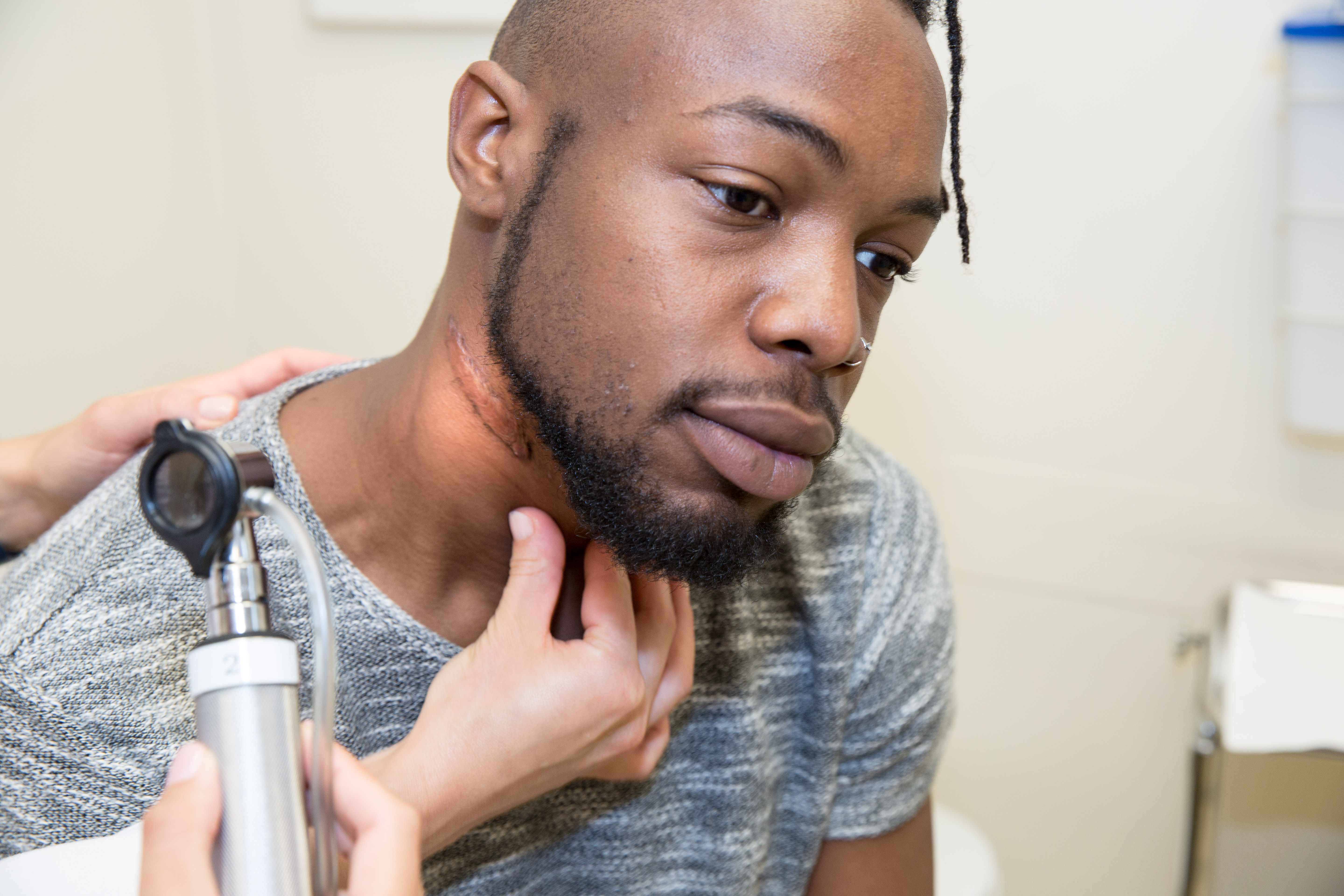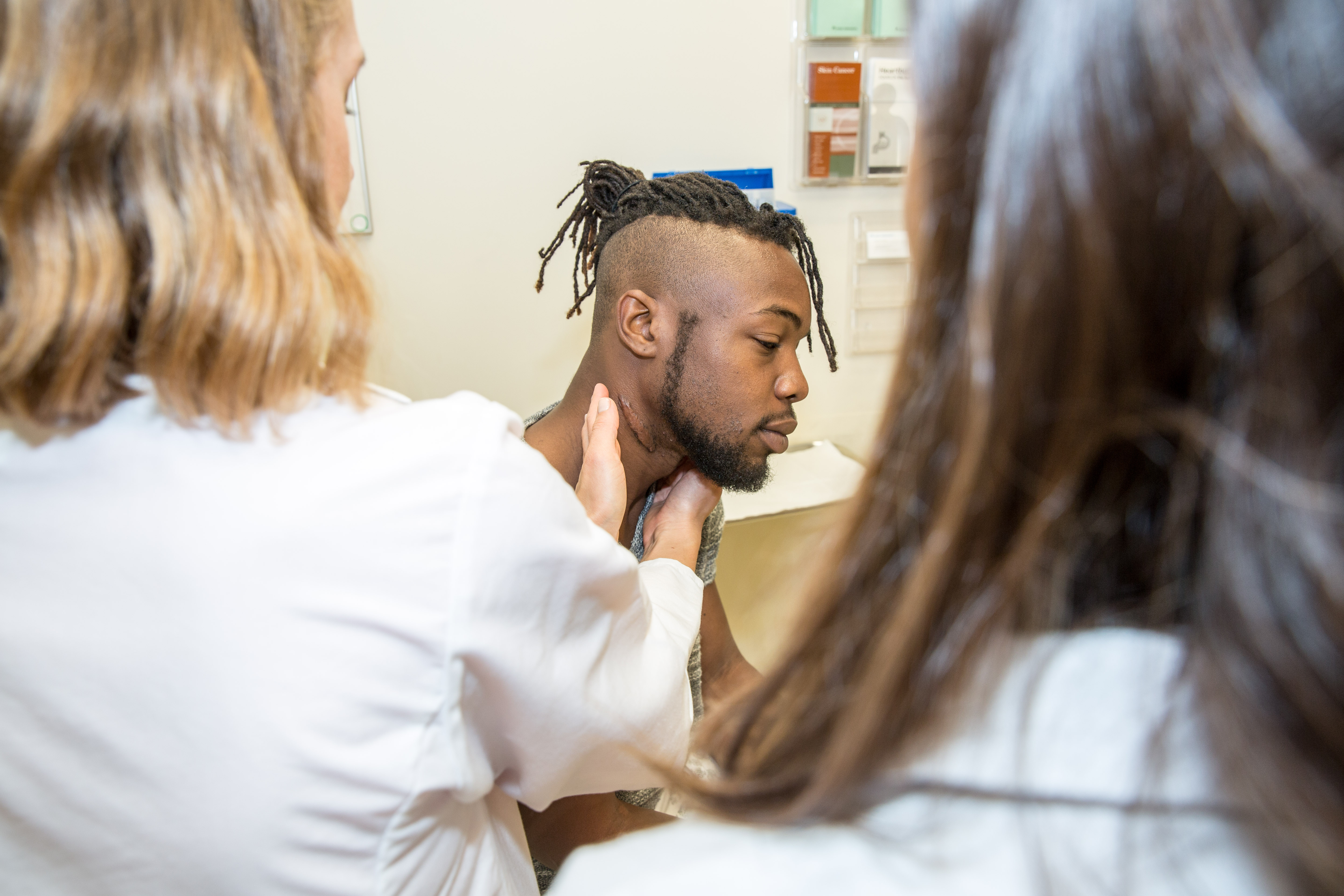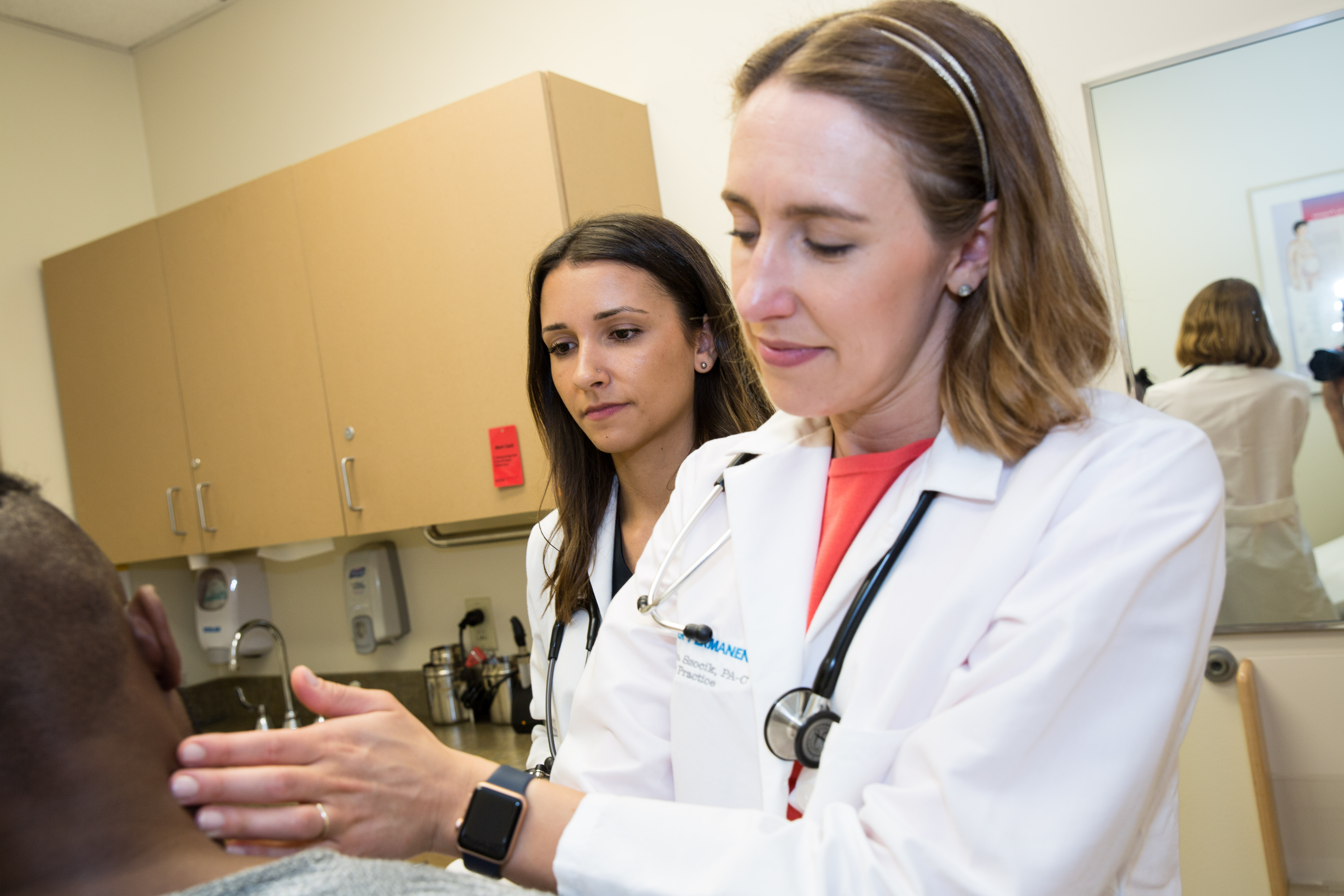 Melissa takes the lead on the exam, and Nicole will follow.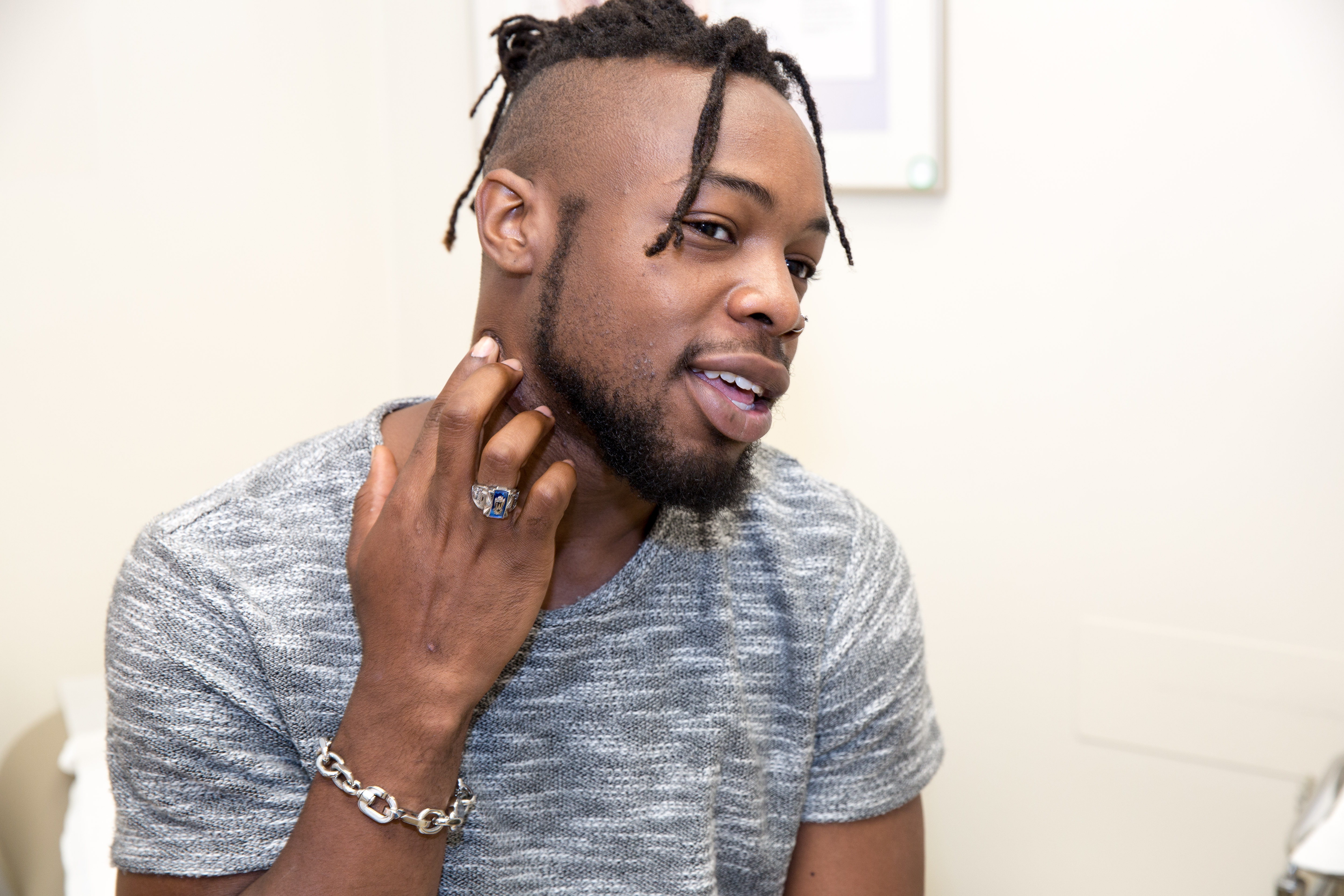 The patient describes the irritating symptoms of the keloid scar.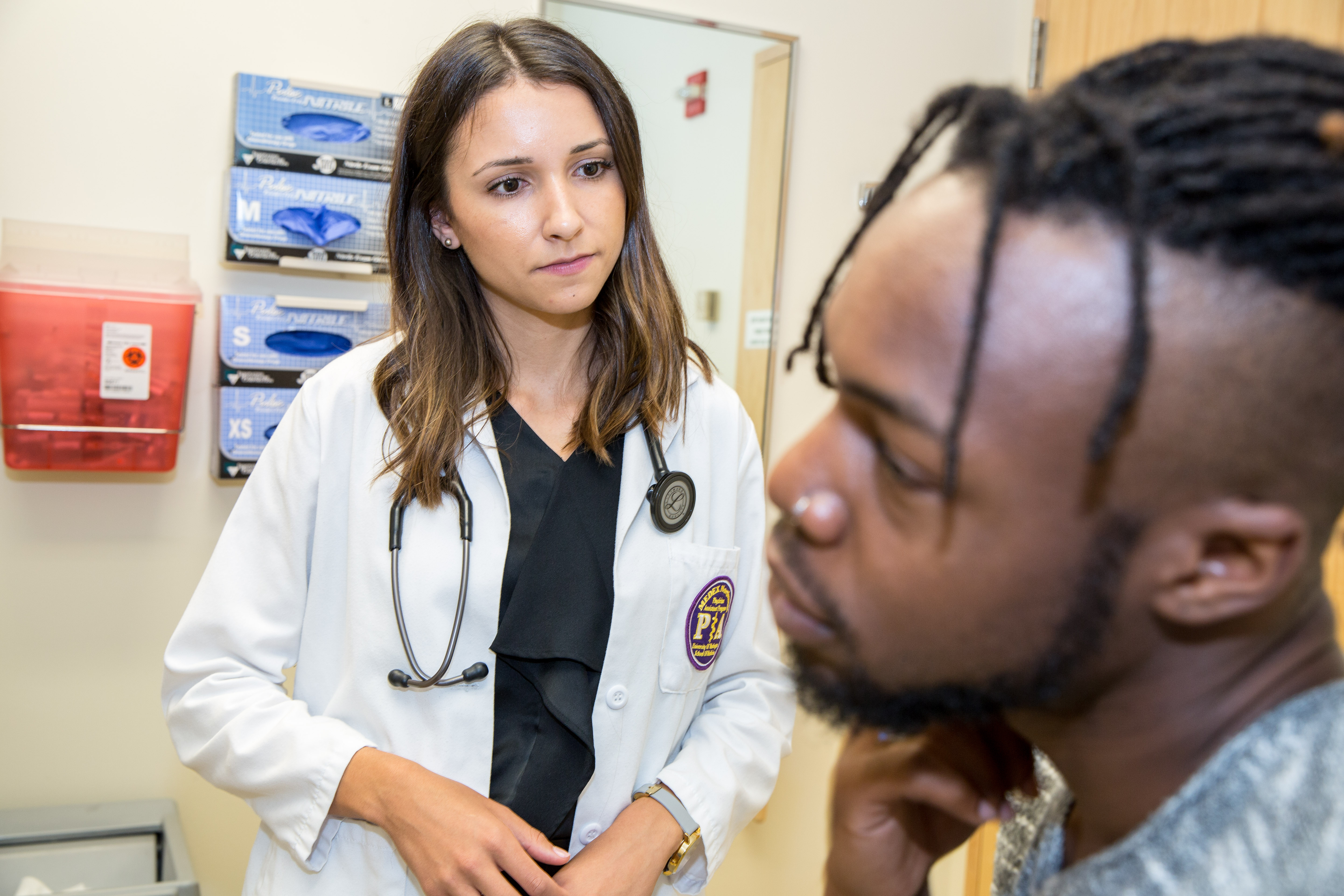 Looking back at her childhood, Nicole recognizes the role that service work and science classes played in her adult career direction. "You put those two things together, and that's medicine," she says.
One of her undergraduate prerequisite courses at Western Washington University was in psychology. As Nicole explains it, "This was a top failed class by freshmen, but I flourished in it."
Her professor approached her, asking what kind of degree she had in mind.  "I told him business management," she says. His response was, "No, I want you to look into the behavioral neuroscience program."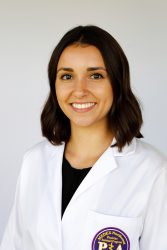 It took Nicole a total of five minutes to read up on the subject and decide, "Yeah, this is for me. I'm on the wrong path."
She started researching how a major in behavioral neuroscience might translate into a career.
"Amongst all of my other classmates, some people were doing research, some were going to be dentists, some were planning on becoming physicians," she tells us. "I thought my personal passions and my skill set best fell into being a doctor."
At the time, Nicole wanted to be a neurosurgeon because she was studying neuroscience. She began to check off all the boxes for pre-med, including volunteering at a hospital and shadowing physicians. She worked with two doctors and a team of four physician assistants.
"I ended up spending more time with the PAs than I did the physicians," she says. It was her first exposure to physician assistants, so she asked the PAs a lot of questions about their career path, exploring the difference between PAs and doctors
"I didn't know any of this," she says.
"Then I started to realize my own provider was actually a nurse practitioner. I had been seeing physician assistants all the time. I just never paid attention to the badge or the credentials following their name. That's when I realized that the PA profession was a better fit with who I was as an individual."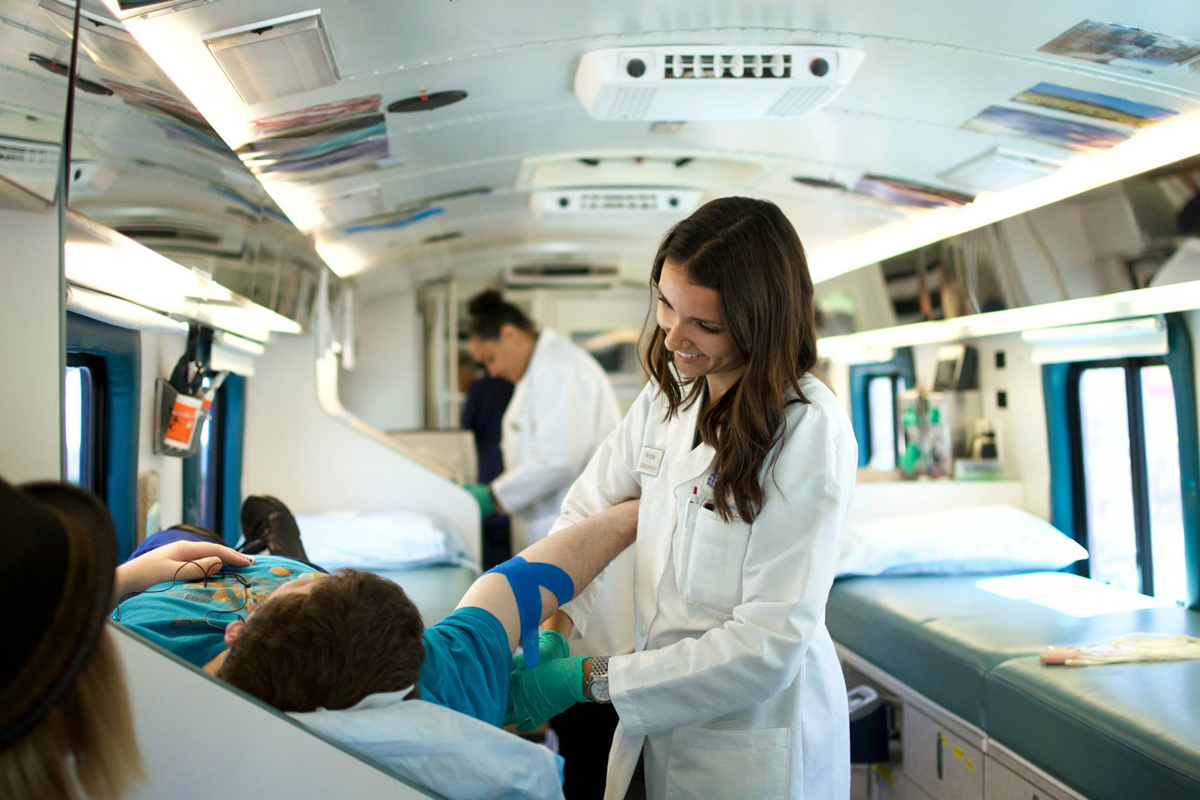 Nicole Bazar draws blood from a local community member donating for patients in need of a transfusion.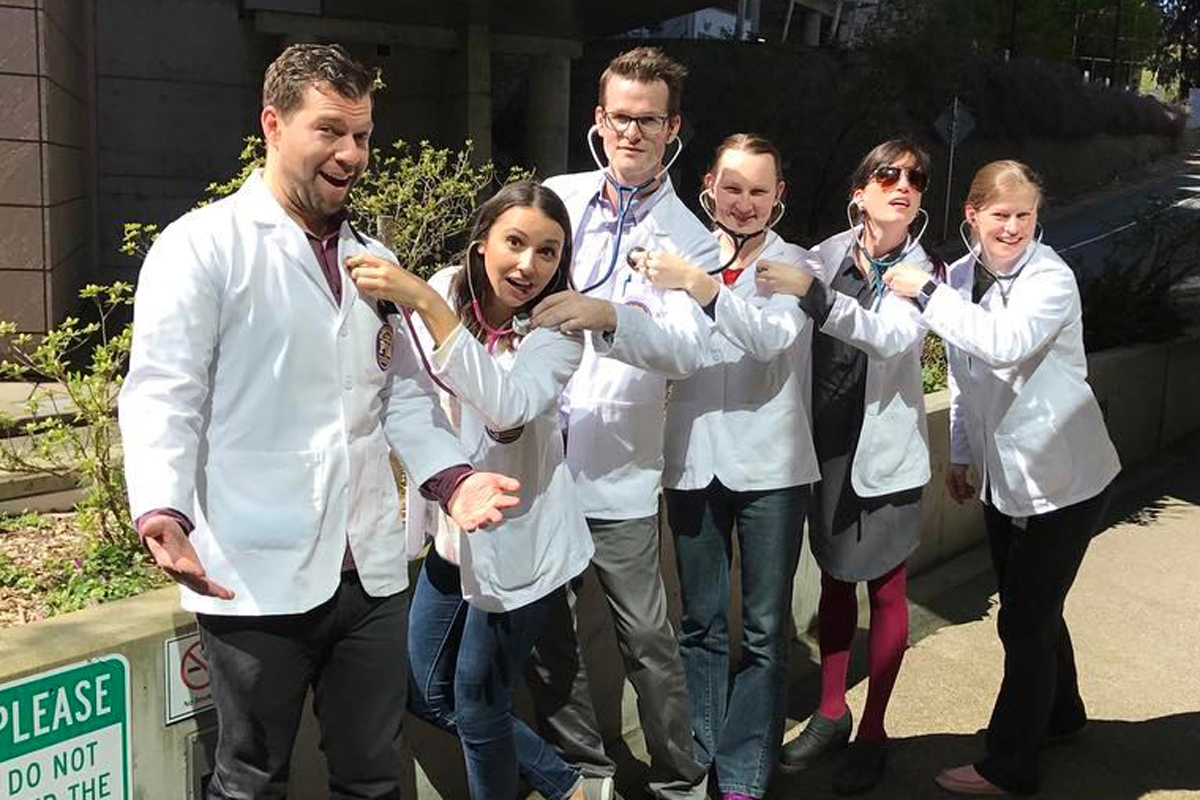 Nicole horsing around with her Seattle Class 50 cohorts.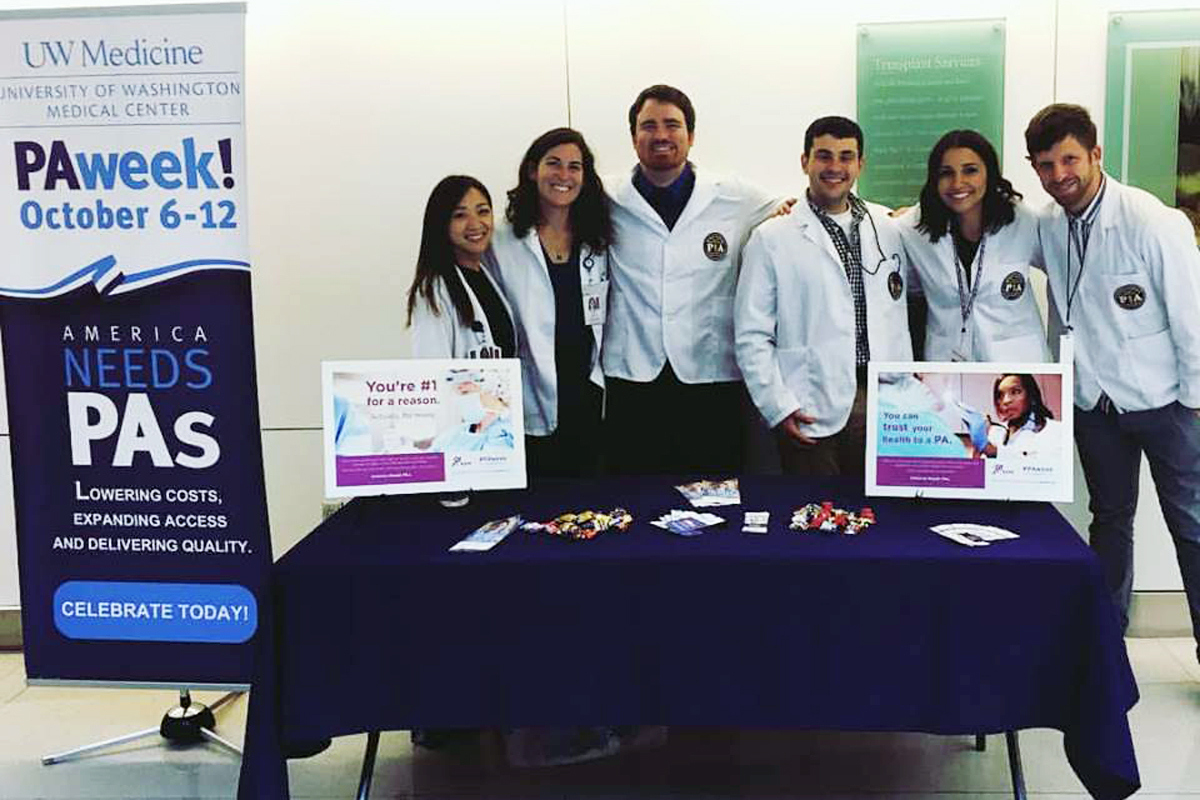 Nicole with her Seattle 50 classmates promoting PA Week.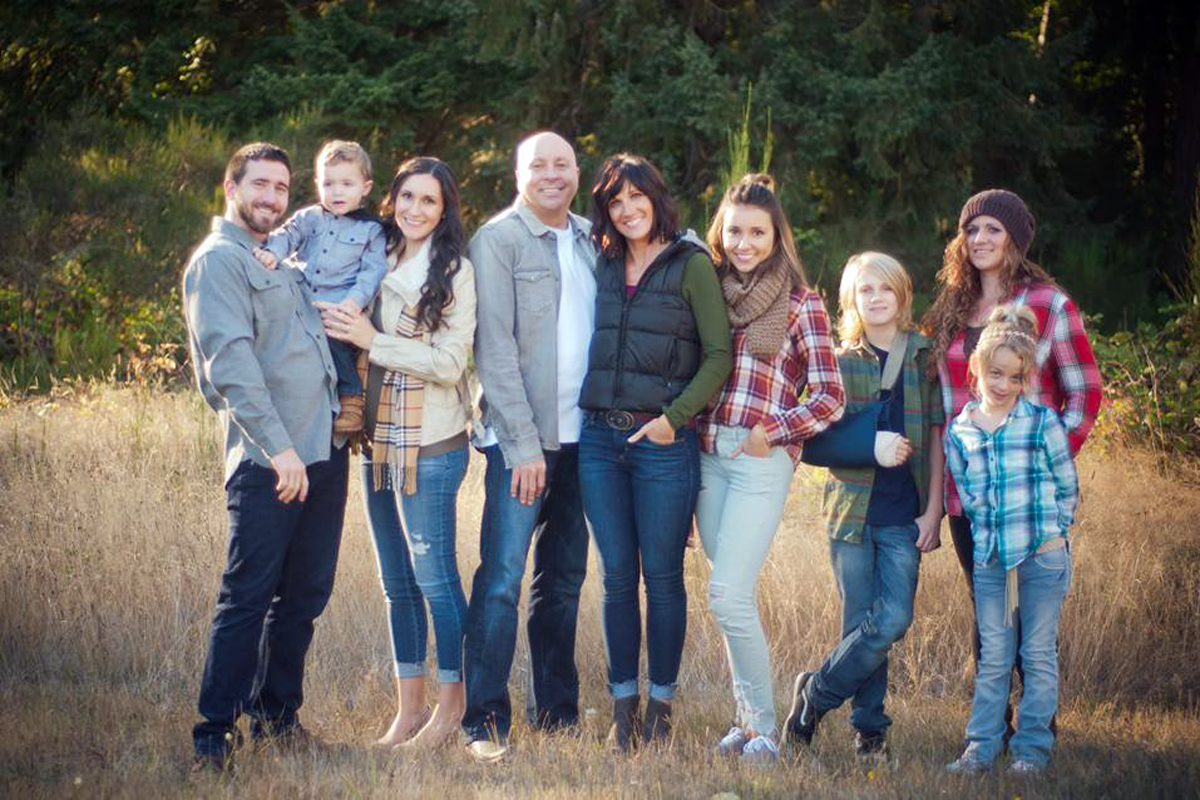 Nicole Bazar with her family.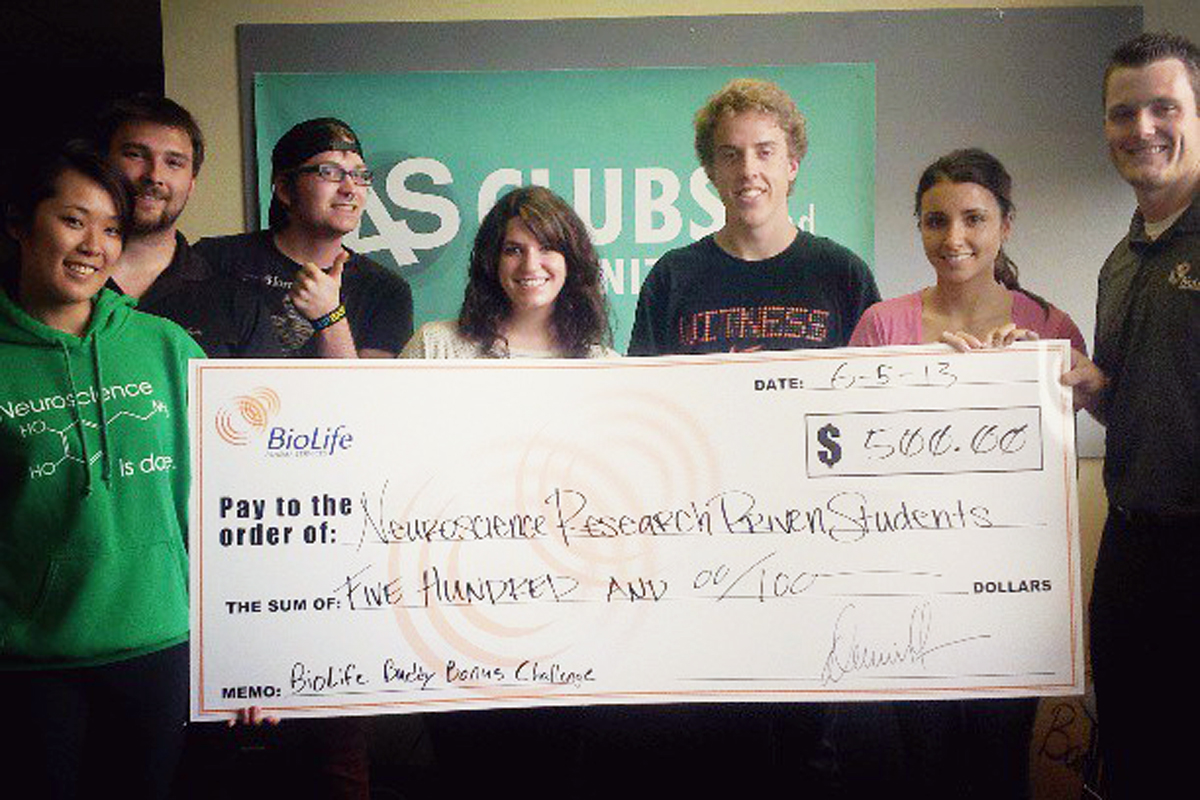 Nicole with fellow classmates from a college club that she ran.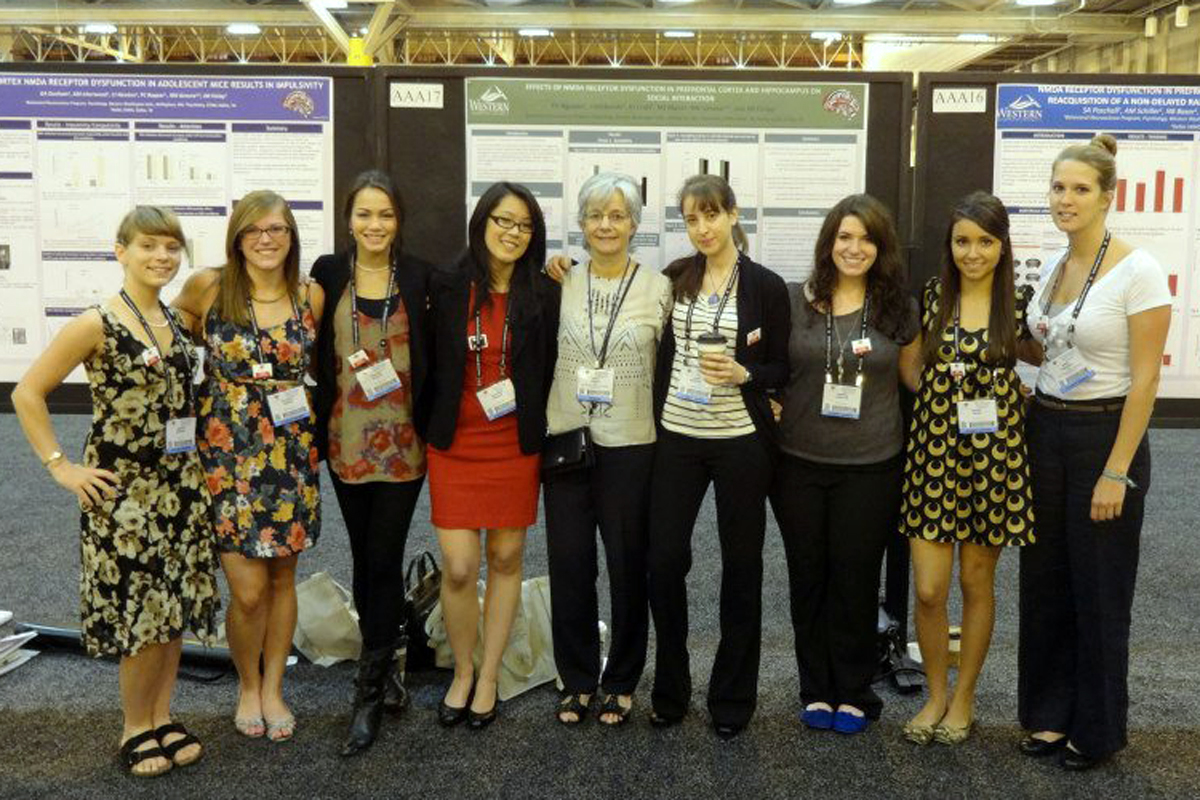 Nicole with the research associates from an undergraduate lab where she volunteered.
Within this hospital surgical setting, Nicole observed PAs, the way they interacted with patients and their personal work-life balance. In short, the profession was better aligned with her passion for medicine and her future plans for having a family.
By the junior year of undergraduate college, Nicole knew that she wanted to become a PA.
"I had my Excel spreadsheet of all the different prerequisites I needed to meet to apply to PA school," she says. Nicole started attending information sessions about getting into PA school, and focused on fulfilling the requisite clinical hours. Upon graduating from college, Nicole became an EMT and a phlebotomist, and worked for another two years to acquire her patient contact hours.
When it came time to apply to PA school, Nicole cast a wide net. "I actually applied to 13 programs across the country," she says.
"I wasn't so sure where I fit in within PA schools, because I didn't have a lot of mentors in medicine. I didn't have family that knew how to navigate getting into medicine, so I had to figure this out on my own."
Because the application process starts earlier in the East Coast and the Central United States, Nicole began getting accepted into several programs. She put down a deposit for Midwestern University in Arizona, but then was offered an interview at MEDEX Northwest.
"I went to the MEDEX interview and was offered a position with incoming Seattle Class 50," she tells us. It was the only offer where Nicole cried with happiness. "I just knew MEDEX was where I belonged, because this is where my family is, this is where my friends are, this is where my personality is. I want to be educated in a community where I plan to live for the rest of my life, and that's Seattle. The University of Washington MEDEX Northwest program has a great reputation for developing phenomenal providers, and it just seemed like the right fit."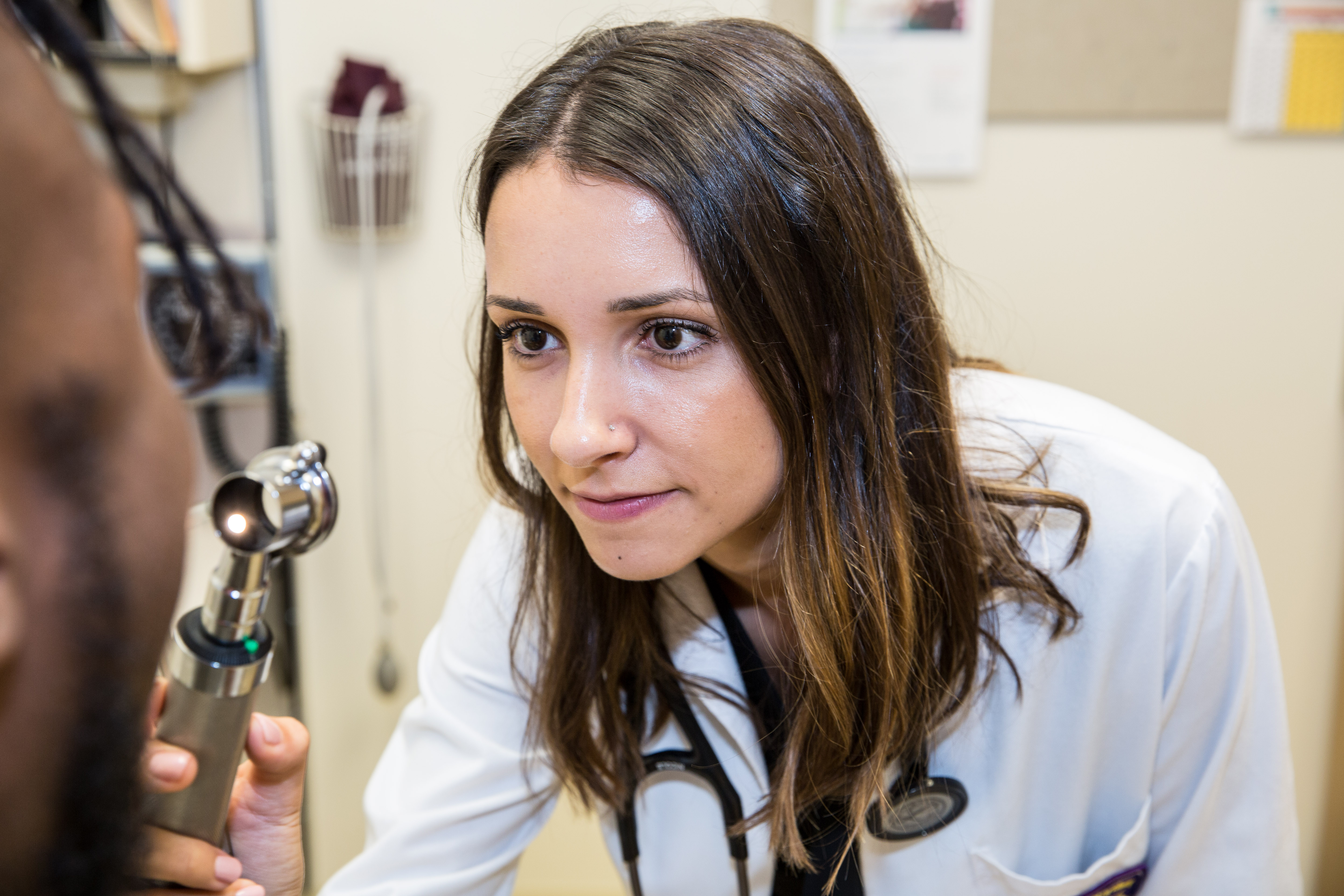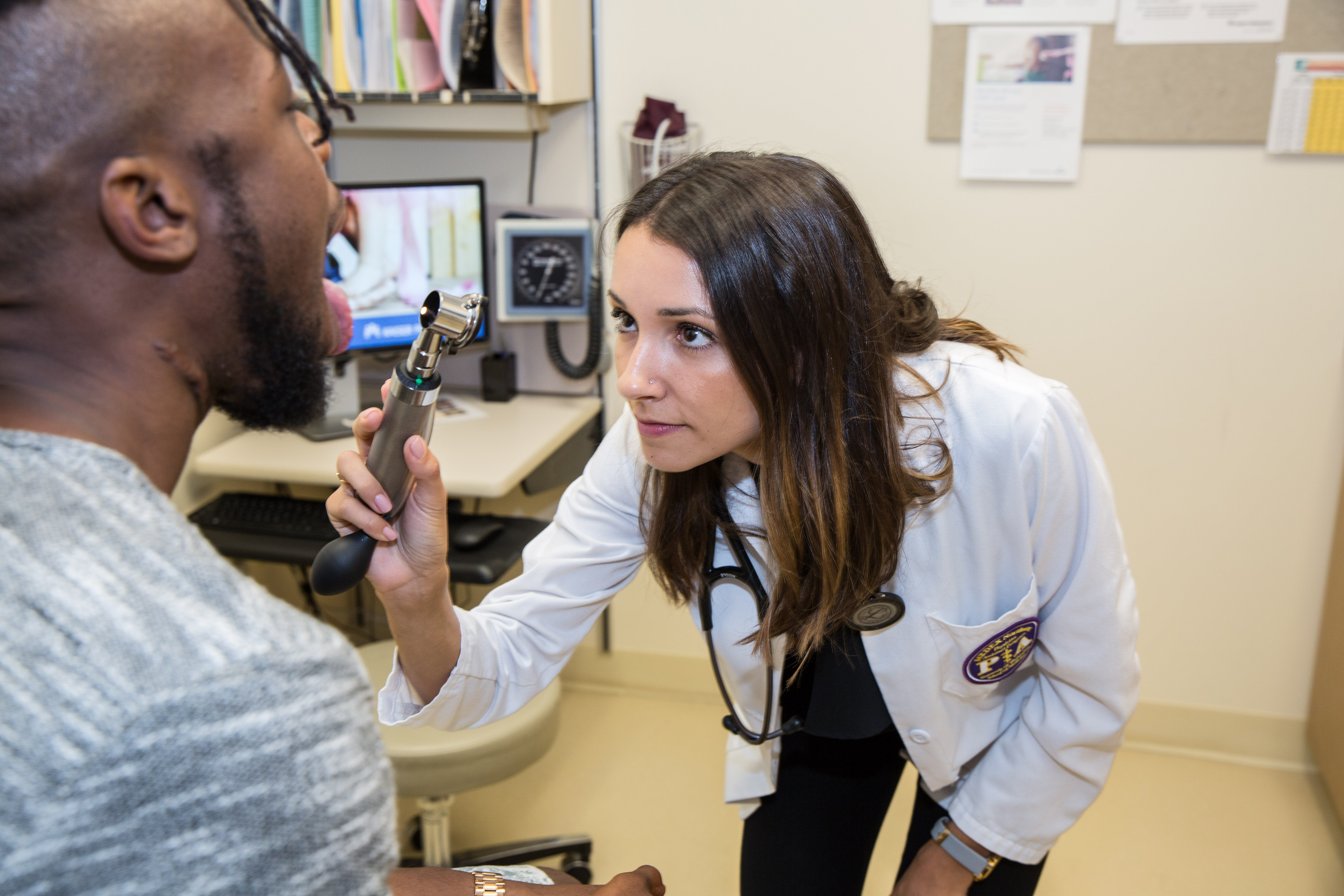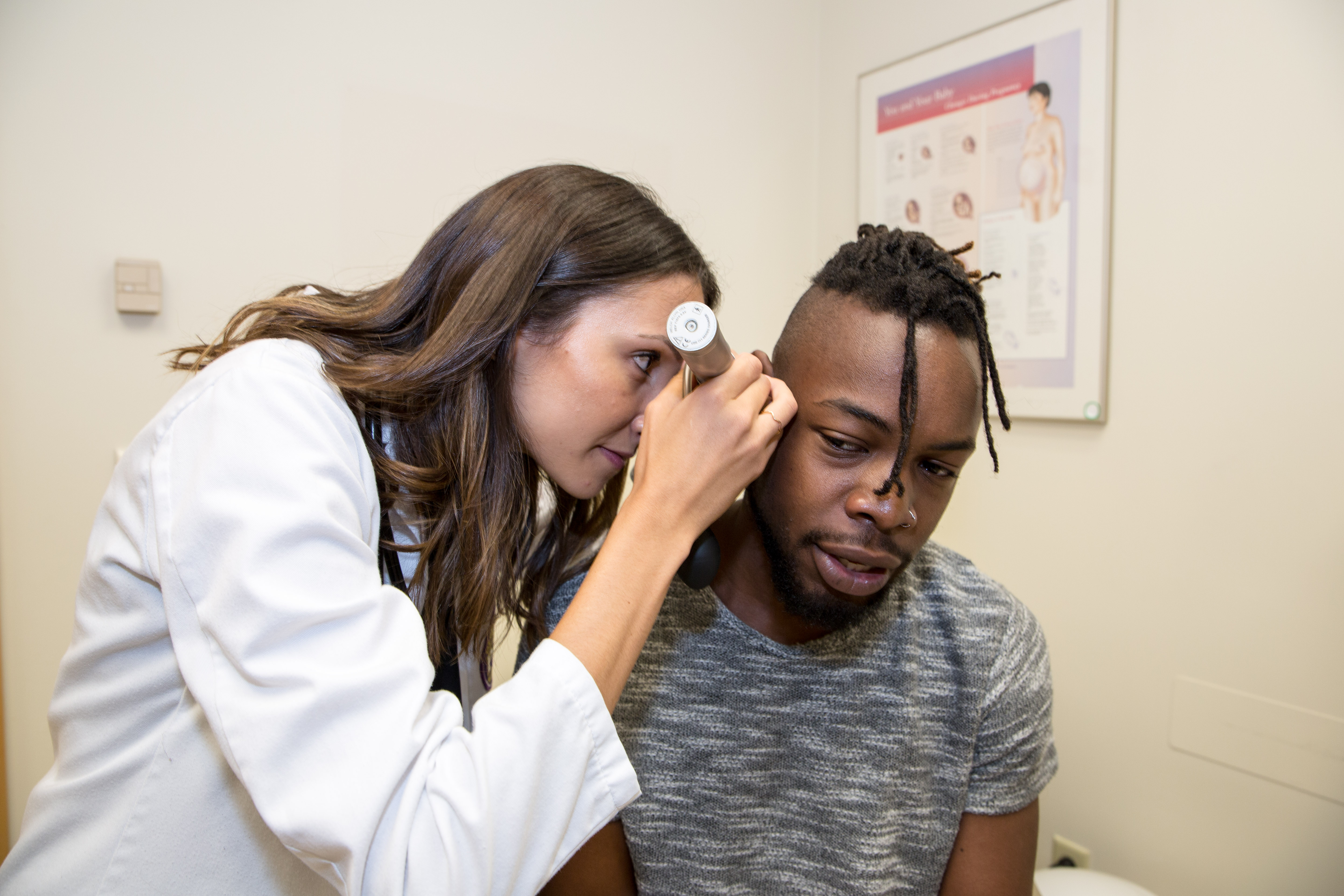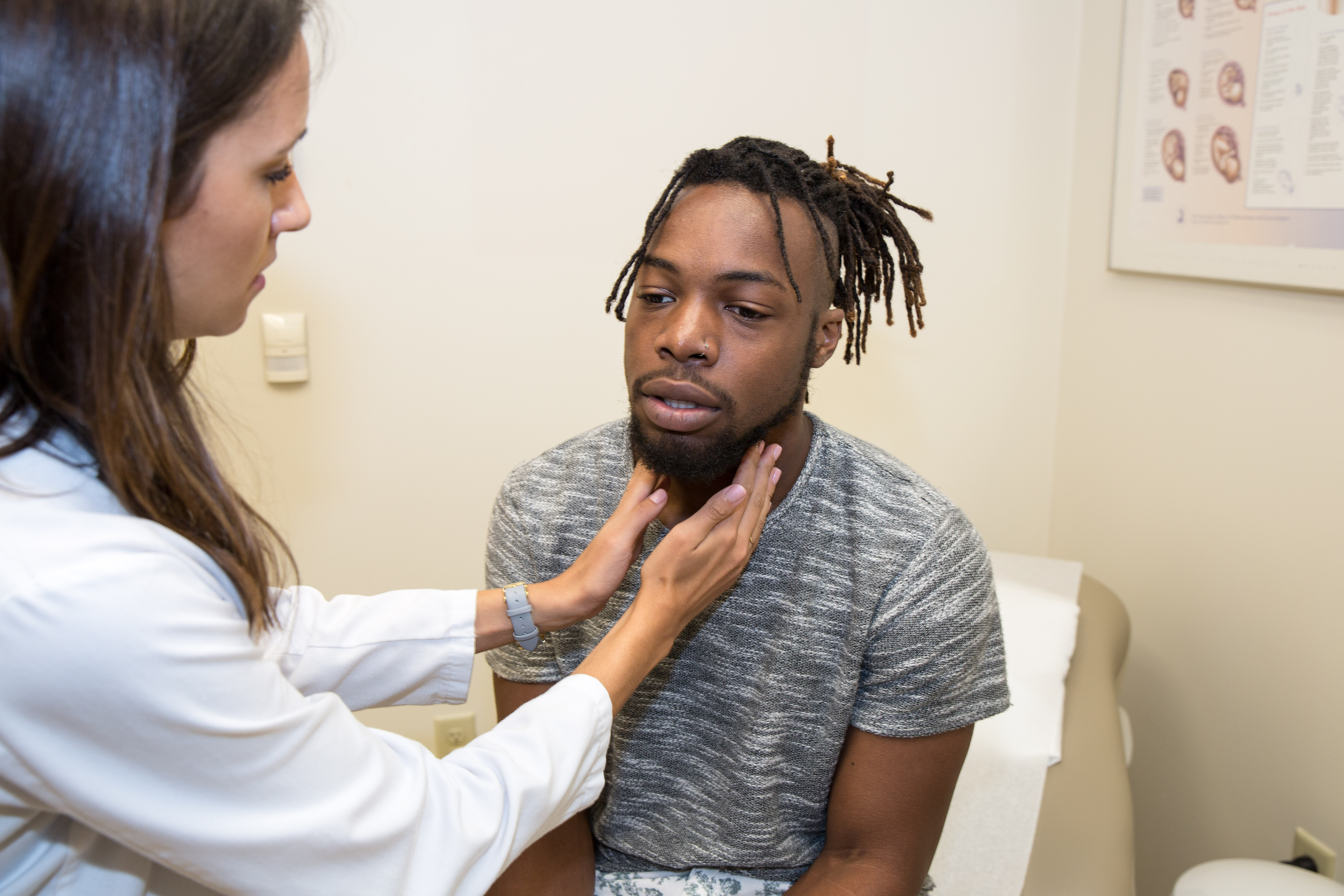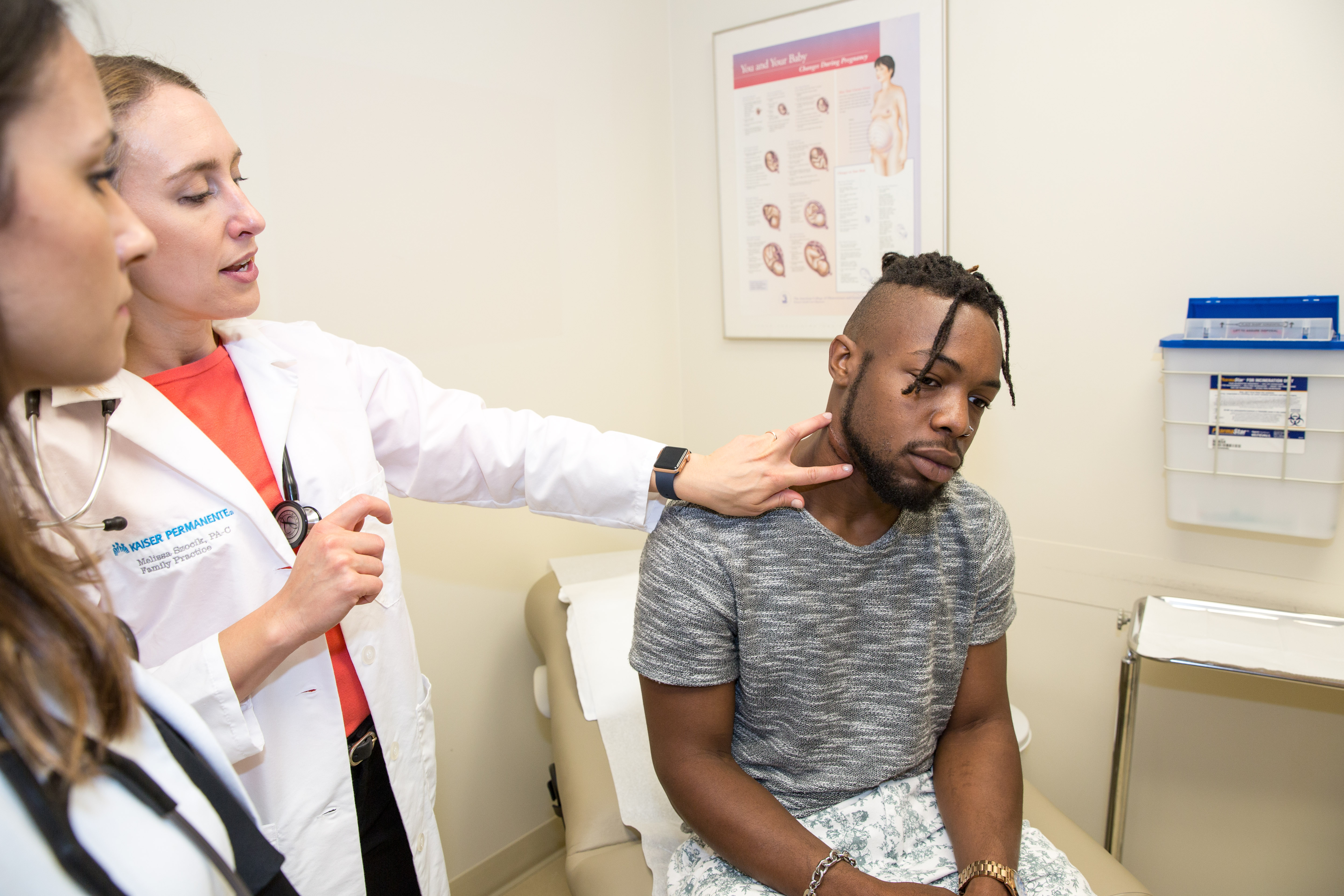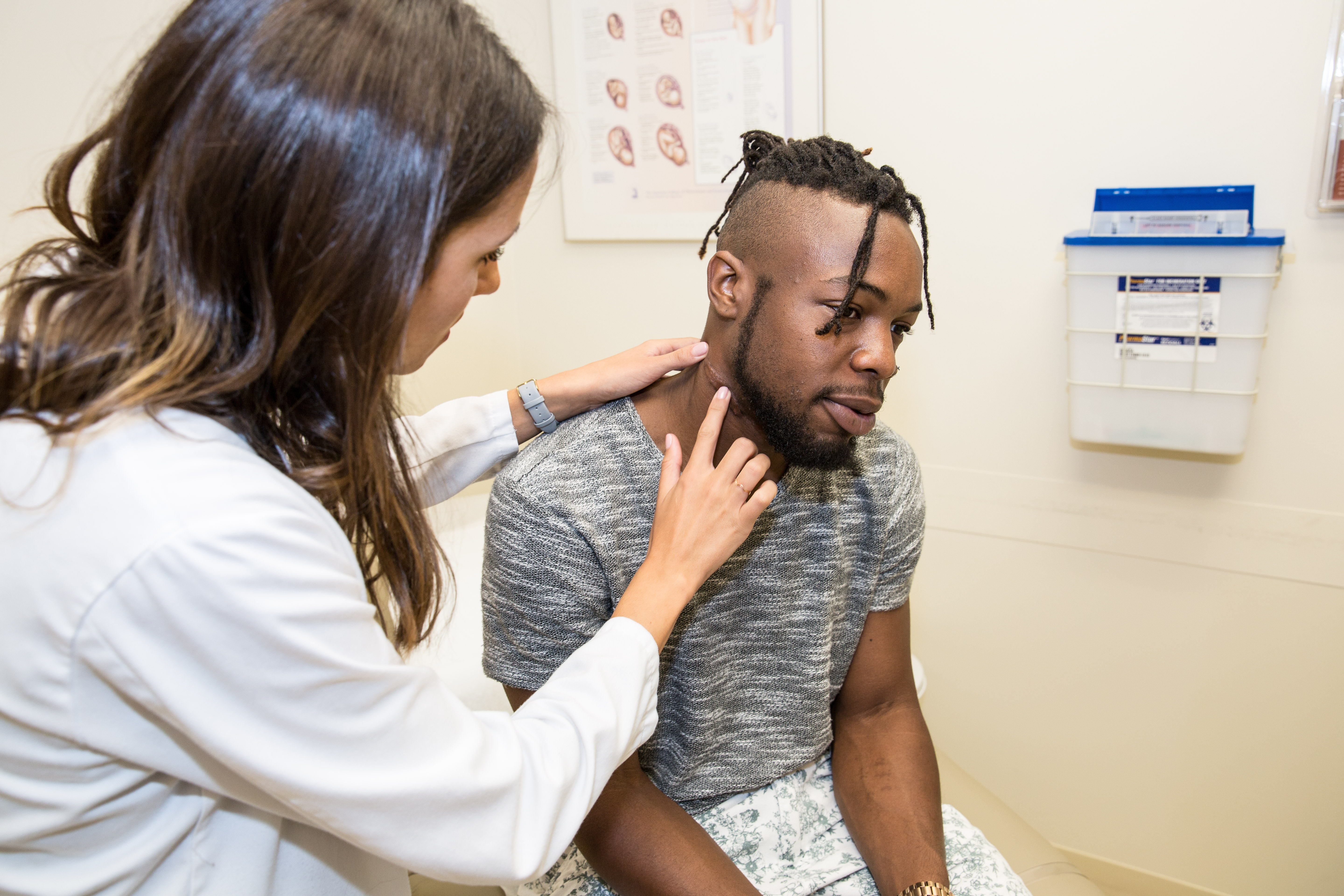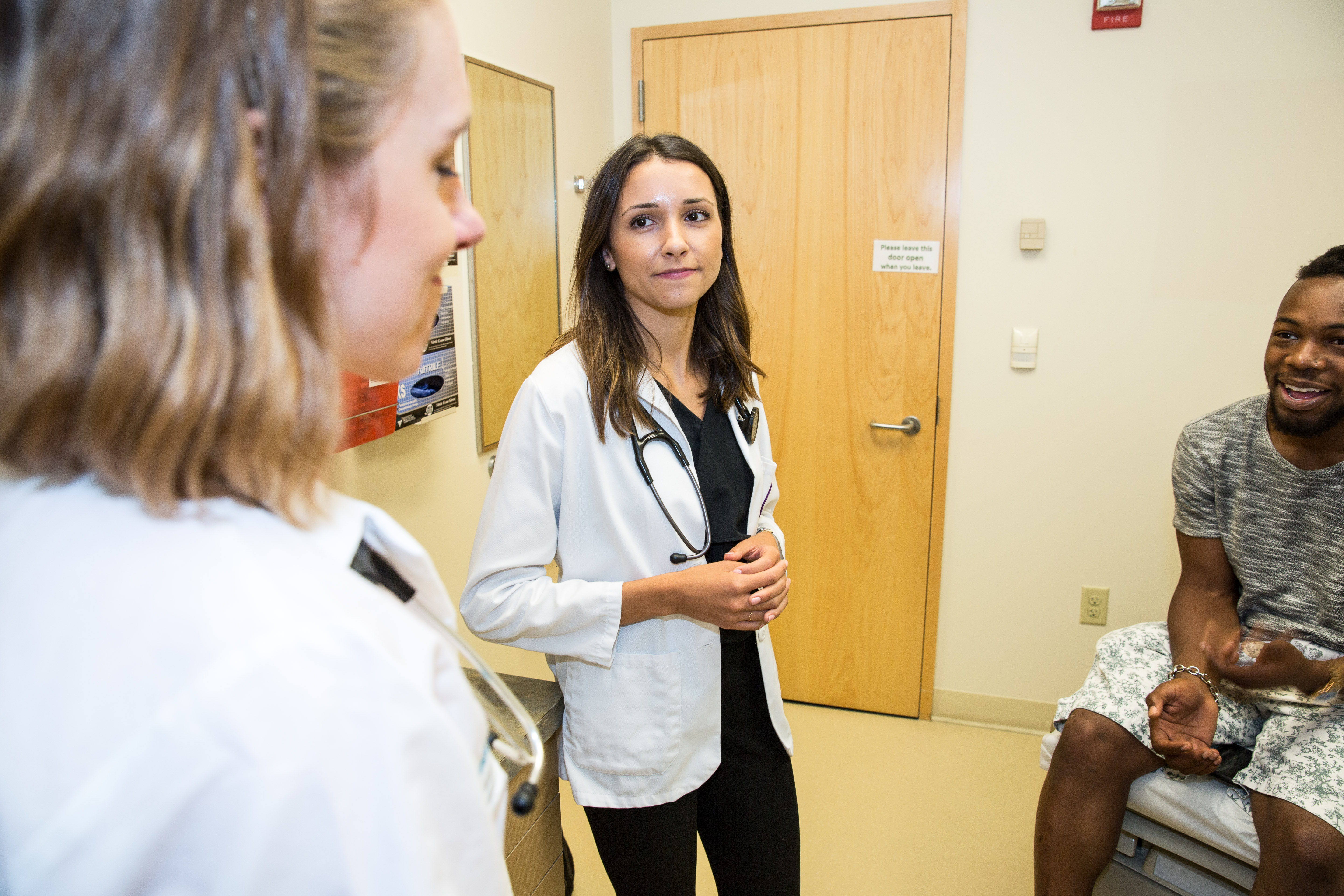 Melissa and Nicole discuss their findings with the patient.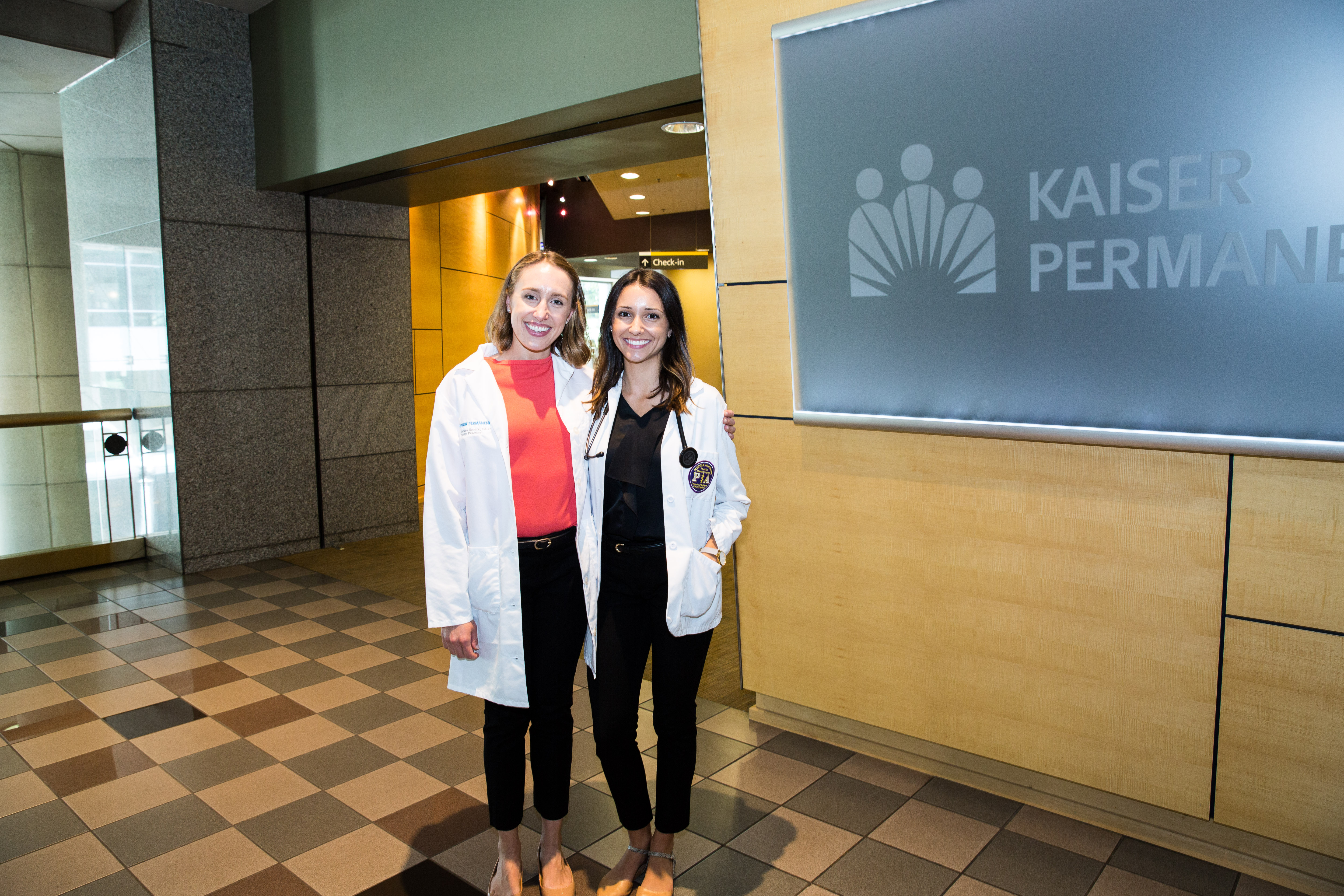 Melissa Szocik, PA-C and Nicole Bazar at the Kaiser Permanente Downtown Clinic in Seattle.
When we caught up with Nicole she was in her final rotation prior to graduation in late August.
"I'm splitting my time between the Kaiser Permanente Downtown Clinic in family medicine, and the Kaiser Permanente Bellevue Family Medicine Clinic and Urgent Care."
Nicole's preceptor at the Downtown Clinic is Melissa Szocik, PA-C, the local Medical Center Chief at Kaiser. Watching the two of them at work with a patient, it becomes clear that their styles are compatible.
"In the few weeks that I've had Nicole, I've found her to be poised, engaging and positive," says Melissa. "Nicole really listens to me, and is engaged in finding the answers. Patients have enjoyed talking to her, and the team members really like engaging with her as well. She's fit herself into our team very nicely in these weeks."
Even before her studies at MEDEX have ended, Nicole has been offered a permanent position at Kaiser Permanente, conditional on passing the national certification exam.
"I'll be a primary care PA," Nicole says. "I won't have my own panel of patients to start, but that will develop over my career. Within primary care, I have a personal passion for women's health and reproductive health, so I hope to find a niche within family practice where I focus."
Nicole possesses personality traits that allow her to enjoy building relationships with individuals.
"I like getting to know patients long term— who they are, what they're passionate about and what motivates them. And I have been repeatedly told that I have a capability of quickly making others feel important and heard. That fits into a primary care provider."
At 27 years, Nicole is the youngest in her class of MEDEX Seattle 50. "Yes, and they don't let me forget it," she adds.
But being so young in her new profession, Nicole feels like there's opportunity for growth to develop into the provider she hopes to be.
"In past roles during my education and during previous jobs, I have found myself in leadership and teaching positions," she says. "As a PA, that may be 10, 15 years down the road for me, because I imagine a steep learning curve before I feel that I'll be competent, efficient and truly know who I am as a primary care provider."