Celeste Richardson – Seattle Class 48
When we sit down with Celeste Richardson, she opens the conversation with, "I'm probably not your typical PA student." We soon learn she's referring to a rather circuitous path to the physician assistant profession, but one that's rich with life experience. All in all, that's not bad preparation for someone drawn to working with underserved populations.
At the time of our visit with Celeste, she's almost finished with her 4-month family medicine preceptorship at Virginia Garcia Beaverton Clinic, outside of Portland, OR. This is home for Celeste, in more ways than one. She's raised two boys in Southeast Portland and, prior to entering the MEDEX physician assistant training program, she shadowed at Virginia Garcia to gain a better understanding of the PA role.
"Virginia Garcia works with migrant and seasonal farm workers, but we have lots of refugees and immigrants from all over the world. There are patients from Mexico, Columbia, Guatemala, Somalia, Iraq, China, Vietnam and Korea, just to name a few. It's wonderful."
Here, Celeste betrays her earlier years of international travel and living overseas. It's this curiosity about other cultures that makes Celeste so valuable as a caregiver. "I really connect with our patients and enjoy listening to their stories and hearing what brought them to the States," she says. "I'm learning Arabic, and the patients really appreciate me trying even if just a few words to greet them in their own language."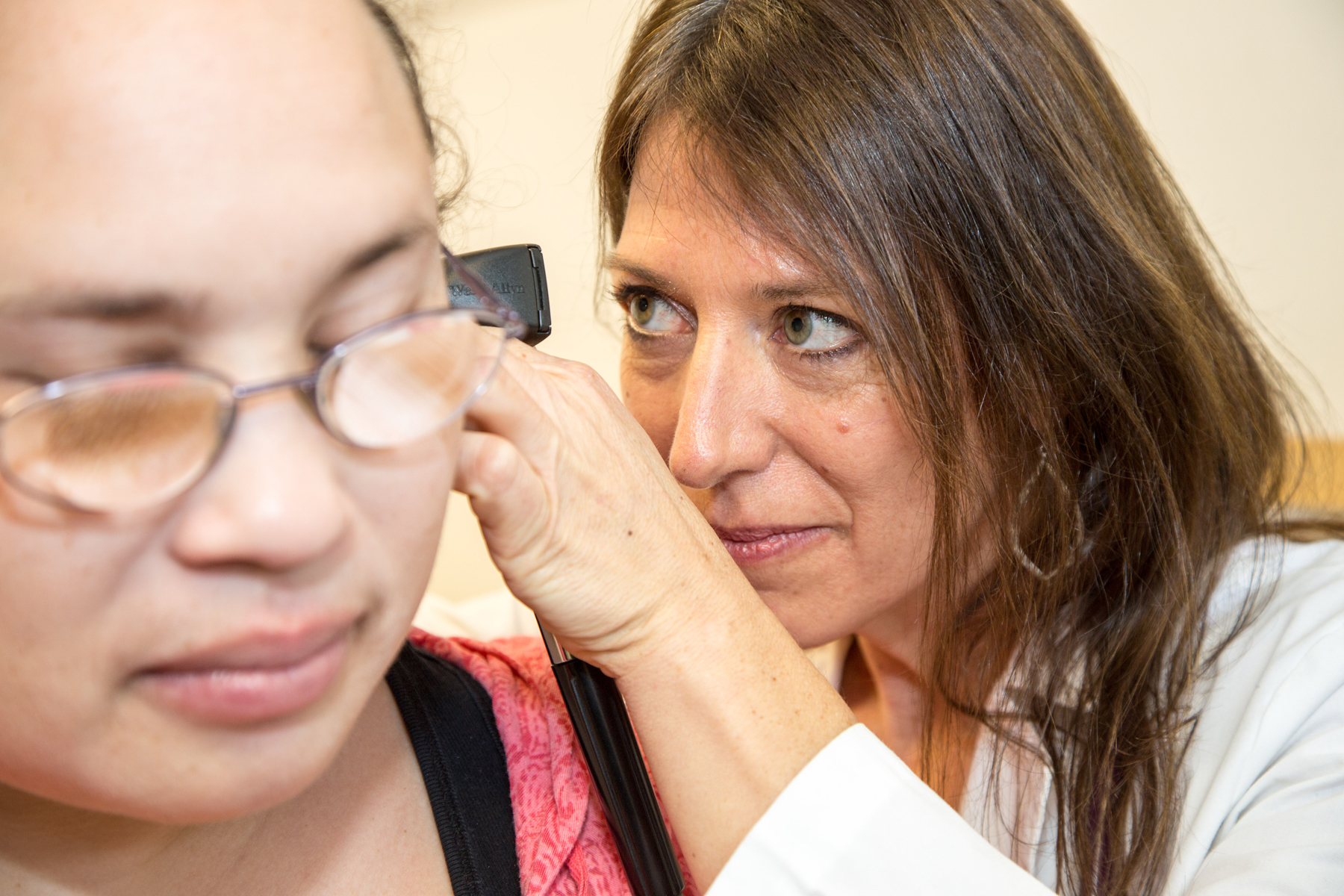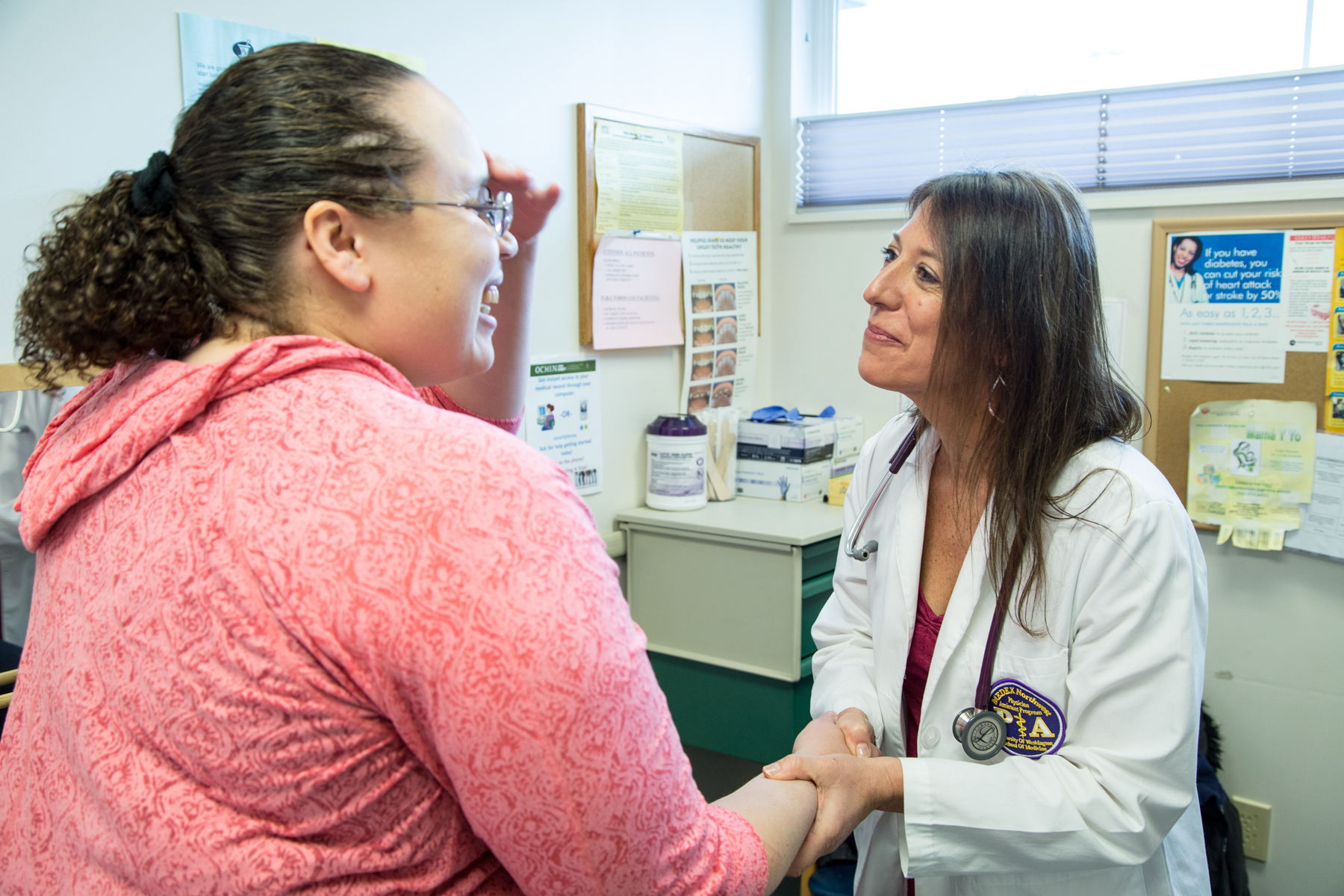 Celeste Richardson does an intake interview with the patient, Erica, at Virginia Garcia Beaverton Clinic outside Portland, Oregon.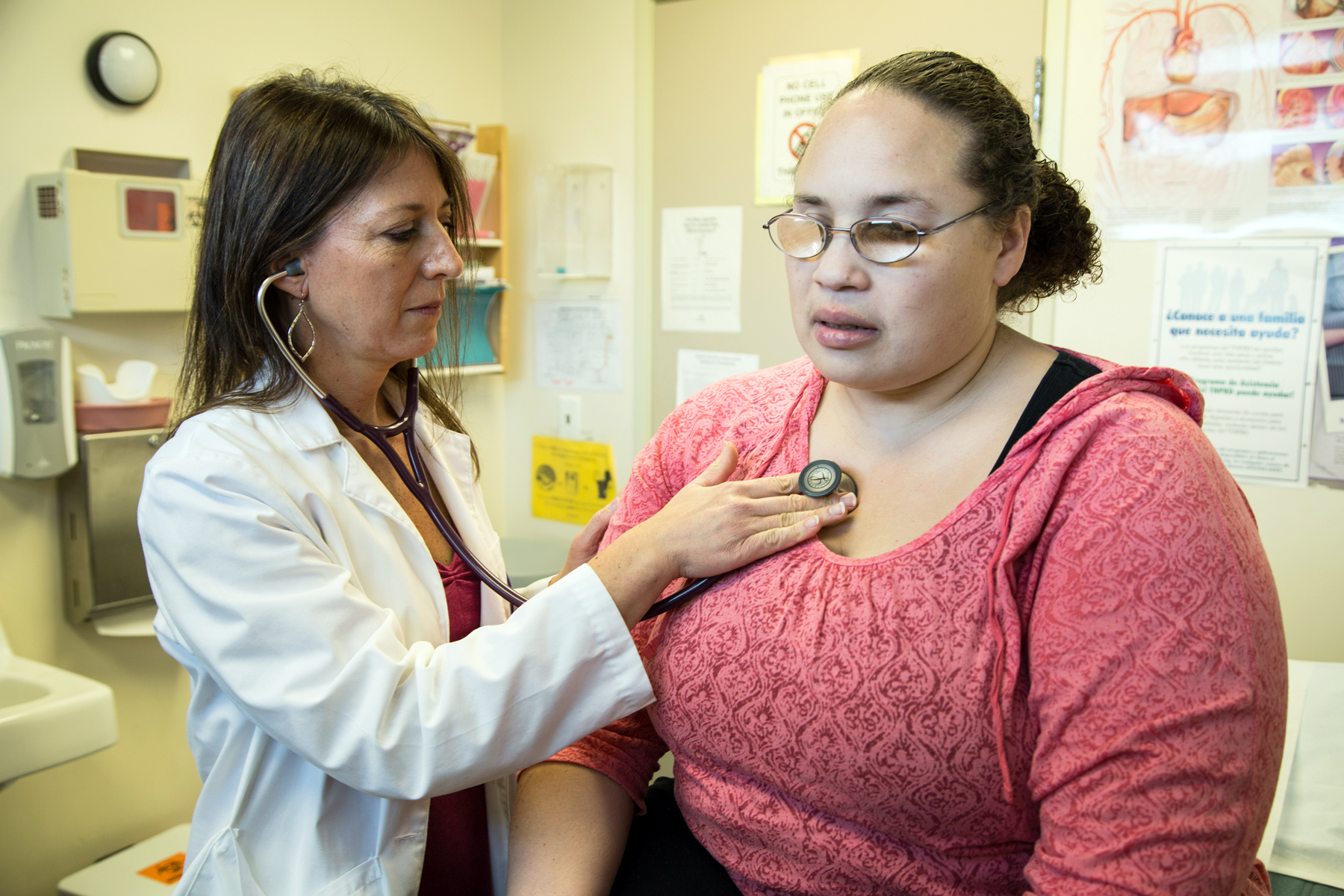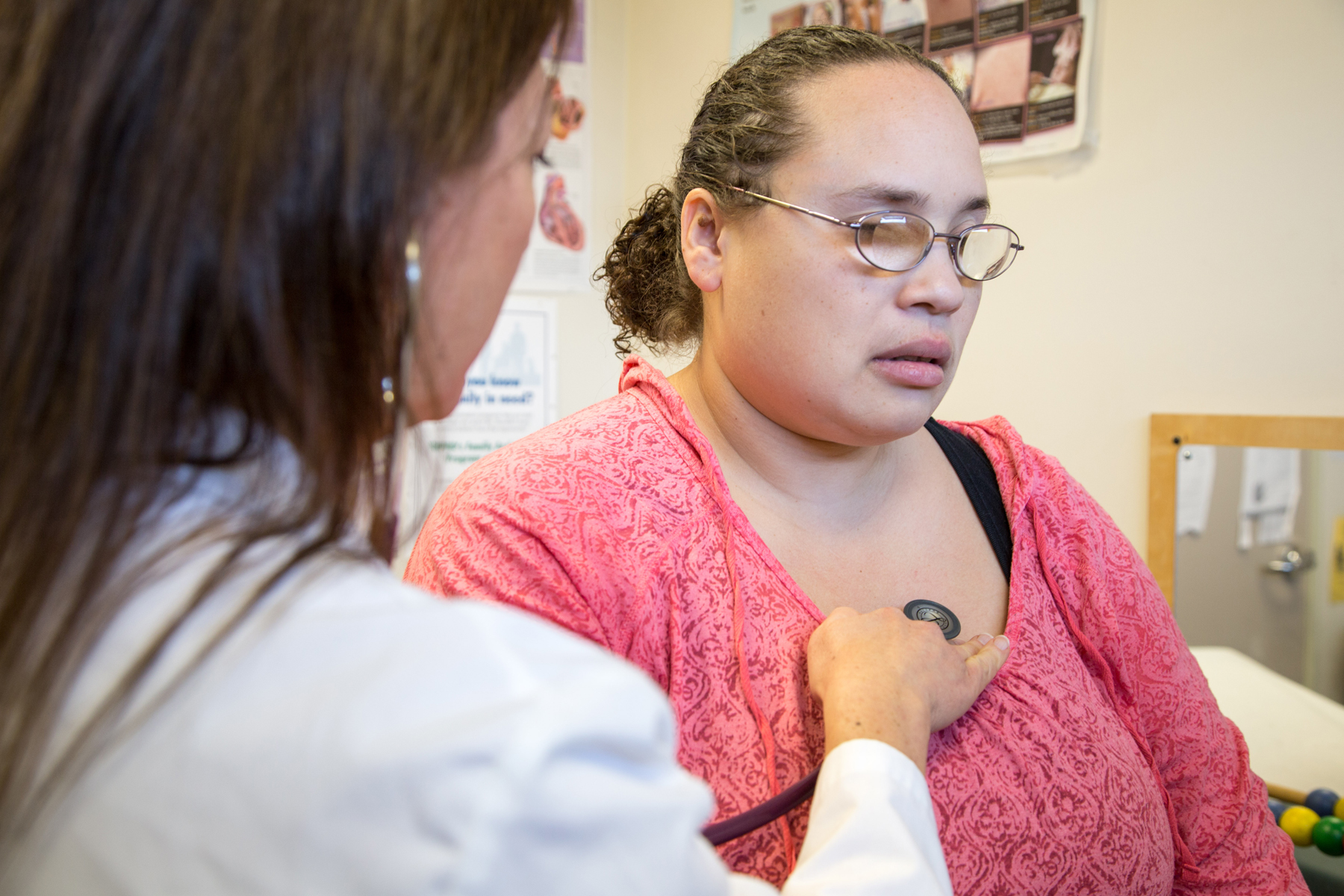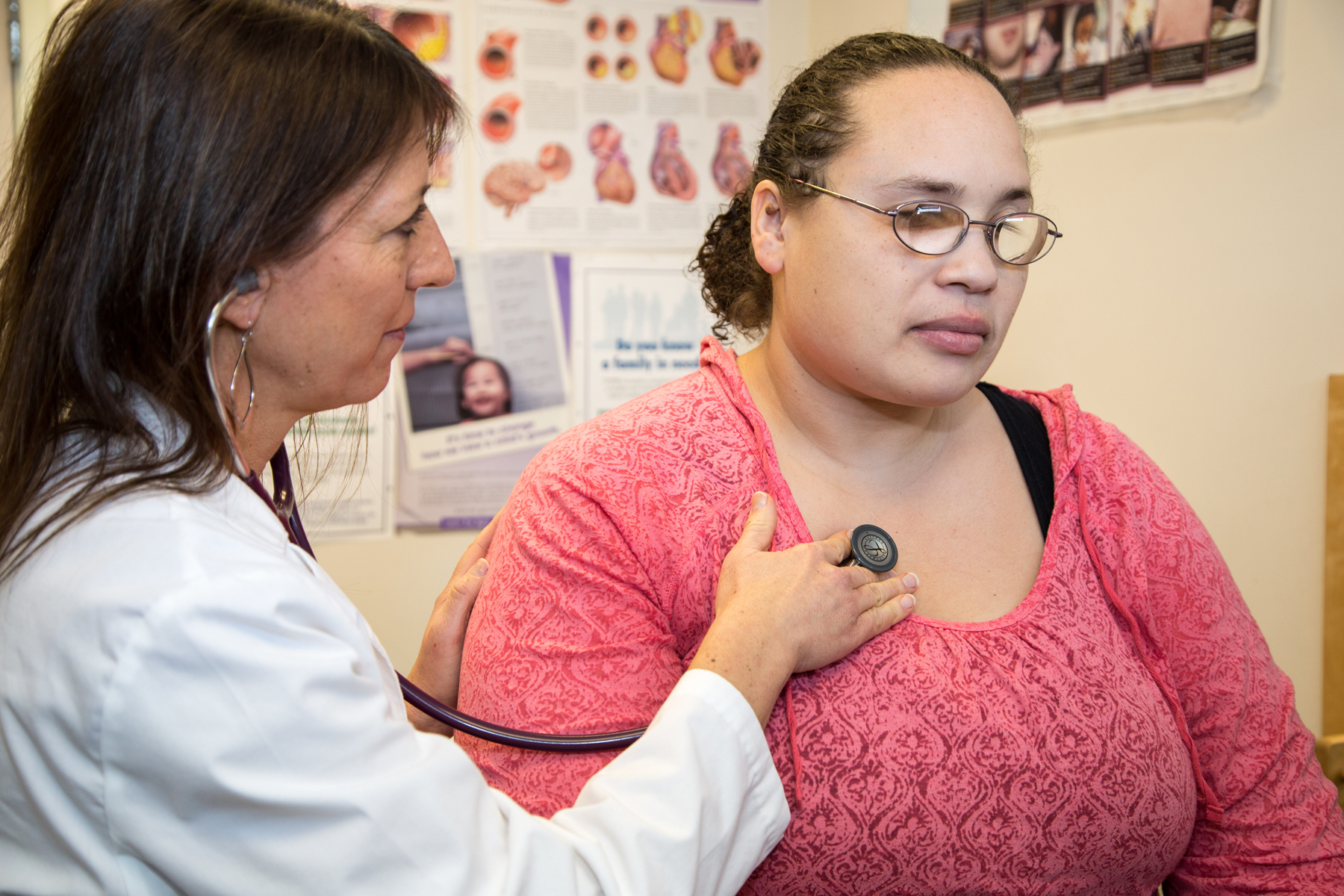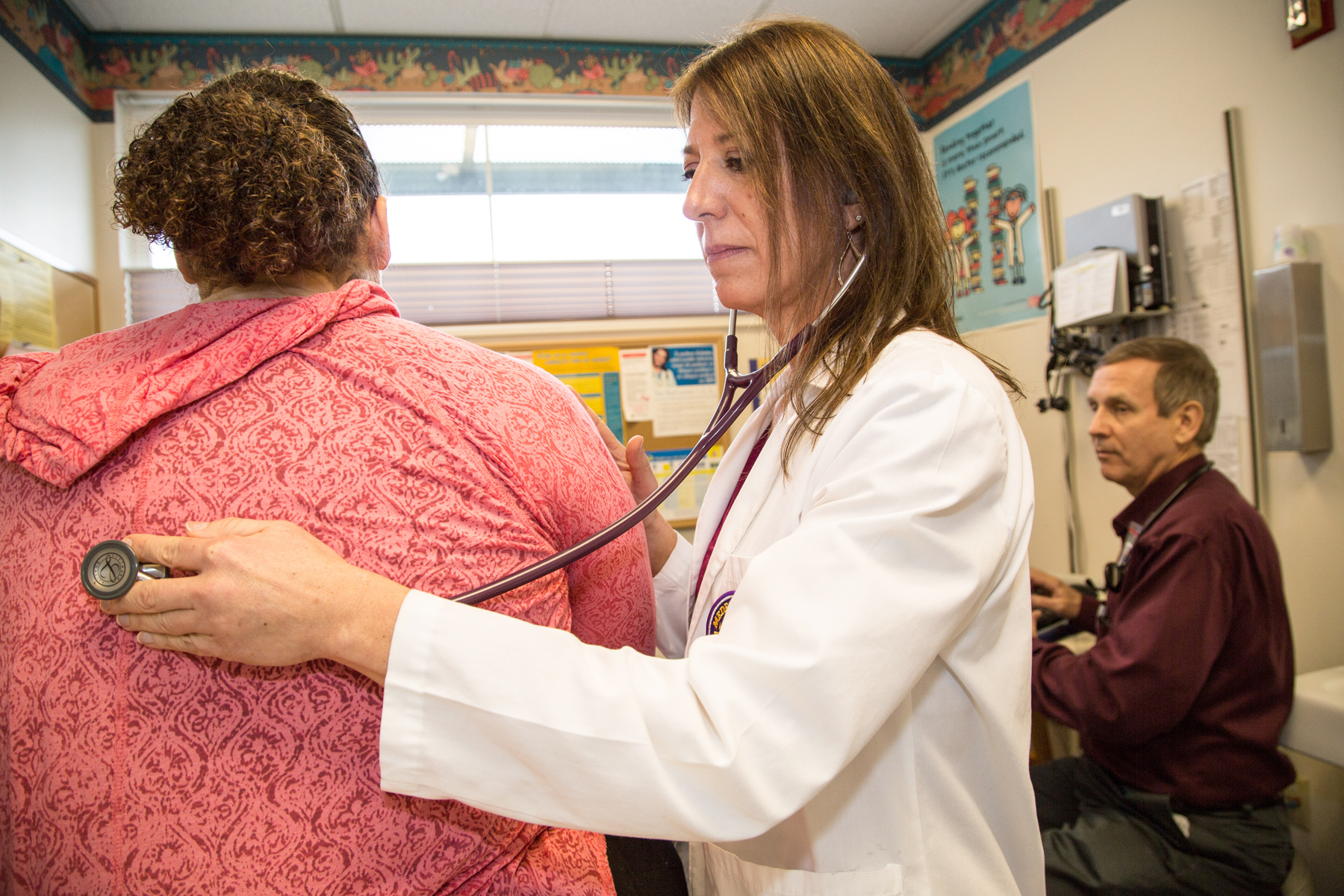 While Celeste listens to the patient's lungs, supervising preceptor Jon Tardiff, PA-C observes from the sidelines.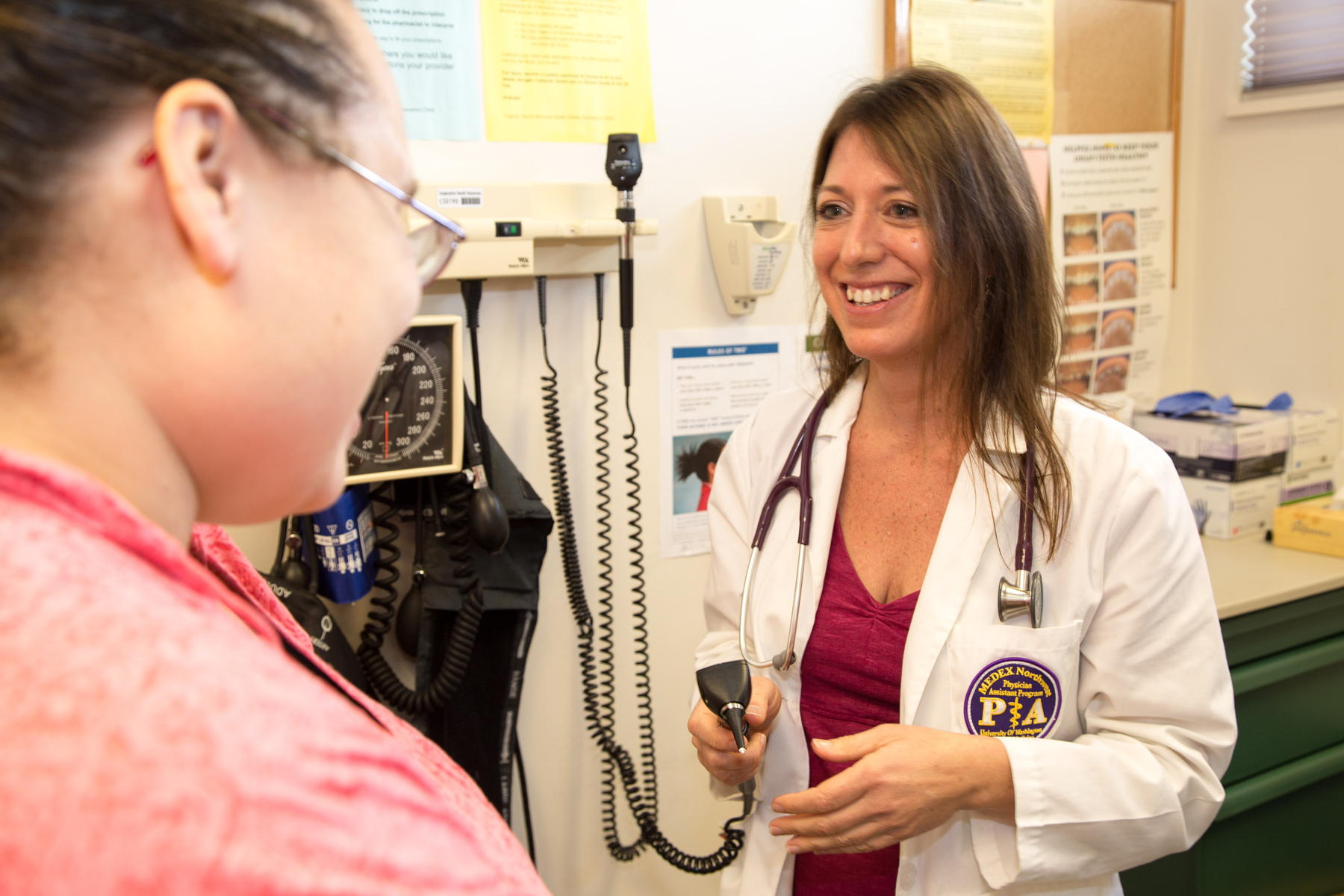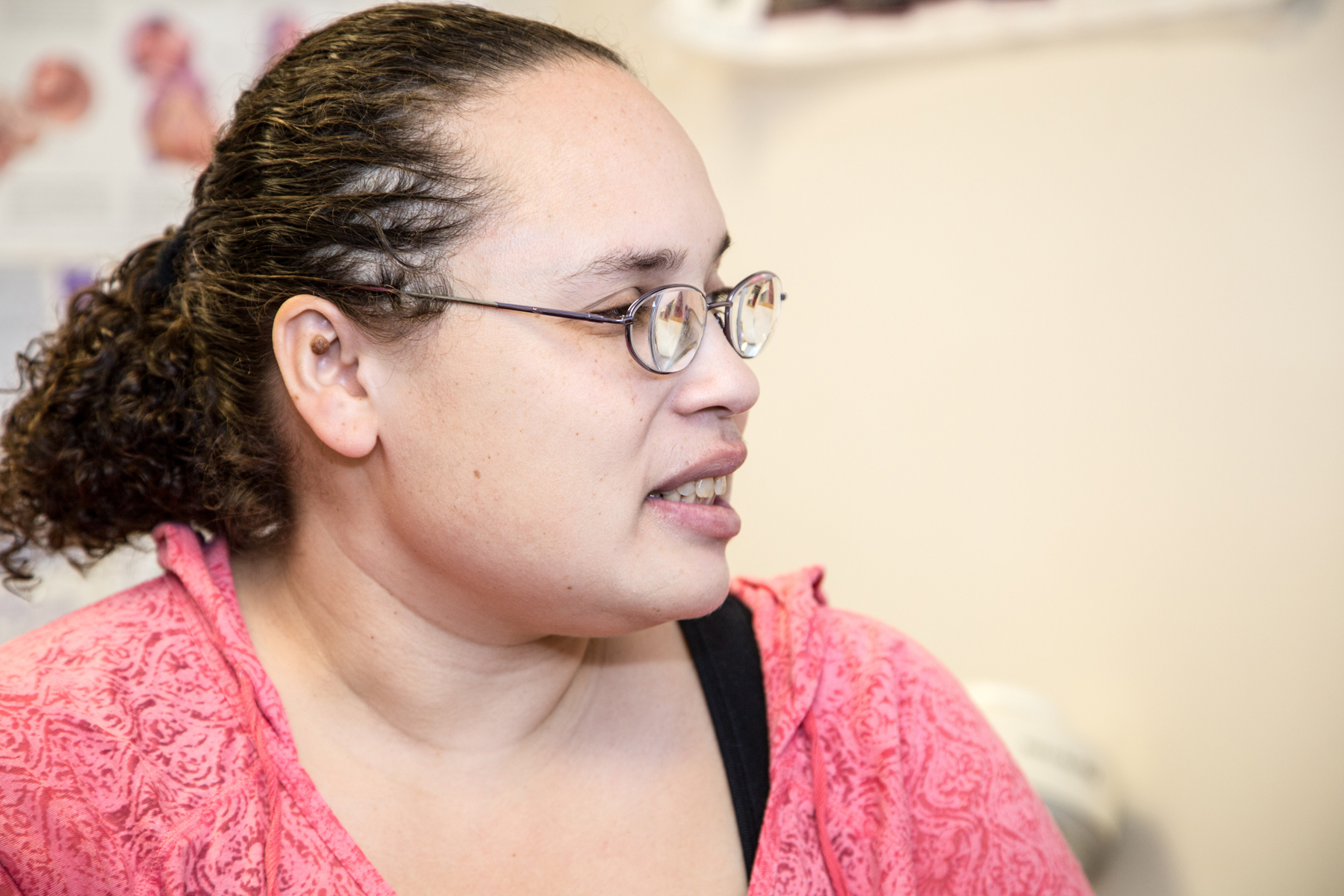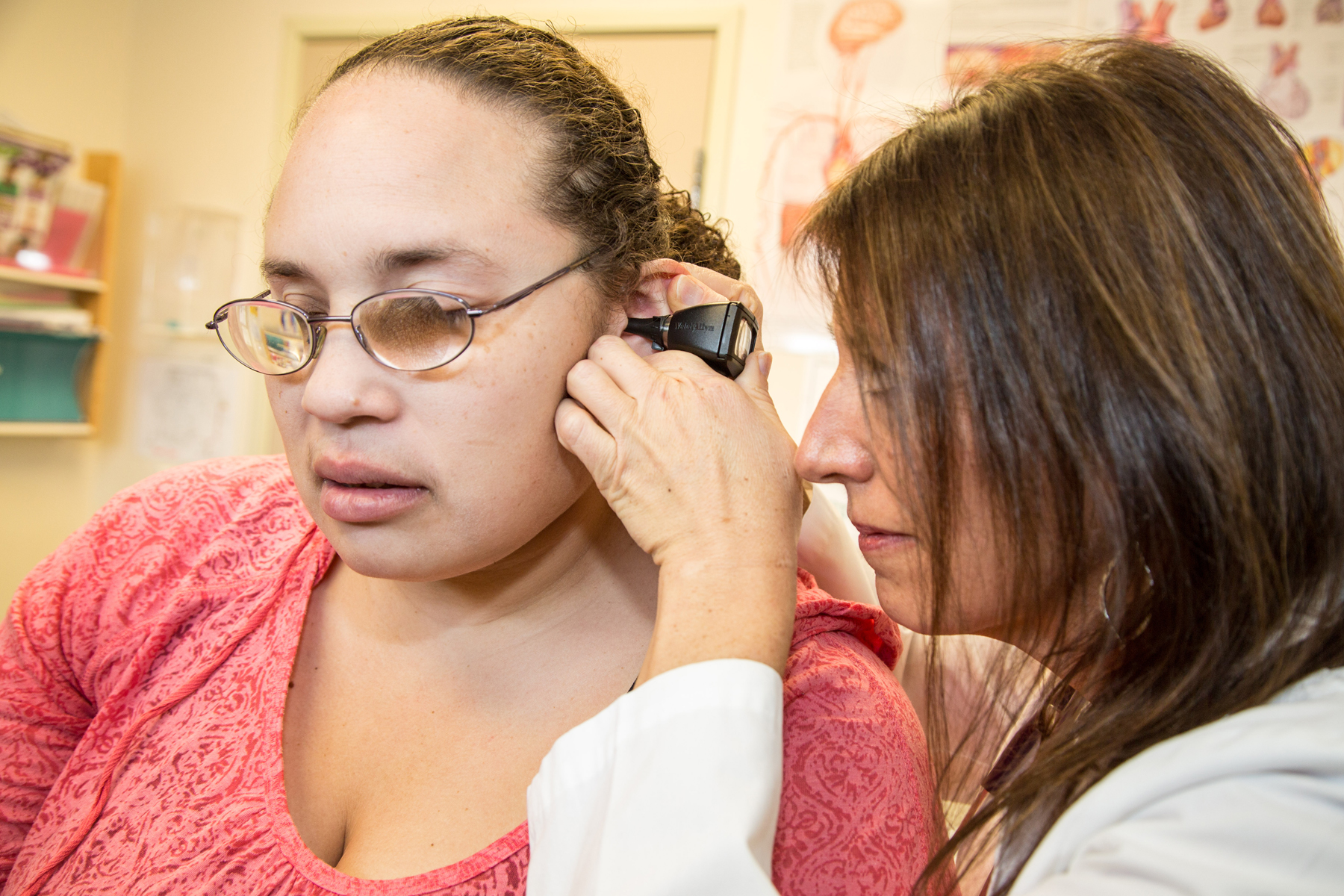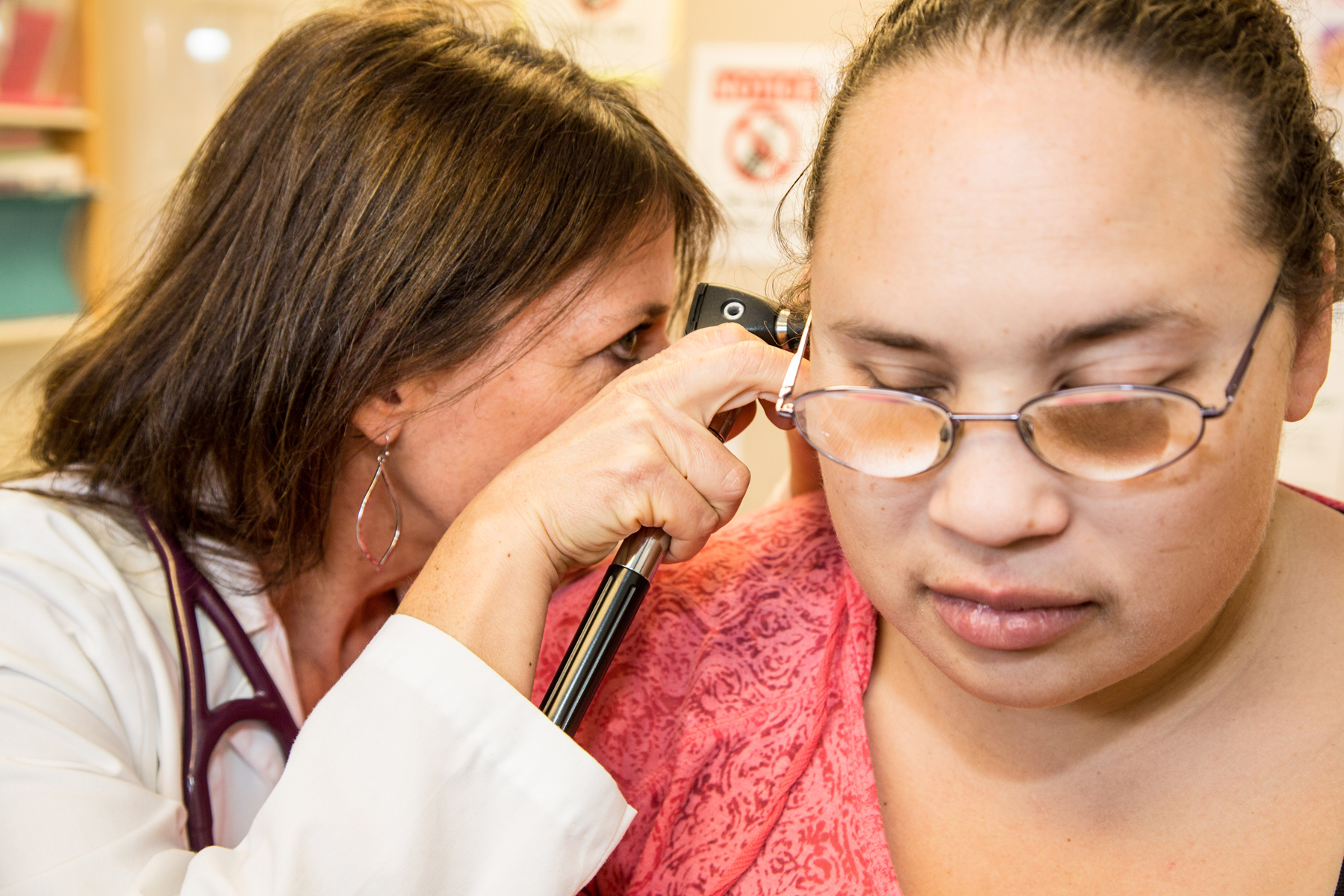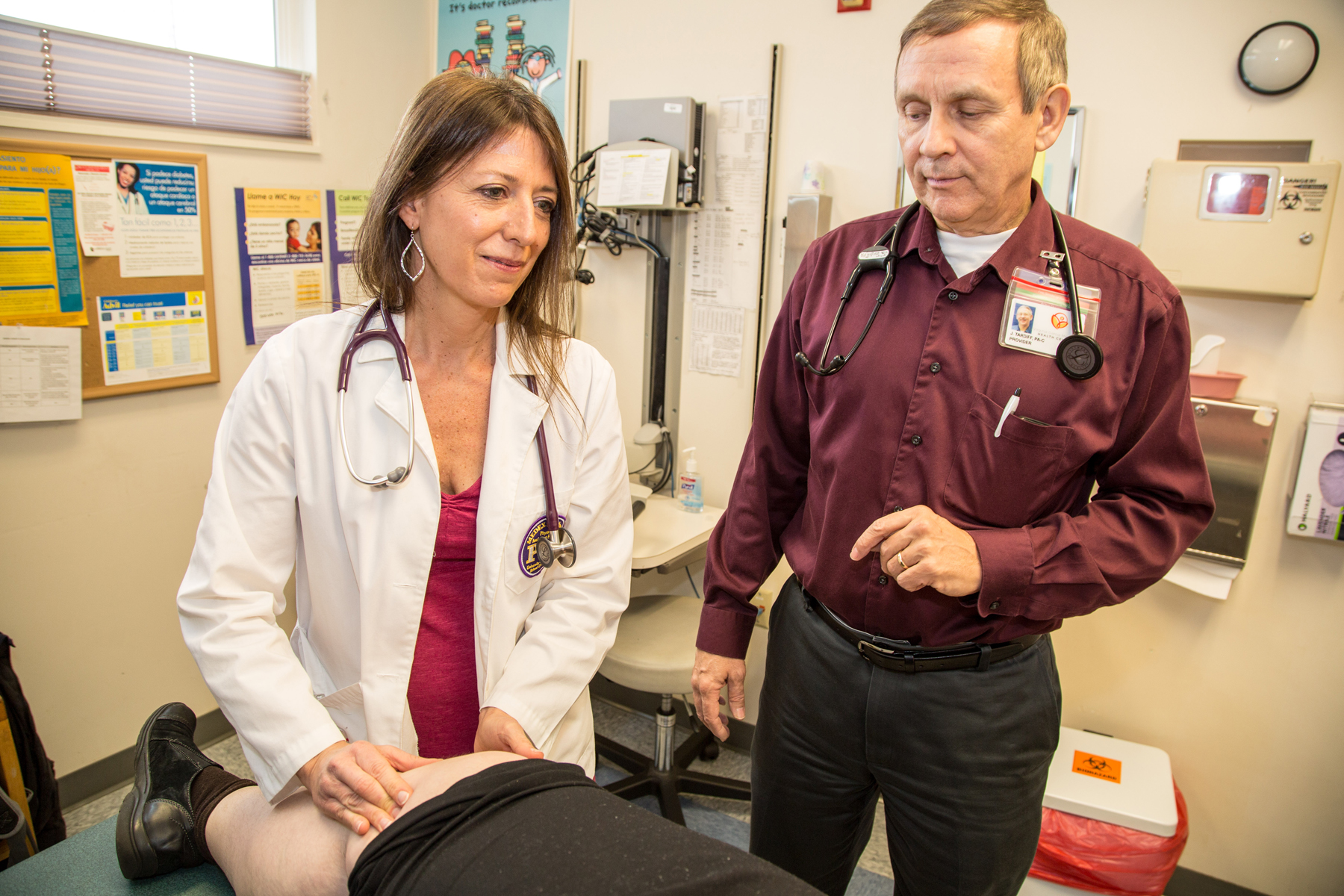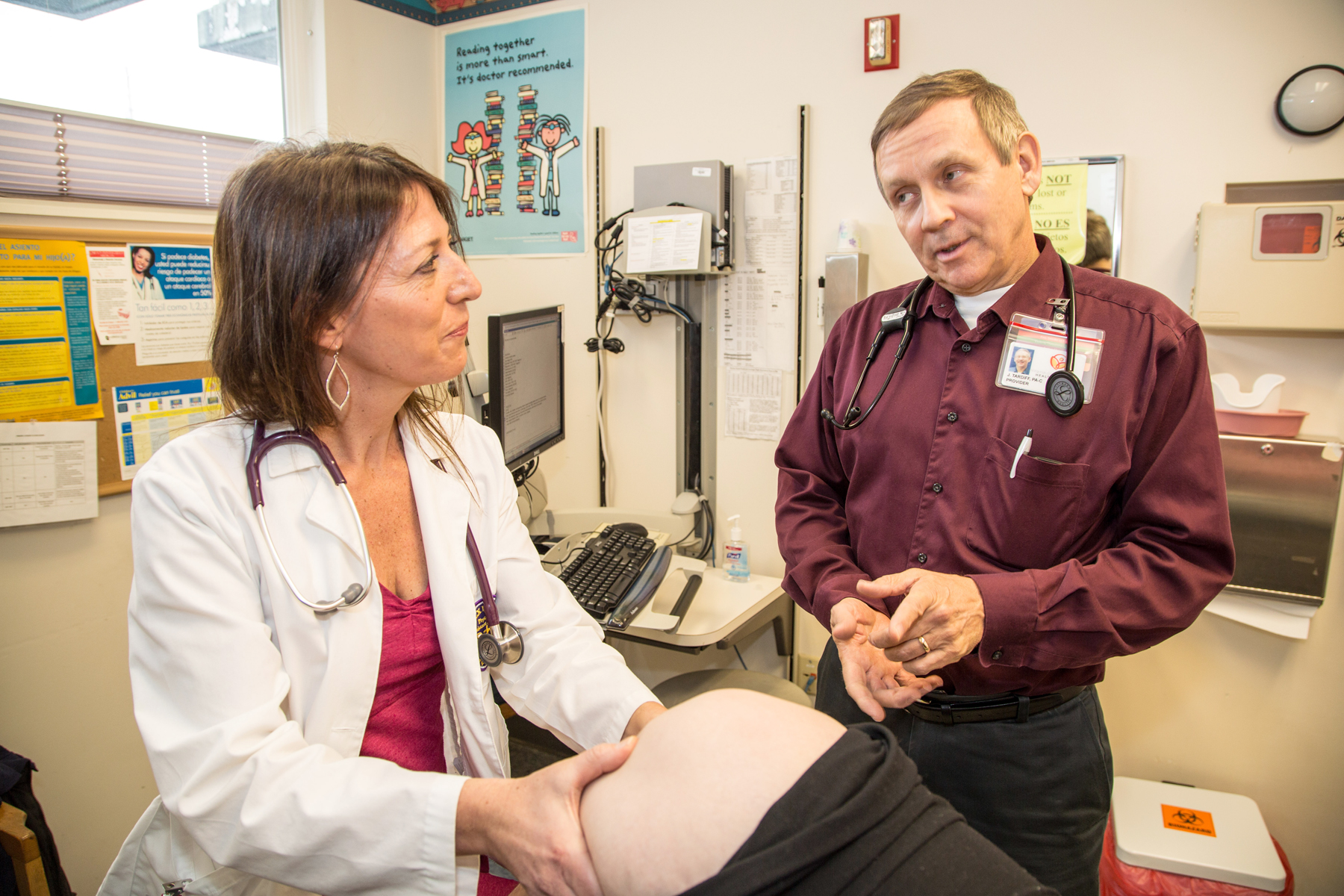 The patient complains of knee pain. Jon Tardiff, PA-C advises his student, Celeste Richardson, on what to look for in the knee exam.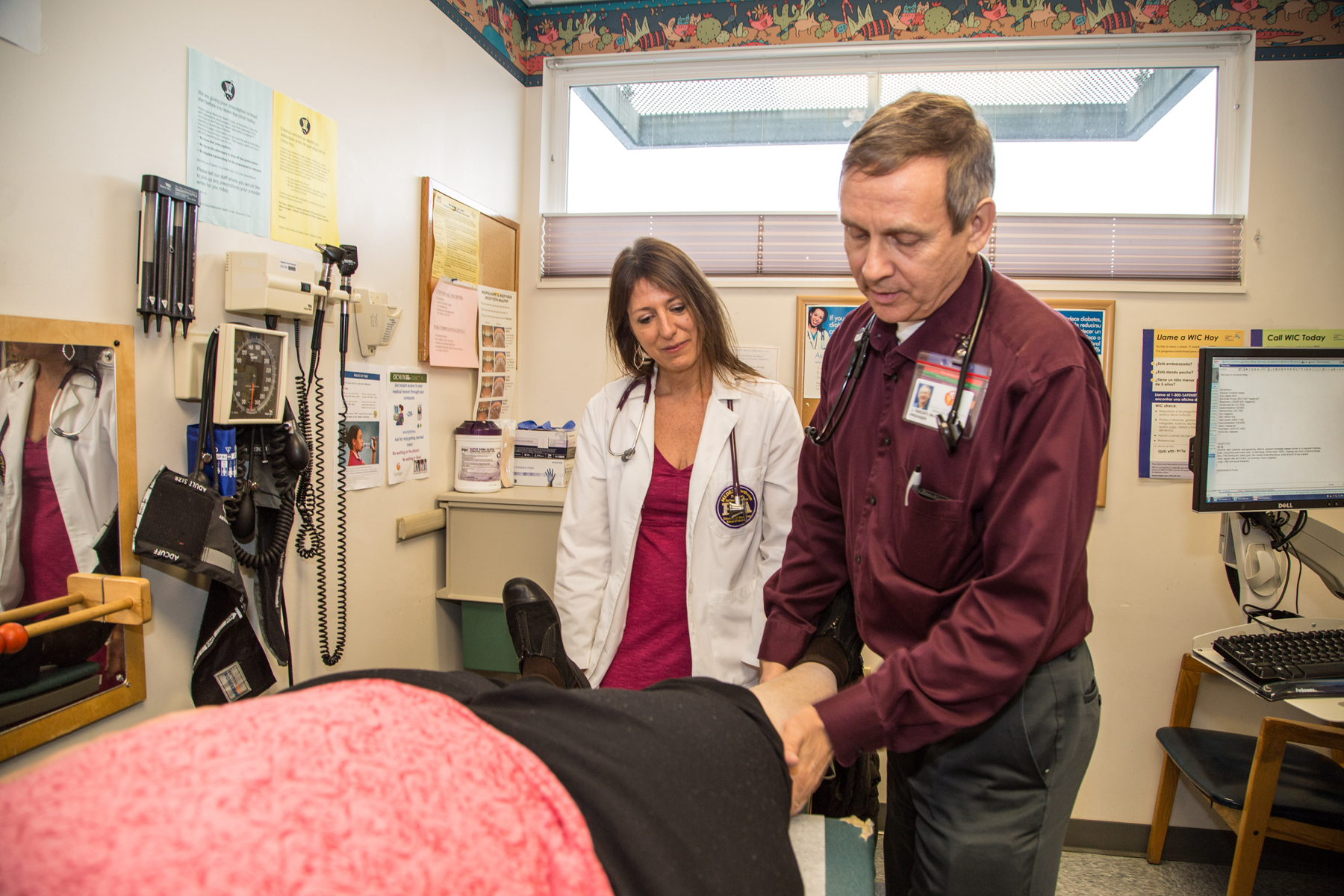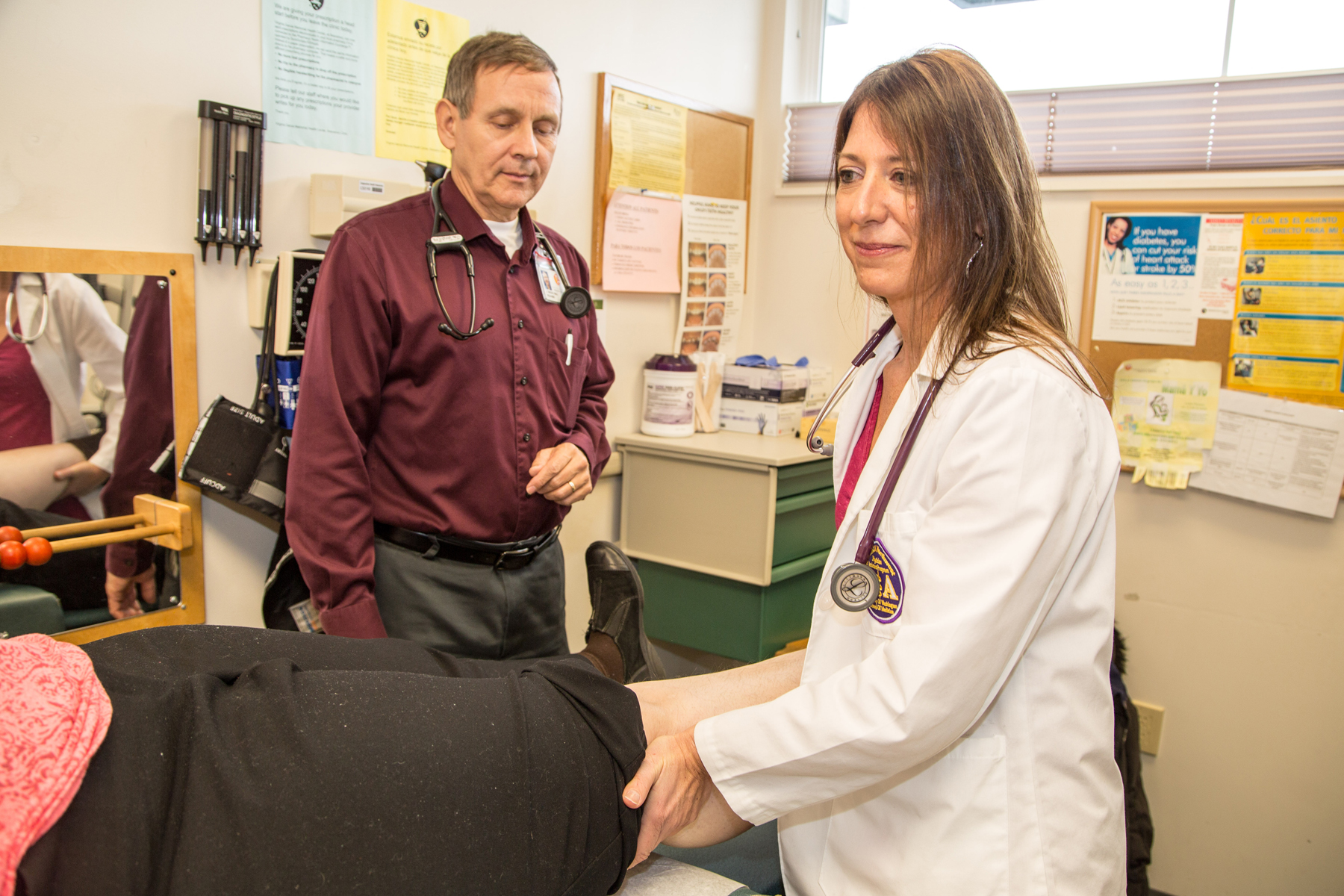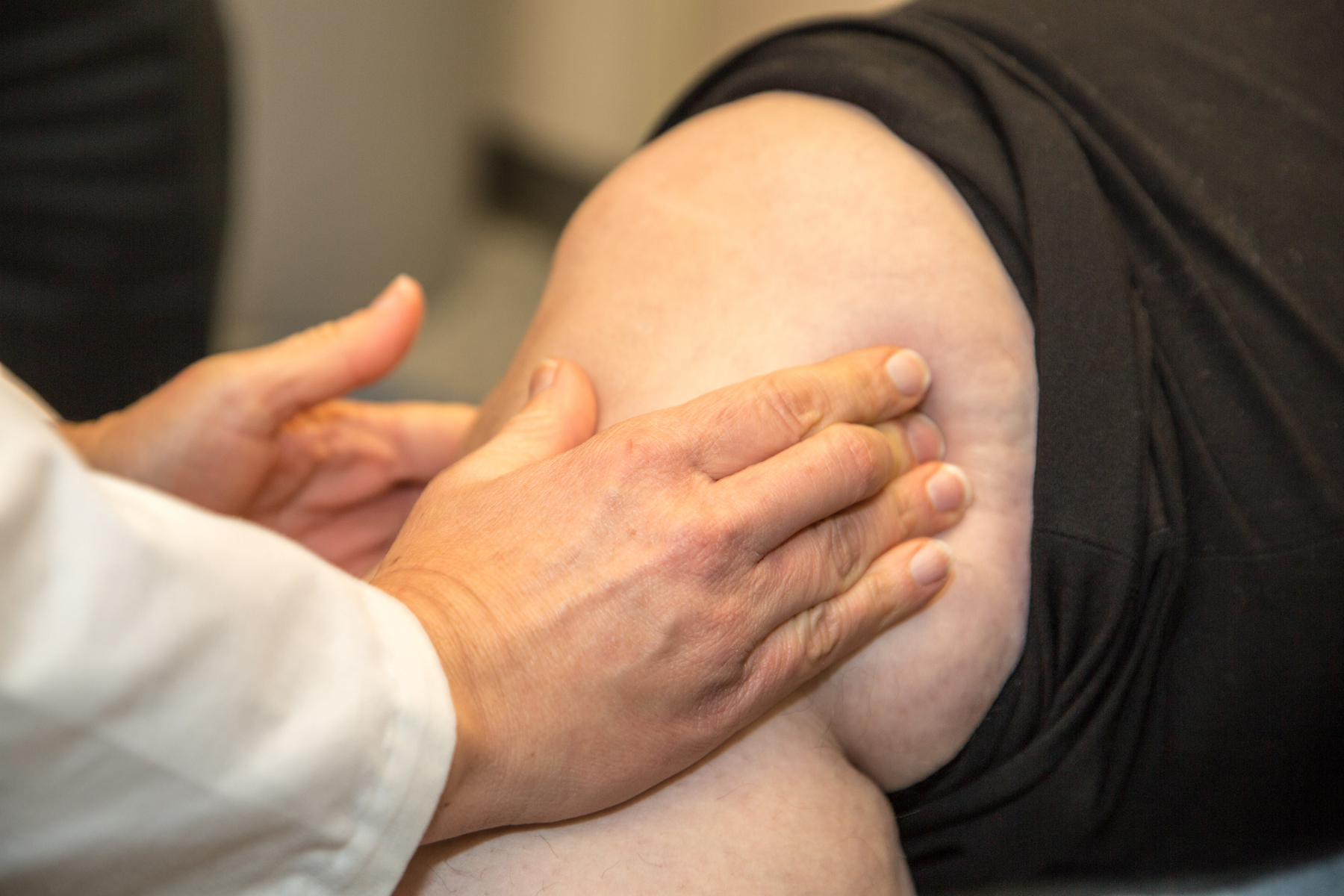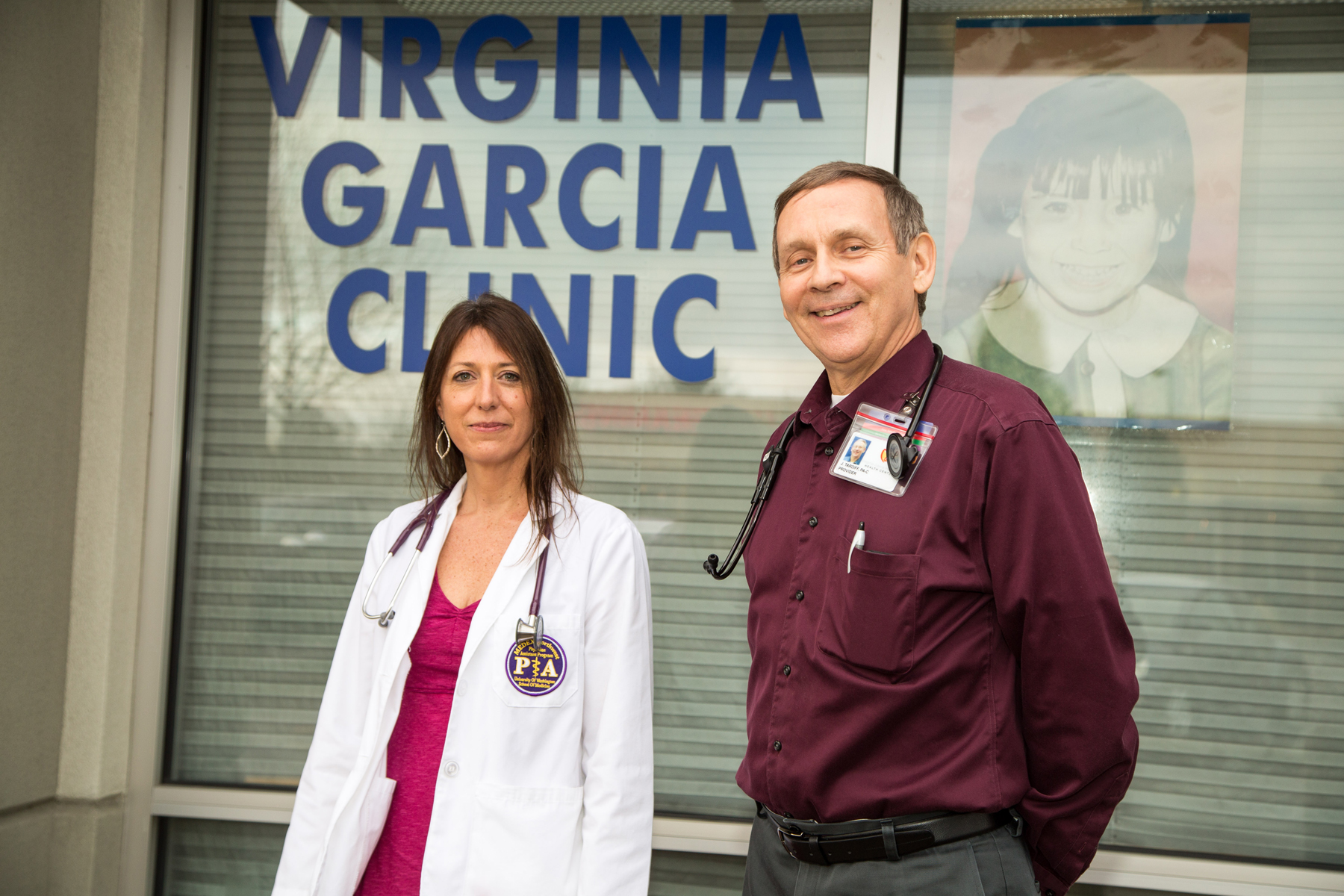 Celeste Richardson and Jon Tardiff, PA-C outside Virginia Garcia Beaverton Clinic. Jon is an alumni of MEDEX Seattle Class 42 from 2010.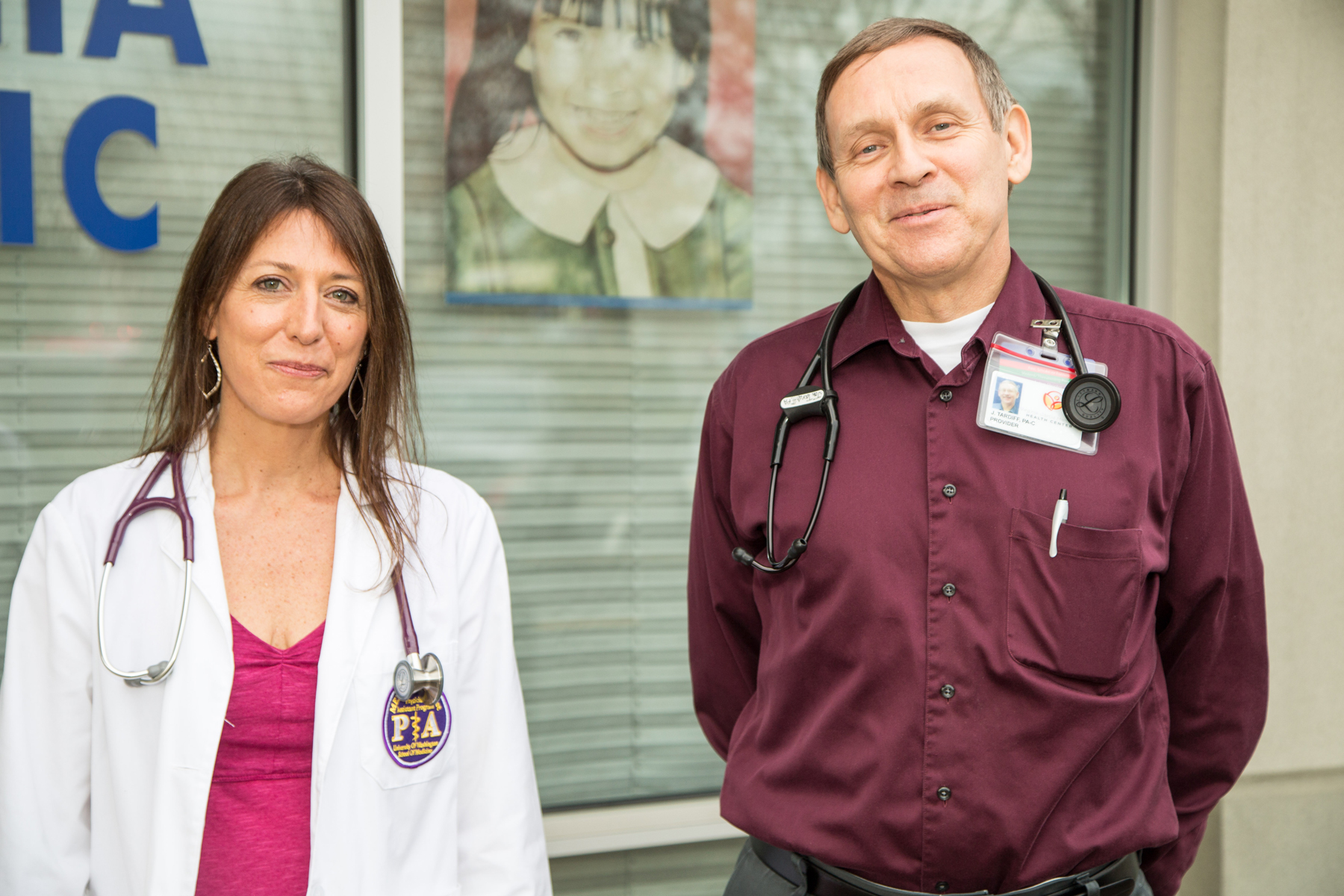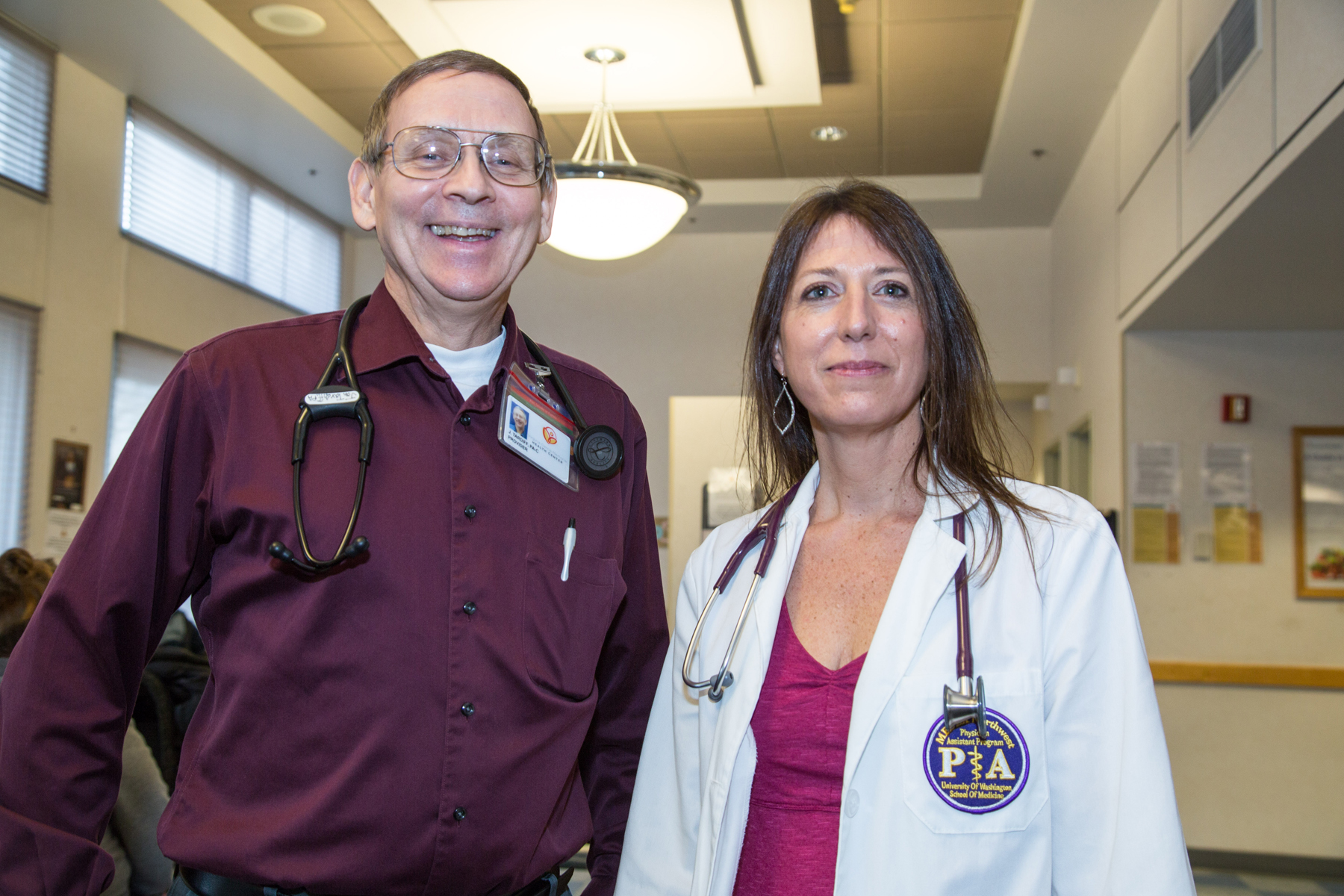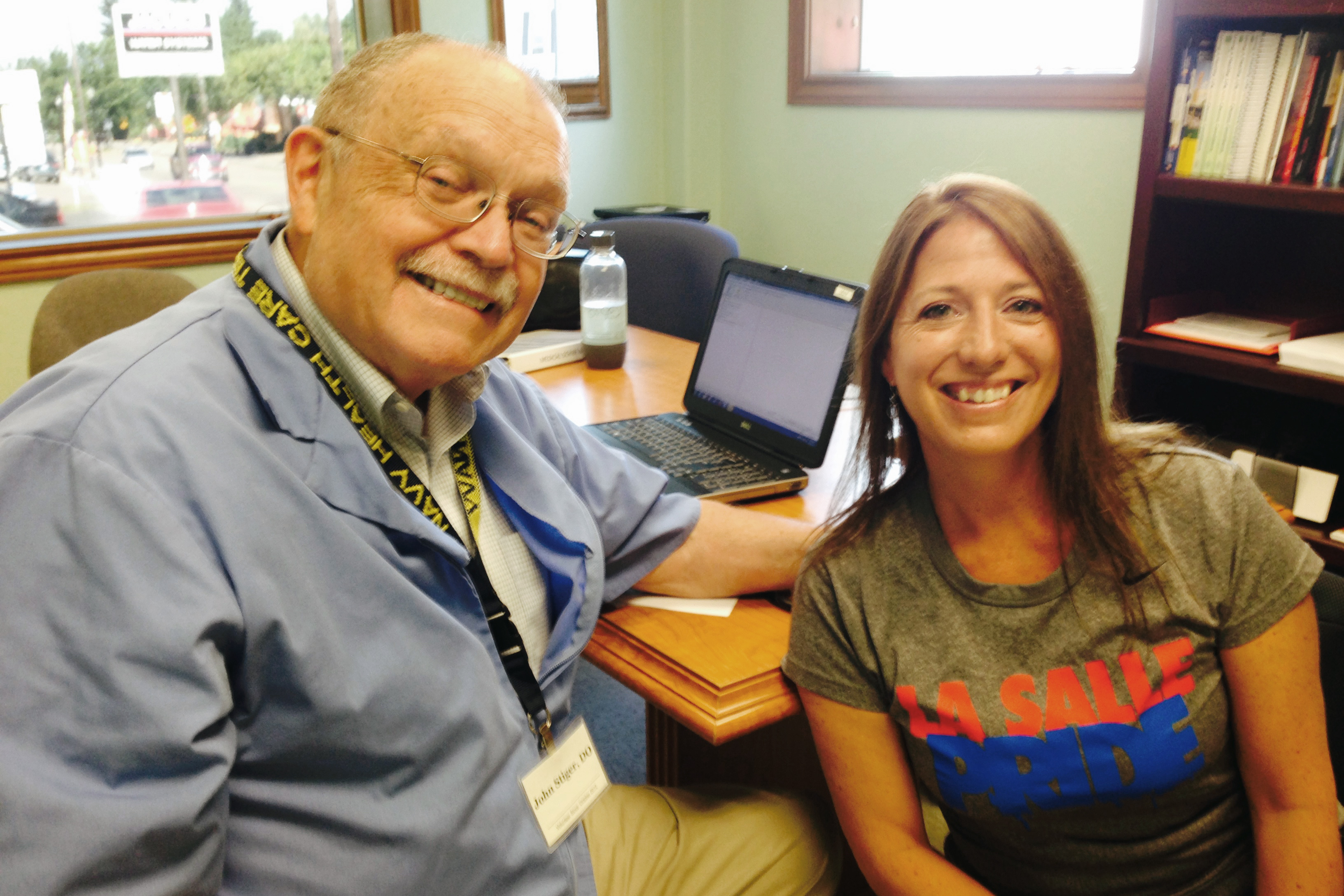 Celeste Richardson with Dr. John Stiger at the Clackamas Volunteers in Medicine Clinic in Oregon City.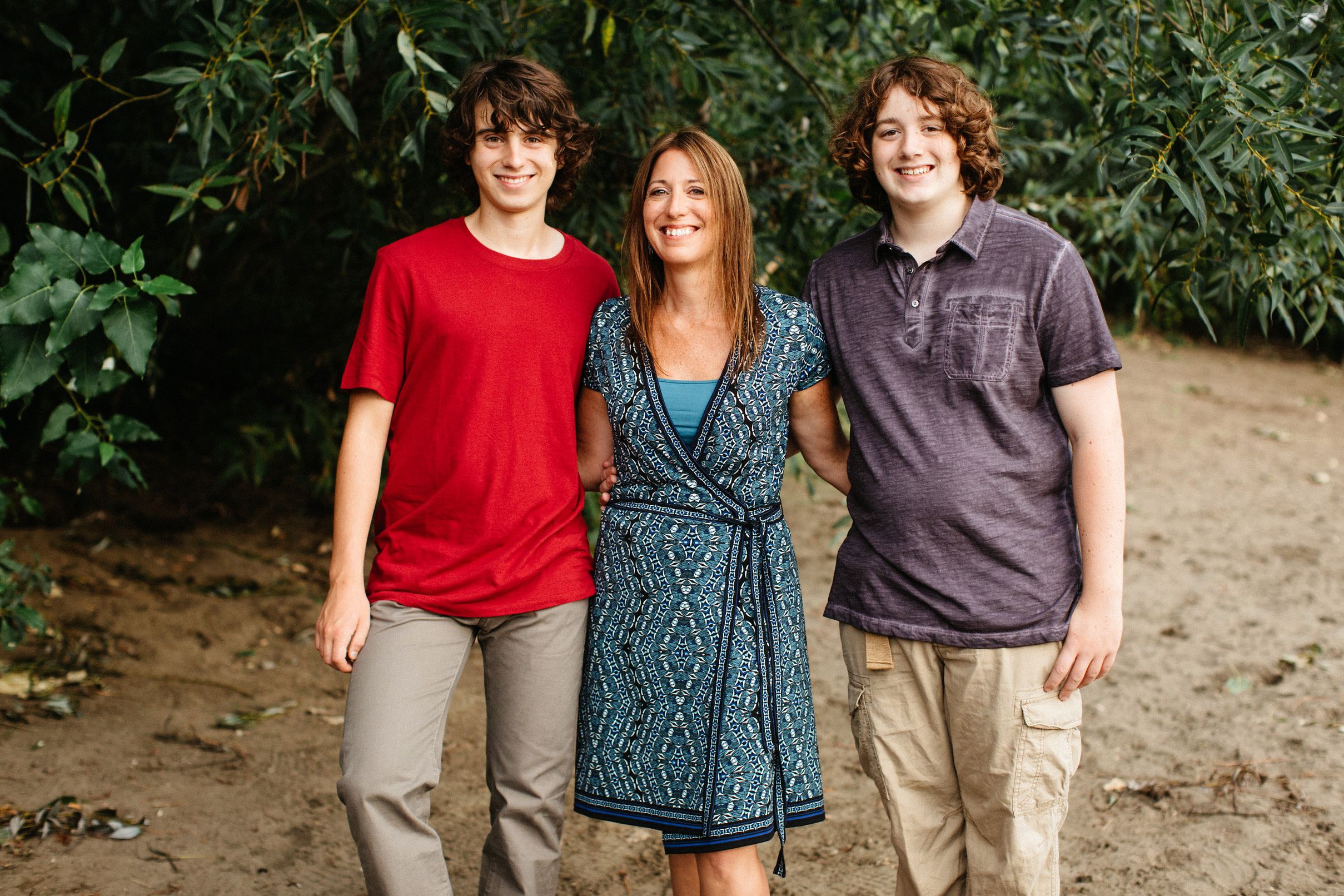 Celeste Richardson with her two sons. Photo: Katy Weaver
Now back to that circuitous path.
Celeste graduated "many years ago" with a combined degree in biology and psychology, and a plan to go for a master's degree in genetic counseling. "But life changes," she explains. "I fell in love. I moved to England, and I traveled for many years." Eventually she returned to the States, got married, had kids and went to massage school. "And so I was a massage therapist for 17 years as my kids grew up."
In the time her boys were growing up, Celeste got divorced. As a single mom, massage therapy wasn't enough to pay the bills. That's when she started tutoring anatomy and physiology at a local community college. "I was working four jobs," she says. "That's when I decided I needed to go back to school to make a living."
At first, Celeste again considered getting her master's degree in genetic counseling. But her work as a massage therapist exposed her to people's health conditions. "I wanted a broader scope of practice," she says. "And I wanted to help people manage their health, especially people who have barriers to care." At that time she was considering nursing school, or becoming a nurse practitioner. Then a PT friend suggested the physician assistant profession. "I had never thought of that," she says. She did the research, and started attending a community college to fulfill her prerequisites. "And since my bachelor's degree was so long ago, I had to redo all my anatomy and physiology."
As a massage therapist, Celeste had carved out a unique niche. She had her own practice, and was associated with a chiropractor, and worked with a geriatric population. "I was travelling all over," she says. "I was going to assisted living homes and memory care homes around the Portland area, giving geriatric massage."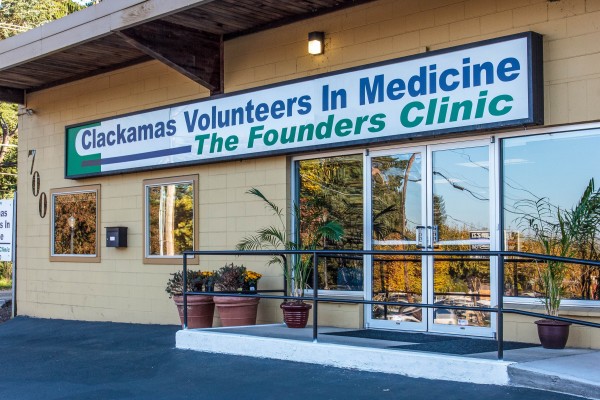 As preparation for her new career direction, Celeste set out to gain wider exposure to the clinical environment by volunteering at a free clinic in Oregon City. She started out helping with a medical scribe program, assisting the providers by writing chart notes. In time, the facility—the Clackamas Volunteers in Medicine Founders Clinic—hired Celeste as their volunteer coordinator.
By her own admission, there was a lot going on for Celeste. She was raising two high school age boys, working four jobs, fulfilling academic prerequisites, volunteering, and applying to PA school. It was then that she learned how competitive PA programs are in today's market.
In her first attempt, Celeste applied exclusively to local programs. She got an interview at the physician assistant program at Oregon Health and Science University. "But I didn't get in," she says. After that it became clear that, if she wanted to follow her passion, she'd have to attend an out-of-state program.
To cover her bases more widely, Celeste applied to five PA schools during her second round. One of them was MEDEX Northwest. "When I went to MEDEX and interviewed there, I just knew it was the right place," she tells us. "With their mission of training PA's to work with the underserved, as well as the diverse background and ages of the applicants interviewing, it was the right fit." Her family was thrilled and supported her pursuit, which allowed her to move to Seattle for her didactic year.
Now, having survived the didactic year in Seattle, she's back in Portland at the very clinic she shadowed while researching the PA path. Her preceptor, Jon Tardiff, PA-C, is himself a graduate of MEDEX Seattle Class 42 in 2010. Jon appreciates how Celeste's depth of experience in massage informs her work with patients at Virginia Garcia Beaverton Clinic. "He says I'm the expert at musculoskeletal," she tells us.
"When I came to MEDEX, I was the alternative therapy person, and I now bring that into my practice," she says. "A lot of times, patients have questions about alternative therapies and I can help educate patients about different complementary therapies such as acupuncture, chiropractic, or naturopathic medicine."
Celeste also volunteered with Street Yoga, a non-profit that brings yoga mindfulness to youth survivors of trauma. "I volunteered at a local public school teaching yoga to children who had experienced trauma and were unable to attend standard classes due to behavioral issues".
Now that Celeste is in her clinical year, MEDEX has been working hard to secure her family medicine preceptorship and the six remaining 1-month rotations in the Portland area. "My oldest boy is going to be graduating high school this year, so it's important for me to be back here for his last year in the house before he moves away for college," she says. For sure there'll be at least one rotation in Seattle during June for her elective in palliative care at the UW, seemingly a great fit given her previous work with geriatrics.
Graduation comes soon enough—in August 2016. Once she passes the national PA certification exam Celeste will be looking for a job in her new profession. But she makes it no secret that Virginia Garcia Beaverton Clinic is her first choice. After applying to the OSHU physician assistant program, she went to Chile for a six week Spanish immersion program. "My Spanish is getting better," she tells us. This is helpful because 20% of the clinic's patients are migrant and seasonal farm workers.
This is a bustling clinic with an onsite pharmacy. Presently at 97% capacity in just over 11,500 square feet, Virginia Garcia Beaverton Clinic will soon break ground on a site that will triple its size by 2017. As a federally qualified health center, Virginia Garcia is currently serving 42,000 patients across four medical clinics and three dental clinics. Most of its patients are low income, or have some barrier to healthcare.
"I always knew this is the population I wanted to work with," says Celeste