WELCOME TO THE PAGER STUDY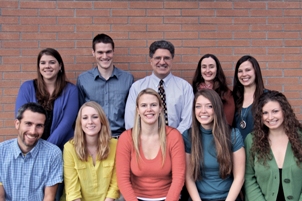 THE PAGER TEAM
From Left, Back Row: Sydney Thomas, Sam Jewell, Dr. Cyrus Zabetian, Dora Yearout, Sara Kath
Front Row: Dr. Ignacio Mata, Sarah Waldherr, Erica Martinez, Haley Huston, Tiffany Thompson
A person's risk of developing Parkinson's disease (PD) is determined by both genetic and environmental factors. Uncovering these genes and environmental exposures might lead to the development of more effective strategies for early diagnosis, prevention and treatment of PD.
The Parkinson's Genetic Research Study (PaGeR), headed by Dr. Cyrus Zabetian, is searching for genes that increase the risk of developing PD and related disorders. The study is a joint effort by neurologists and researchers across the United States and is sponsored by the National Institutes of Health. The coordinating center for PaGeR is located at the University of Washington and the VA Puget Sound Health Care System in Seattle.
PaGeR is focusing on families in which two or more people have been diagnosed with PD. Past research suggests that such "multiplex" families might hold the key to the discovery of new PD genes.
Download our recruitment brochure by clicking here.