2019 Venue and Headquarter Hotel
Hyatt Regency Lake Washington
1053 Lake Washington Boulevard North
Renton, WA 98056
(425) 203-1234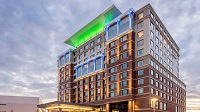 Located on the shores of Lake Washington, Hyatt Regency Lake Washington at Seattle's Southport, a recent AAA Four Diamond award winner, perfectly combines the natural beauty of the Pacific Northwest with modern amenities.
The Hyatt Regency Lake Washington has offered PNWI registrants the prevailing government per diem for lodging for the conference dates  (see rates below). The prevailing government lodging per diem rate has just gone up to $257 plus taxes for a single. The hotel has agreed to not increase the room rate. This rate is available until Monday, September 9, 2019 or when the room block fills, whichever comes first. Use this link to access our dedicated room reservation web page.
The Hyatt Regency Lake Washington
Currently, the Hyatt Regency is offering rooms at the following rates plus a 12.4% occupancy tax.
-Single/double: $244.00 + taxes
-Triple $269.00 + taxes
-Quad $294.00 + taxes
Parking rate information.
Valet Parking (tax included):
0-2 hours: $11.00
2-4 hours: $14.00
4-6 hours: $17.00
6-10 hours: $20.00
10-24 hours: $28.00
Self-Parking Garage (10% tax has been added below for reference). PNWI registrants receive a 25% discount on the self parking prices listed below.
0-1 hour: $3.00+ ($3.30)
1-2 hours: $6.00+ ($6.60)
2-4 hours: $9.00+ ($9.90)
4-8 hours: $12.00+ ($13.20)
8-12 hours: $14.00+ ($15.40)
12-24 hours: $16.00+ ($17.60)
Complimentary parking provided on weekdays 8pm-3am
Complimentary parking provided on weekends (Saturday-Sunday)