TLC-ART Program
Innovations in Targeted, Long-Acting & Drug Combination Therapy to clear HIV
The Targeted, Long-acting and Combination Anti-Retroviral Therapy (TLC-ART) program leverages innovations in drug combinations nano-technology, clinical and regulatory expertise to develop targeted HIV therapy that will be long-lasting and overcome drug insufficiency.
The TLC-ART program is located in the University of Washington's Magnusson Health Sciences Building as part of the department of pharmaceutics.
Our internationally known scientists and physicians are dedicated to improve patient compliance and therapeutic outcomes in the treatment of HIV. Patient compliance and innovative treatments that clear residual HIV virus in tissues are essential to find a cure for AIDS.
Each day, patients take multiple pills by mouth in a complicated schedule to keep HIV in check. Missing a dose or two may lead to virus rebound leading to the risk of disease progression.  Our team has discovered a way to make 3 or more drug combinations in nano-pharmaceutical preparations in a long-acting dosage form. This innovative platform technology  produces candidate dosages that are validated to last approximately one month. These preparations are shown to direct all different drugs packaged in one dose to HIV infected lymphocytes; it is intended as a targeted therapy.
Our researchers were the first to document pharmacological drug deficiencies in tissue lymphocytes with oral pill treatment. These deficiencies have been linked to residual HIV in the body. TLC-ART's drug product candidates that are long-acting, and targeted to HIV host cells and tissues in the body, could overcome these deficiencies and improve patient compliance. The TLC-ART Team with over 30 members and 11 projects are supported by the National Institutes of Health (NIH) with contributions from both public and private partnerships.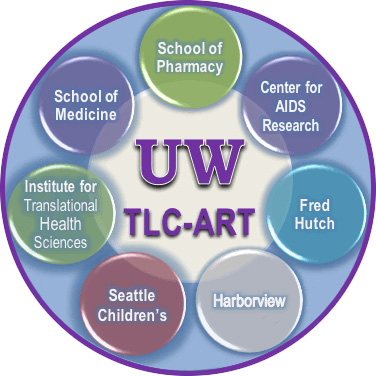 We welcome your input, research support, participation and donations by either making a gift or donating directly to our faculty or students.