TLC-ART Program
"We hope to maximally suppress HIV and potentially contribute to a cure for AIDS." Dr. Rodney Ho
Targeted Long Acting Therapy intended to clear virus in tissues
We are the Targeted Long-acting Combination Anti-Retroviral Therapy (TLC-ART) program, located within the Department of Pharmaceutics at the University of Washington.  We are scientists and physicians working toward developing a long acting and effective treatment to improve patient compliance and therapeutic outcomes in the treatment of HIV. Our hope is to maximally suppress HIV and potentially contribute to a cure for AIDS.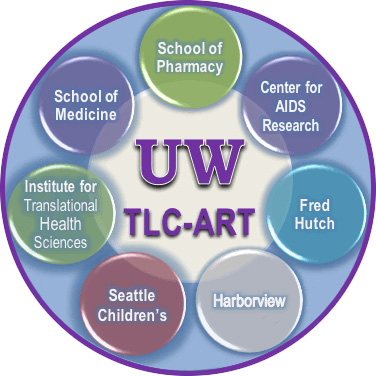 Our researchers were the first to document pharmacological drug deficiency with HIV oral treatment. This has been linked to residual HIV in tissues. The TLC-ART program, with its 11 projects, intends to overcome pharmacological drug deficiency by developing a novel formulation of a combination of antiretroviral agents. TLC-ART is a publicly funded, National Institutes of Health (NIH) supported program with contributions from multiple institutions.
We welcome your input, research support, participation and donations by either making a gift or donating directly to our faculty or students.