Welcome from the Editor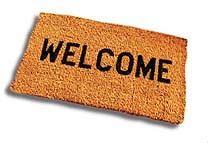 President Dwight D. Eisenhower, a 5-star Army general and Supreme Commander of Allied forces in Europe during WWII, once said, "In preparing for battle, I have always found that plans are useless, but planning is indispensable."
Read more...

Admissions Update
Greetings from the Office of Undergraduate Admissions! We encourage Washington community college students to consider the University of Washington, and they have been very successful at gaining admission. In fact, in each of the past five years, over 30% of all new undergraduates at the University of Washington have been transfer students from Washington community colleges. Read more...

The Near Eastern Languages and Civilization Major
Do you understand the historical factors that lie beneath the current events in the world today? Are you able to see people, cultures, and humanity aside from the politics and breaking news? Do you want to affect change in the world but are not sure where to begin? Read more...

How an Exploration Seminar changed my UW Experience
Did you know that a coconut produces milk, water, and juice? "Yeah...yeah...That's not new or news," you might say if you're like me, living in Seattle with its large Asian/Asian-Pacific-Islander population. But I wasn't in the International District when I learned how to be a coconut connoisseur. I was in Tahiti on a UW Exploration Seminar. I don't remember how I found myself in Tahiti. But I do remember why I needed to go there. Read more...

Transfer Thursday: Come plan your transfer!
Transfer Thursday is an event where prospective transfer students can find out about University of Washington admissions processes, departments, financial aid, and other opportunities. It happens every Thursday afternoon. A detailed schedule is available online. Read more...

Summer Research Experience for Students...and Faculty
The University of Washington's Department of Environmental and Occupational Health Sciences will offer the Environmental Health Research Experience Program (EH REP) to ten undergraduate juniors and seniors in summer 2010. Community college students who are transferring to any baccalaureate institution by autumn 2010 are eligible to apply. Read more...

For Community College Advisers: UW Transfer Team here to help you
In the past, the advisers in the UW's Gateway Center have been assigned as liaisons to community colleges around the state. In order to provide UW transfer information to you in a more systematic manner, we have designated a Transfer Team of advisers whom you can contact: Read more...

Chemistry and Biochemistry becoming competitive majors
There are important changes happening in the chemistry and biochemistry undergraduate programs at the University of Washington. Starting spring quarter 2010, entrance into the Chemistry and Biochemistry majors will be by competitive admission and application only. Read more...
Transfer Student Interview

Interview with Transfer Student Cam Dinh Read more...

International Security Option for the Political Science major
The Department of Political Science has added an International Security option for undergraduates interested in an in-depth study of international security. Read more...

Admission to the Chemical Engineering major shifts to spring quarter
Starting spring quarter 2010 the Chemical Engineering Department will admit students through the upper-division pathway for spring quarter instead of autumn quarter. We will maintain our upper-division admission pathway for autumn 2010, but after that the department will admit upper-division applicants for spring quarter only. Read more...

Earn a bachelor's degree in CHID
The Comparative History of Ideas (CHID) is an interdisciplinary program that draws on a wide variety of disciplines to examine the interplay of ideas and their cultural, historical, and political contexts. Read more...

NASA Space Grant Scholarships for Transfer Students
Washington NASA Space Grant Consortium offers scholarships to community college students planning to study science, technology, engineering or mathematics at the University of Washington. Read more...




Scholarships for Future Huskies
Information about the Martin Family Foundation, the Jack Kent Cook Undergraduate Transfer Scholarship, the Morris K. Udall Scholarship, and departmental scholarships... Read more...