Autumn 2009 | Issue No. 16
IN THIS ISSUE:
Transfer Student Interview

Print-ready PDF version
UW VIRTUAL TOUR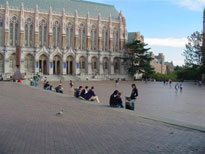 TRANSFER THURSDAYS
Thinking about transferring to the UW? If you are,
Transfer Thursday is your gateway to transfer information
. At a Transfer Thursday session, you can speak to an admissions counselor who will tell you all about applying to the UW. You can also meet with an undergraduate academic advisor who will help you prepare for your intended UW major. Bring your questions and your unofficial transcript(s). It's one-stop shopping for the prospective transfer student.
Where:
University of Washington
171 Mary Gates Hall
When:
Every Thursday afternoon.
Click here to view the scheduled activities
.
For more information:
(206) 543-2550 or click
here
.
CREDITS
Megan McConnell
Editor
Jennifer Stock
Technical Designer
Contributors:
Cynthia Anderson
Phil Ballinger
Melissa Bolstad
Renata Cummings
Dave Drischell
Kendra Dupuy
Susan Inman
Beth Jeffrey
Sharmon Kollet
Megan McConnell
Michal Nolte
Amy Oates
Adam Shinn
Lani Stone
Irene Svete
The Transfer eNewsletter is a project of Undergraduate Advising at the Gateway Center.

Warning: mysql_connect(): Can't connect to MySQL server on 'ovid01.u.washington.edu' (111) in /nfs/bronfs/uwfs/hw00/d08/trnews/au09/article.php on line 25
Could not connect to MySQL: Can't connect to MySQL server on 'ovid01.u.washington.edu' (111)