Welcome from the Editor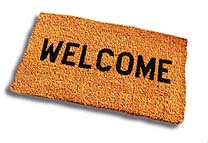 Welcome to the last installment of the Transfer eNewsletter for the 2006-2007 academic year. For many of you, your time at the community college is coming to an end this quarter and you will arrive here at the UW in the fall. Don't forget to sign up for an Advising & Orientation date as soon as you get your acceptance and send in your confirmation deposit! Read more...

Upcoming UW and Departmental Application Deadlines

Running Start: Freshman or Transfer?
The Running Start Program allows academically qualified 11th- and 12th-graders the opportunity to enroll in certain Washington colleges for college credit. Because of confusion about whether students should apply as freshman or transfer, we offer a reminder of our policy. Read more...

Spanish Department Changes Admission Requirements
Until recently, students had to have completed two English composition courses in order to be eligible to apply. Read more...

Transfer Applicants: Unfolding the Meaning Behind 30%, 60%, 80%
The University of Washington Seattle is firmly committed to ensuring that at least 30% of new undergraduates every year come from Washington community colleges. Read more...

School of Social Work Offers New Major: Community, Leadership, and Social Justice
The Community, Leadership and Social Justice (CLSJ) degree prepares students to become scholar-activists who are informed world citizens with the capacity and commitment necessary to promote human welfare. Students acquire the understanding and competencies required to promote social justice, multiculturalism, and human welfare across the lifespan. Read more...

Upcoming Scholarship Deadlines
The Martin Family Foundation Honors Scholarship Program was established to enable community college students of exceptional ability and outstanding achievement to complete their baccalaureate degrees at the University of Washington, Seattle campus. Read more...

Transfer Student Interview

Interview with Transfer Student Lea Young. Read more...

10th Annual Undergraduate Research Symposium Happening May 18
Prospective transfer students and advisers are invited to attend the Tenth Annual Undergraduate Research Symposium on Friday, May 18, 2007, from 12:00-5:00 p.m. in Mary Gates Hall at the University of Washington, Seattle. Read more...

Childcare Assistance Program Application Deadline Coming Up
The University of Washington Childcare Assistance Program for Students provides financial assistance to help pay childcare costs for the children of students. Childcare Assistance applications for 2007-2008 are now available, and the deadline for filing them is May 31, 2007. Read more...

UW Advising Podcast: You Don't Have to Wait to Start Thinking Like a Husky
A world-leader in education and research, the University of Washington is now leading the country with new advising technology to serve our future students. The award-winning (and free!) University of Washington Advising Podcast now gives transfer students a way to listen in on conversations about the most frequent and pressing academic issues - and at a time and place convenient for you. Read more...

Outside the Classroom: Connecting with Campus
Coming to the University of Washington was one of the most daunting experiences of my life. One hears these tales of how huge the UW is – "36,000 students, up to 50,000 people on the campus on any given weekday, over 200 clubs, etc.," and walking around campus for the first time, it seems a sea of never-ending buildings, people, and opportunities. Read more...

Mechanical Engineering Changes Programming Requirement
Beginning autumn of 2008, students entering the UW department of Mechanical Engineering will no longer be required to take CSE 142, Computer Programming I. In place of CSE 142, the department will require AMATH 301, Beginning Scientific Computing. AMATH 301 will be a graduation requirement. It will not be required for admission to the program. Read more...