Welcome from the Editor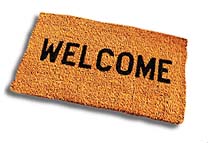 I recently got a smartphone. It's nice to look up movie schedules while I'm waiting for my kid's gymnastics class to end. It's helpful to track down the nearest grocery store when I'm in unfamiliar territory. Read more...

Admissions Update
Beginning in 2011, prospective students will no longer be able to apply for spring quarter admission at the Seattle campus of the University of Washington. Read more...

Many Resources for Veterans on UW Campus
Are you a veteran bound for the UW? Be sure to check out the Veterans Center in room 520 of Schmitz Hall. Read more...

Global Honors Accepting Applications for Autumn 2010 Online
The Global Honors Program is the University of Washington Tacoma's interdisciplinary upper-division honors program. Our mission is to prepare students to meet the challenges of a globalizing world. Read more...

McNair Scholars Host Annual Research Conference
The University of Washington Ronald E. McNair Program is a federal program funded via the U.S. Department of Education. Our program prepares undergraduates for doctoral study through involvement in research and scholarly activities. Read more...
Transfer Student Interview

Ross Whippo, a UW junior and transfer student from Seattle Central Community College, is a SCUBA diving enthusiast who has integrated diving into his coursework for an Aquatic & Fisheries Science major and a marine biology minor. Read more...

A Supportive Place for Student Parents on UW Campus!
The Student Parent Resource Center in room 180 of Schmitz Hall is a place where student parents at the UW can find the resources they need to support the successful completion of their degree. Read more...

For Community College Advisers: Highway to Husky Admission is the On-Ramp to the UW
This summer the Office of Admissions and the Undergraduate Gateway Center are offering an encore of the workshop called Mastering the Highway to Husky Admission, which was first offered two years ago. Read more...

EnviroLink Update

EnviroLink is one of eight discipline-related groups at the University of Washington that helps students navigate the academic landscape and find their intellectual homes. Read more...

Scholarships for Future Huskies
THE MARTIN FAMILY FOUNDATION offers financial awards to community college students and graduates interested in eventually obtaining baccalaureate degrees from the University of Washington, Seattle. Read more...