Interprofessional Education
Who We Are:
As the coordinating body for interprofessional education (IPE) at the University of Washington, the Center for Health Sciences Interprofessional Education, Research and Practice (CHSIE) is dedicated to transforming practice by furthering collaboration between the healthcare professions. The Center's core faculty, staff and partners represent disciplines across the health sciences, who are passionate about advancing interprofessional teamwork to improve patient safety and quality in healthcare.
Mission:
The Center supports innovative and sustainable interprofessional education, research and collaborative practice for students, educators, researchers, clinicians and patients at the University of Washington, together with local and global partners.
History:
The Center was created in 1997 with funds from the University of Washington Initiative Fund and expanded in 2002 with funding from the Josiah Macy Jr. Foundation. The Center's original goal was to provide educational opportunities for students to learn means of interprofessional practice and to be prepared to take their places in current and future healthcare systems.
In 2010, the Center merged resources with several other interprofessional initiatives being funded at the University to form a collaborative to educate students and faculty to be future leaders and facilitators in IPE. The Board of Deans from the six Health Sciences Schools provided additional funding for this initiative in 2016, which lead to the creation of new areas of focus for CHSIE and the development of a steering committee comprised of faculty representatives from each of the six health sciences schools (pharmacy, dentistry, medicine, social work, nursing, and public health).
To learn more about the Center, or how you can become involved in IPE at UW please visit our website, connect with us on Facebook, or send us an e-mail at CHSIE@uw.edu!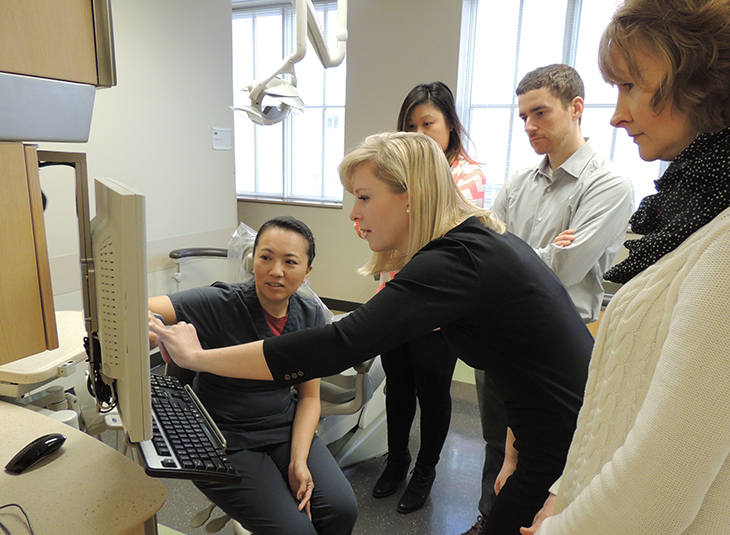 Third annual "Interprofessional Teams Engaged in Education and Training in Health" (i-TEETH) Program that took place at the Center for Pediatric Dentistry on March 3, 2015. A Pediatric Dental Resident, Pediatric Nurse Practitioner trainees, and Masters of Social Work student discuss a patient case