Health Sciences Services
February 13, 2015
2014-2015 Magnuson Scholar Recognition Event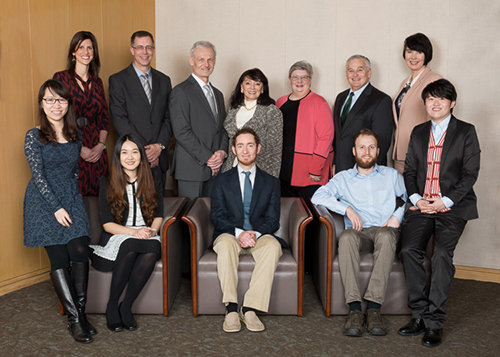 Photo Credit: Pat McGiffert
Back row left to right: Christine Khosropour, Dr. David Anderson, Dr. Bruce Ransom, Juanita Garrison, Gretchen Bakamis, Bill Bakamis, Leslie Garrison
Front row left to right: Weichao Yuwen, Worakanya Buranaphatthana, Patrick Sanger, Ryan Sequin, Ciwang Teyra
The 2014-2015 Magnuson Scholars, members of Senator Warren G. Magnuson's family, former congressional staff members, and the Magnuson Chair in Medicine, gathered on February 10, 2013 to celebrate the late senator's legacy and recognize the outstanding graduate and post graduate work and research of this year's Magnuson Scholars. The six Magnuson Scholars provided compelling updates to the assembled group regarding their current research focus and future plans. Each scholar represents one of the six University of Washington Health Sciences Schools and was selected on the basis of their academic performance and potential contribution to research in the health sciences.
Worakanya Buranaphatthana; Dentistry
Patrick Sanger; Medicine
Weichao Yuwen; Nursing
Ryan Patrick Seguin; Pharmacy
Christine Khosropour; Public Health
Ciwang Teyra; Social Work
The first Magnuson scholarships were awarded in the academic year of 1993-94 and to date, 120 Magnuson Scholars have carried on this important aspect of Senator Warren G. Magnuson's and Jermaine Magnuson's legacy. As the Magnuson Scholars program approaches its 20th anniversary of support to outstanding health sciences students, it is apparent Senator and Mrs. Magnuson's commitment to improving the nation's health is in the hands of highly capable and compassionate scholars.