Health Sciences Services
May 6, 2022
2022-2023 Magnuson Scholars Announced
May 2, 2022
On behalf of the University of Washington, the Board of Health Sciences Deans, and the Magnuson Scholar Program, we are pleased to announce the 2022 – 2023 Magnuson Scholars. This is the first time in the history of the program that we have been able to award seven scholarships. Each scholar was nominated by their respective Health Sciences School on the basis of outstanding academic performance and potential contributions to research in the health sciences.
The Magnuson Scholar Program is a key component of the Warren G. Magnuson Institute for Biomedical Research and Health Professions Training and is funded by an endowment established in 1991 in the late Senator's name. The annual income from this endowment allows the University of Washington to distribute an award to one scholar from each of the six health sciences schools annually. At least one scholar must be engaged in research related to diabetes, it's antecedents or treatment. All Magnuson Scholars help carry on the legacy of the late Senator Warren G. Magnuson and his remarkable commitment to improving the nation's health through biomedical research, education, and responsive, sustainable healthcare discoveries.
Please join us in recognizing the 2022-2023 Magnuson Scholars' exceptional achievements while also celebrating Warren G. Magnuson's extraordinary public service career.
The 2022-2023 Magnuson Scholars are:
Philip Walczak
School of Dentistry
Jocelyn Cervantes
School of Medicine
Kimberly Brinker
School of Nursing
Sanithia Parker
School of Nursing
Yilin Chen
School of Pharmacy
Ammarah Mahmud
School of Public Health
Jessica Lapham
School of Social Work
---
Scholar Profiles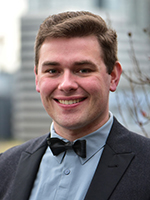 Philip Walczak
School of Dentistry
Philip Walczak has completed his DDS and is now working toward a PhD in OHS in Dr. Cecilia Giachelli's lab. Philip's long-term career goal is to become an independent clinician-scientist working at a top-tier research university. Currently Philip is been taking part in laboratory research, grant writing, and completing oral and poster presentation training. One specific project he has been working on is aimed at understanding the role of phosphate transporters in bone and tooth development and homeostasis. This work will ultimately help to identify functions and underlying mechanisms of sodium dependent phosphate transporter 2 (PiT2) in bone and tooth homeostasis and he has developed some hypotheses regarding phosphate sensing/signaling role of PiT2 upstream of key bone cell regulation and biomineralization. The skeletal system serves as the main support structure of the body, a reservoir of calcium and inorganic phosphorus (Pi), and a producer of cells. Patients with diabetes mellitus (DM) frequently suffer from dysregulated Pi clearance due to changes in renal function. Philip's research should also help to shed light on osteodystrophy associated with diabetic nephropathy driven chronic kidney disease, as PiT2 has been implicated in chronic kidney disease mineral bone disorder.
Dr. Giachelli describes Phillip as, "intelligent, driven and motivated graduate student. He shines in both working independently and contributing to a team. Though early in his research career, Philip already shows great potential as he continues on his trajectory of academic research led by clinical problems. …He has excellent academic performance and great potential for research in the health sciences areas of particular interest to the Magnuson Scholar award."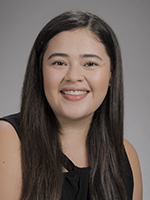 Jocelyn Cervantes
School of Medicine
Jocelyn Cervantes' current graduate work is focused on the mechanisms of diabetes complications. Ultimately, she hopes to obtain a professor position at a research-intensive university with a research focus on addressing the clinical disparities in diabetic disease complications. Joceyln has joined Dr. Jenny Kanter, Research Associate Professor, Division of Metabolism, Endocrinology, and Nutrition UW Medicine Diabetes Institute (UWMDI), to support the efforts in the Kanter lab to understand the mechanisms driving the advancement of diabetic complications in dyslipidemia. Jocelyn's research combines an investigation of myeloid cells and APOC3-containing triglyceride-rich lipoproteins (TRLs) in the advancement of diabetic kidney disease (DKD). Additionally, Jocelyn is committed to mentoring undergraduate students, particularly students from underrepresented minority groups. Through her research and mentorship efforts, Jocelyn is incredibly well positioned to both continue Senator Magnuson's legacy and advance diabetes research.
Dr. Kanter, has known Jocelyn since her first quarter as a graduate student in the University of Washington's Molecular Medicine and Mechanisms of Disease (M3D) Ph.D. program and states, "When Jocelyn joined the laboratory, she expressed an interest in whether monocytes and macrophages contributed to DKD. Together we have decided that her thesis work should center around how monocytes become lipid-loaded in diabetes, if this contributes to accelerated recruitment of monocytes into the glomerulus, and if monocyte recruitment to the kidney is in the causal pathway of DKD….Throughout the time I have spent with Jocelyn, I am continuously impressed with how hard she works and how driven and motivated she is to succeed."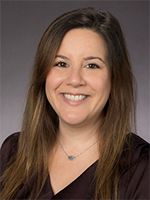 Kimberly Brinker
School of Nursing
Kimberly Brinker is a first-year student in the Doctor of Philosophy in Nursing Science program with a passion for population health. She has spent several years in the population health program working alongside patients with diabetes, particularly the LatinX population, to help them control the disease and prevent future complications. This passion for population health led her to apply for the PhD program at the University of Washington. Her research interest is closely aligned with the founding mission of the Magnuson Scholar Program as she prepares to study methods of chronic disease management in Latinx populations, including the management of diabetes at both an individual and population level. As a first-generational Latina graduate student, Kimberly has witnessed first-hand how cultural factors influence health conditions. After graduation, she is interested in seeking a post-doctoral opportunity to enhance research skills needed to identify organizational factors that contribute to the successful implementation of population health initiatives and programs. Kimberly's research will ultimately improve health equity within managed care organizations and will be particularly impactful for underrepresented and underserved populations. She is poised to become a leading researcher in the health sciences and will advance the field of nursing science.
Dr. Betty Bekemeier states that, "[Ms. Brinker] brings a strong background in epidemiology, research, clinical expertise, and experience in diabetes management to her program of study and development as a productive researcher. Her focus on disparities and underserved LatinX populations will also be a critical asset to advancing the science of addressing the underlying causes of health inequities in chronic disease. In addition to enrollment as a full-time student at UW, Ms Brinker works for Kaiser Permanente (KP) Washington providing nursing care for patients enrolled in the chronic disease management (CDM) program. The goals of the CDM program are to improve patients' functional health status, enhance coordination of care, and eliminate duplication of services for patients living with diabetes. Ms. Brinker hopes to contribute to nursing science by focusing on reducing health disparities in CDM and currently leads a health equity pilot for the LatinX population."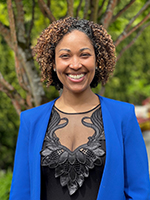 Sanithia Parker
School of Nursing
Sanithia is a third-year doctoral candidate in the Doctor of Philosophy in Nursing Science program. Sanithia's dissertation work focuses on nutrition health policy to prevent chronic diseases like diabetes. Her work is well-positioned to advance diabetes and chronic disease prevention research using a novel engagement with community partners like churches to develop well-supported health policies for their local communities. Her current research is primarily with African Americans, exploring nutrition policy use in churches and community belonging as a facilitator and sustainer of that change. The goal of this
research program is to develop an environmental change intervention that can be utilized as a
community belonging strategy to prevent the onset of diabetes and other chronic diseases. Sanithia hopes to advance research in diabetes and chronic disease prevention with vulnerable populations to achieve social justice and health equity for all. Additionally, she is endeavoring to contribute public service by developing nutritional interventions for prevention such as health policies to sustain holistic health and become a tenured research faculty at a prestigious university such as the University of Washington to educate future researchers.
Dr. Doris M. Boutain, a past Magnuson Scholar from the 1997-1998 scholarship year, states, "Ms. Parker has scholarly publications as well as national and international presentations. Some of her scholarship was completed prior to entering the PhD Program in Nursing. It is not surprising then that she is well positioned to continue a long and meaningful career in nursing research. Ms. Parker is among the top 5% of PhD graduate students I have worked with in my twenty-year research career. As a former Magnuson Scholar, myself, I believe she is the candidate of choice to represent the Magnuson Family legacy."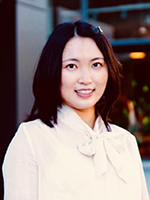 Yilin Chen
School of Pharmacy
Yilin is in her third year as a PhD student at the University of Washington's Comparative Health Outcomes, Policy, and Economics (CHOICE) Institute. While pursuing her PhD, Yilin has had many worthwhile research experiences through class projects, independent study with faculty, and research assistant positions with many focusing on diabetes. She performed a systematic review and meta-analysis of kidney outcomes, with a focus on microvascular benefits of new antidiabetic agents, which was published in the Journal of Clinical Endocrinology & Metabolism. She also worked on a project with the Institute for Clinical and Economic Review (ICER) to evaluate the cost-effectiveness of medications, injectable semaglutide, and background treatment alone. Finally, she has been working on a project to establish a value-based formulary for 23 diabetes medications covered by Kaiser Permanente Washington health plan. Her research experience in diabetes will serve as a foundation for her future career within a health sciences institution or industry, where she hopes to continue to research how real-world data and health economics methodologies may be used to improve patient access and outcomes, service delivery, and reduce inequalities for patients with diabetes and other medical conditions.
Dr. Josh Carson states, "After graduating from the CHOICE Institute, Yilin will have many options for her career and hopes to continue research on emerging technologies in diabetes and other medical conditions. She anticipates working in health sciences institutions or the biopharmaceutical industry, where she can continue to research how real-world data and health economic and outcomes research (HEOR) methodologies may be used to improve patient access and outcomes and reduce inequalities. Eventually, she wants to ascend to leadership positions. With her broad range of research skills and a deep understanding of the knowledge needed in HEOR research, I do not doubt that she will be able to make a great impact."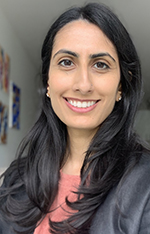 Ammarah Mahmud
School of Public Health
Ammarah is a third-year doctoral student in Health Services at the University of Washington School of
Public Health's Department of Health Systems and Population Health. She is particularly interested in health care integration, innovative models of care in delivery systems that support equity, and evaluation methodologies and multi-sector initiatives to acknowledge whole person care, prevent chronic disease, and advance population health. Her current research, supported by mentorship from Dr. Cara Lewis at Kaiser Permanente Washington Research Health Institute, recognizes the importance of social determinants on patient health. As part of this research she is using rigorous methods to evaluate the effect of a community resource specialist intervention on patient (e.g., markers of diabetes) and health system level (e.g., cost) outcomes, relative to a national call center. These programs support patients in receiving their desired assistance with social risk factors, and her dissertation evaluates if this cross-sector program affects both patients' social health and chronic disease management outcomes, including diabetes monitoring and blood pressure control.
Cara Lewis, PhD, HSPP, Senior Scientific Investigator at Kaiser Permanente Washington Health Research Institute and affiliate faculty in Medicine and Health Systems and Population Health (HSPoP) at UW, and Emily Williams, PhD, MPH, professor and director of the HSPoP doctoral program jointly state that, "We wish to provide our strongest endorsement of Ammarah Mahmud, MPH's nomination for the Magnuson Scholarship. Ms. Mahmud is a rising star junior investigator, an outstanding community member, and her health services research, which addresses social risk to help people manage chronic diseases like diabetes, is strongly aligned with the goals of Magnuson… Ms. Mahmud takes her lived experience forward to optimize every opportunity she is offered, and she adds substantial value everywhere she is. Ms. Mahmud is an outstanding candidate for the Magnuson Scholarship, one who will maximize the value of this opportunity and move the field of diabetes prevention and management forward via an innovative focus on addressing social needs. We recommend her strongly and with enthusiasm."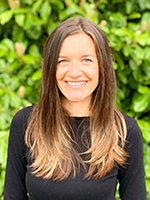 Jessica Lapham
School of Social Work
Jessica is a fourth year doctoral candidate in the UW's School of Social Work and a first-generation college student. In 2020, Jessica was awarded the prestigious CSDE/Population Health Applied Research Fellowship Program where she worked with a multidisciplinary team of students, researchers, and policy practitioners at Public Health Services King County. Jessica also worked on a project examining cross-national differences in cardiometabolic inequalities among the Millennial generation in the US and England, which found the largest inequalities in diabetes risk among the outcomes that we examined. In this work, Jessica gained experience using biomarker measures relevant to diabetes risk in population health research (eg. Fasting blood glucose and A1C). These experiences form a solid foundation of expertise for her dissertation research. One of Jessica's goals is to examine how social structures and policy contexts protect or worsen health, particularly for economically disadvantaged groups and desire to conduct social welfare research to promote health equity, making her well positioned to continue Senator Magnuson's legacy of healthcare policy reform.
Dr. Melissa Martinson offers high praise for Jessica, "Jessica is uniquely positioned to integrate her work on social policy and cardiometabolic health based on her research interests in solving health inequities as well her previous interdisciplinary research experiences at the UW…In short, I can't imagine a more highly qualified candidate for Magnuson this year. Jessica is at a critical point where this funding and being a part of the Magnuson community could have maximum impact on her research career. Jessica is an exceptionally thoughtful and adept researcher who does not shy away from asking hard questions related to social justice and health."