Health Sciences Administration
August 4, 2017
Active Learning Classroom Open House on 8/8 & 9/19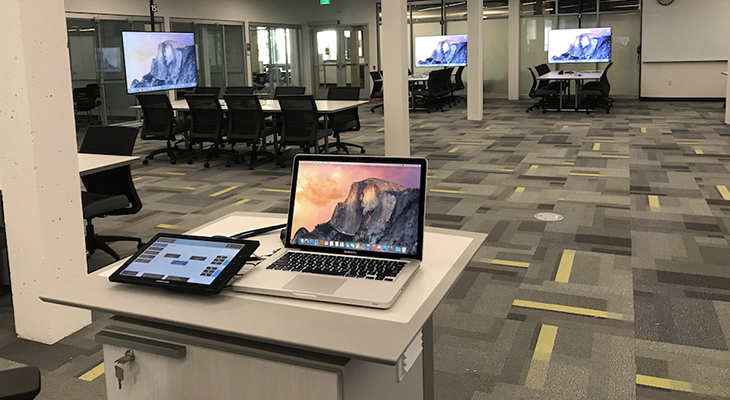 You are invited to join Health Sciences Academic Services & Facilities (HSAS&F) at one of their upcoming open house sessions to learn more about the new Active Learning Classroom in South Campus Center. This space will be available for reservations starting in Autumn 2017. Course coordinators can submit a form here to request usage for University courses. The open house will be offered on two dates this summer:
Date: Tuesday, August 8
Time: 1:30pm-3:30pm
Location: South Campus Center 221
Date: Tuesday, September 19th
Time: 1:30pm-3:30pm
Location: South Campus Center 221
Both open houses will include the following:
Audio Visual Demonstration
Classroom Tour
Light Refreshments
Health Sciences Academic Services & Facilities is very excited to launch an Active Learning Classroom (ALC) late this summer, located in the South Campus Center, room 221. This room pilot project was sponsored by Health Sciences Administration in collaboration with the 6 Health Sciences Schools (the Schools of Dentistry, Medicine, Nursing, Pharmacy, Public Health, and Social Work). The ALC will have capacity for 120 students; sitting at fixed tables, students will have the ability to share content to one of the 15 other monitors at each station and access to audio mics for collaboration. There will be a movable podium to promote flexibility and active learning. Five small adjoining rooms, with similar furniture and A/V, will be available for breakout sessions.
If you have questions about either of the open houses or the Active Learning Classroom please call (206) 543-0530 or email hsbrooms@uw.edu. For more information on the Active Learning Classroom you can visit the HSAS&F web page.