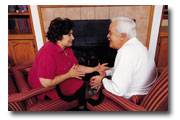 "Nothing educates so well, or lasts so long as direct, interpersonal experience."
Walk a Mile
Walk a Mile is a national educational program that pairs policymakers with constituents who are either low-income parents or youth living in foster care. The pairs spend a month together learning about each other's lives, gaining new perspectives and "walking a mile" in each other shoes.
Based on the idea that we can sometimes accomplish more across a kitchen table than across a podium, WAM creates a casual, open, atmosphere for the participants to talk one-on-one and gain a new perspective on poverty and our government. Our belief is that greater personal understanding between these two groups empowers governments and communities to find genuine solutions to the problems of poverty.
These conversations often develop into relationships that last well beyond the program's completion. And sometimes, they lead to action - action to improve policies, to vote for the first time, to contribute to making a system that works.
To date, 36 states and 1500 pairs have been touched by the Walk a Mile experience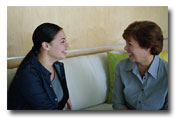 "When we spend time believing in each other, then we will make a better world."