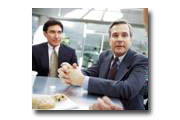 To date, 36 states have participated in Walk a Mile and 1500 pairs of policymakers have been matched with either low-income constituents or youth formerly living in foster care.
Our Work

The History of Walk a Mile
Walk a Mile was piloted in Washington State in June 1994 and was the brainchild of Natasha Grossman, a student at the University of Washington School of Social Work. During a visit to the State Legislature, Natasha found that many of the legislators and their staff had never known or spoken with a welfare recipient. As a result, it seemed that assessments of the challenges faced by people in poverty were at least partially based on myth and stereotype. Natasha thought that legislators would find it useful to take a closer look at the lives of welfare recipients by learning from the welfare recipients themselves.
Through the collaboration of several community groups that represented low-income families, the first project matched 21 policymakers with welfare recipients.
Participants were enthusiastic about what they had learned and the efforts gained considerable media attention. This media attention sparked interest in bringing WAM to other states. Through support from the MacArthur Foundation, the Mott Foundation and the Annie E. Casey Foundation, WAM has supported the creation of programs around the country ever since.
In 2005, WAM piloted another project in Seattle, Washington and in Columbus, Ohio which involved matching policymakers with youth who had formerly lived in foster care. Because of the success and interest in these projects, WAM held two trainings in 2006; one for organizations focusing on pairing foster care youth with policymakers and the other for organizations interested in pairing policymakers with low-income constituents.
Walk a Mile is an educational program - not a lobbying tool. The program does not endorse any particular policy, policymaker, or legislation.